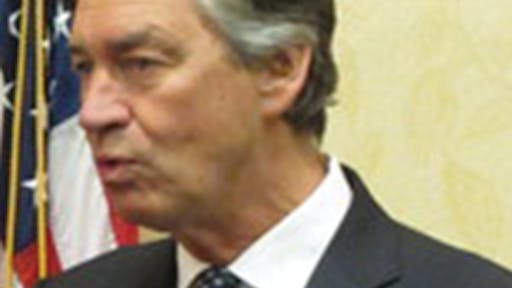 Canada Denounces New Cargo Tax Proposed by U.S.
The Canadian ambassador to the U.S. Gary Doer went on record in April saying the cargo fee currently being debated in Congress is a bad idea. Instead, the United States should use all of its harbor maintenance taxes for U.S. port work and shouldn't impose a fee on U.S.-bound container coming through Mexican and Canadian ports according to Doer.
The cargo fee proposal would charge shippers a fee equal to the 0.125 percent levy on the value of cargo they current pay when moving cargo through U.S. ports. The legislation has been introduced by U.S. Rep. Jim McDermott and U.S. Sens. Patty Murray and Maria Cantwell, Democrats from Washington state, in response to the ports of Seattle and Tacoma steadily losing cargo traffic to Canadian ports and other U.S. West Coast ports.
The ambassador added the proposal to impose a fee on cargo bound for the U.S. through the ports of its North American Free Trade Agreement partners would "create massive congestion" at the borders and dislocate supply chains. If implemented, the cargo fee would also hurt U.S. ports, as he hinted Canada could implement a reciprocal tax on Canadian-bound cargo that comes through U.S. ports.
"Thankfully, the proposal hasn't gone anywhere," Doer said at the NAFTANEXT conference in Chicago.
Doer recommended that Washington give all Harbor Maintenance Trust Fund funding back to the ports. Roughly half of the $1.6 billion annually collected for the HMT is used to plug holes in the federal budget.
EIA: LNG To Increase As a Fuel Option for Railroads
Liquefied natural gas (LNG) likely will play an increasing role in powering locomotives in the coming years, according to a recent U.S. Energy Information Administration (EIA) report.
Continued growth in domestic natural gas production and substantially lower gas prices compared with crude oil prices could result in significant cost savings for locomotives fueled by LNG, EIA officials said in the "Annual Energy Outlook 2014" report.
The seven Class Is consumed more than 3.6 billion gallons of diesel in 2012, or 7 percent of all diesel consumed in the United States. The fuel cost more than $11 billion to purchase and accounted for 23 percent of the railroads' total operating expenses, according to the report.
"These railroads are considering the use of LNG in locomotives because of the potential for significant fuel cost savings and the resulting reductions in fuel operating costs," EIA officials said. "Given the expected price difference between LNG and diesel fuel, future fuel savings are expected to more than offset the approximately $1 million incremental cost associated with an LNG locomotive and its tender."
Hapag-Lloyd and CSAV Sign Merger Agreement
Hapag-Lloyd and Compañía Sud Americana de Vapores (CSAV) have signed a binding contract to merge CSAV's entire container business with Hapag-Lloyd, creating the world's fourth largest box line.
Following the integration, the new Hapag-Lloyd will have some 200 vessels with total transport capacity of around 1 metric TEU, an annual transport volume of 7.5 metric TEU and a combined turnover of E9 billion ($12.42 billion).
 "I am delighted that we have succeeded in concluding this partnership through which our two companies are playing an active part in consolidating the liner shipping industry. This day is an important milestone in the history of Hapag-Lloyd," said Michael Behrendt, chairman of the executive board of Hapag-Lloyd, upon signing the agreement.
"By joining forces, we are creating a stronger, larger and more global company with significant economies of scale and a considerably improved competitive position," said Oscar Hasbún, CEO of CSAV. "The combination with CSAV, Latin America's leading container shipping line, considerably strengthens Hapag-Lloyd in this growth market and adds a strong position in the North-South traffic to the company's global network and to its established strength in East-West traffic."
Drewry Says Switch to Low-Sulphur Fuel By 2015 Will Cost
Drewry's freight procurement division recently sent out a warning to European and U.S. exporters and importers to expect an increase in bunker fuel adjustments of $100 to $120 per TEU by January 2015. For ships sailing in EU Sulpher Emission Control Areas, the tougher IMO rules (must cut the sulpher limit to 0.1%)  on sulpher emissions will begin enforcement starting January 1st of 2015, which will force carriers to use more expensive low-sulphur Marine Gas Oil, or install Liquefied Natural Gas engines, or fit costly mitigating systems to reduce pollution.
Drewry announced their projected costs at the Global Liner Shipping conference in Hamburg in April, when they suggesting these new environmental measures would add $100/TEU to the cost of shipping. In a 2009 study on the impact of the new sulphur rules, the Ministry of Transport and Communications of Finland estimated that the extra cost will be 10 Euros ($13) per TEU per day of sailing in the control areas.
The extra cost of this switch of marine fuel on shippers will vary not only by geography (Asia, Western France and the Mediterranean, for example, are currently outside the Emission Control Areas), but also by lane and by ship size. It will also depend on the price of low-sulphur fuel, which may increase in response to much higher industry demand from next year according to Drewry.
The highest costs will be borne by intra-European and transatlantic shippers, because a higher percentage of the ship voyage time will be spent in the control areas for these lanes. Transatlantic ships will need to burn costly fuel both when sailing along the US seaboard and when sailing in the North and Baltic seas.