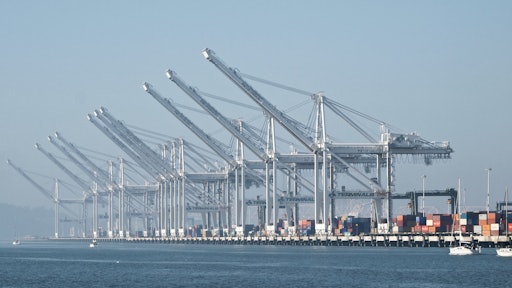 A refrigerated gateway to Asia for U.S. meat exports has cleared its last big hurdle here. Port of Oakland Commissioners approved an $11 million rail spur to Cool Port Oakland. It's the final piece of an ambitious plan to make the city a vital link in the food chain.
The spur would connect Union Pacific Railroad tracks with Cool Port, a 280,000-square-foot distribution center now under construction on 25 acres of Port property. Burlington Northern Santa Fe Railroad would also have rail access.
When the project is completed, an estimated 27,000 20-foot containers of meat could ship from Oakland annually. The final destination: export markets in Asia.
"The concept is to bring vast quantities of chilled or frozen beef and pork to Oakland via the rails," explained John Driscoll, maritime director at the Port of Oakland. "At Cool Port, the product would be transferred in a temperature-controlled setting from rail cars to shipping containers, then whisked across the street to outbound vessels."
To read the full original article, please click here.