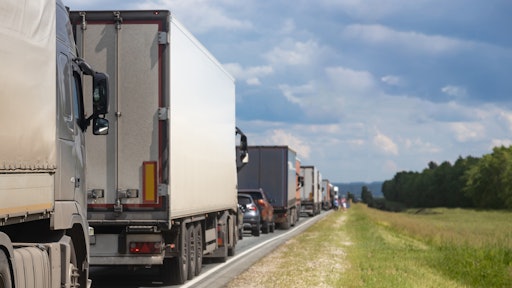 xartproduction AdobeStock_542785160
Technology-oriented companies understand the value of data and are always looking for innovative approaches to apply it in unexpected ways. The most common use for data offers a rear-view look that reports on what happened in the past, like financial results. But if you are looking to get ahead of what is coming next, especially in a dynamic marketplace, using available forecast systems can help place businesses at the forefront and in-step with demand months in advance to best align their supply chains.
In Q2 2022, 100 shippers were surveyed to create a baseline for what would become the BlueGrace Logistics Confidence Index (LCI), a forward-looking data set created to pinpoint metrics related to customers' expectations and confidence in their organization's financial growth or stagnation, level of inventory and warehouse capacity, as well as unique information on the expansion or contraction of orders for the upcoming quarter.
The LCI surveyed a diverse portfolio of shippers across different verticals, including consumer packaged goods (CPG), industrial and manufacturing and direct-to-consumer business to examine three primary metrics going into the next quarter. All predicted revenue, inventory levels and order volumes as the key metric drivers.
Last year was an opportune time to present the industry with new data models, as the economy was trending toward a potential recession. In uncertain times, people are hungry for analysis, data, forecasts, indexes to feed information; when things are consistent and steady, people depend less on quantitative data and look more to qualitative. The last two years were chaotic and upside down; everything that was supposed to happen had the opposite effect. Now, it seems, we are at a point of inflection and there are mixed signals as to where the economy stands.
The latest LCI forecasts an upwards trend for Q2. Data shows there is a consensus that revenue will increase and inventory levels will build. Shippers are going to buy more inventory because they have confidence order volumes will increase and revenue will be stronger through spring.
Shippers planning for Q2 should identify and cross-reference their data points to see if it lines up with the latest LCI. Ask these questions:
Do I know if my company is forecasting for these three metrics?
How does that compare with what this index is saying?
Based on the results, do I have a solid plan in place strategically to adjust my supply chain if these do come to fruition?
Additionally, ensure effective communication between the sales and supply chain teams. There are many stakeholders and roles within a given shipper organization. Certainly, the finance team is aware of revenue [order] projections, but oftentimes, there are silos, particularly in the supply chain or transportation department who are not aware of revenue tracking. This was seen in the survey. Sometimes, there are disconnects between what a company is forecasting from a sales and growth standpoint and what data is communicated to the supply chain and transportation side.
It is evident that people are interested and invested in getting a fresh look at how to interpret data to explore business strategies. The number of surveys received has been very consistent with enough concentrated data from shippers gathered over the last year. The process of collecting data has been systematic and shippers are confident in their assessments and index conclusions.
New for Q1 2023, published consensus data shows shippers' confidence projections are more aligned than last quarter. Fewer people agreed on what they were going to see in Q1 than the previous survey. Now, there's closer alignment in terms of what the responses are for the forecast for Q2. The Q4 2022 LCI projected the current quarter, which showed revenue going down, shippers remaining neutral on inventory (maintenance only) with order volumes going up slightly. Shippers understood the environment to reflect inflationary pricing but with the same number of orders.
As it stands, the LCI shows it is likely that order sizes are going to shrink in Q2, with a drop in the average shipment size, some shippers by half. This follows the trend of last year's Q4 LCI correlating flat order volumes to smaller order sizes. This means stakeholders were continuing to order but in much smaller quantities, only enough to maintain and replenish store shelves. We are past the big Q4 holiday push therefore consumers are not hungry for more inventory.
This causes a mode shift from truckload (TL), which uses more capacity, to modes that carry less, less-than-truckload (LTL). More TL freight is going to move into LTL since there are fewer orders and shipments are smaller. The data shows shippers anticipate retailers buying only a couple of pallets at a time. LTL carriers will get this business. Data already shows a drop in the TL market over Q1. TL capacity opened, so rates dropped. Likewise, LTL was down which then moved into small parcel because the overall quantity or size of the order decreased.
This is the cyclical market of supply chain transportation. Data provides future value and decision-making support. There is no other index that provides metrics based on order volumes. The LCI supports improved performance through logistics and transportation operations, strategy and execution. This gives shippers salient data to plan for improved customer experience, capacity management and budgeting variances.
It's time to plan ahead or get left behind.