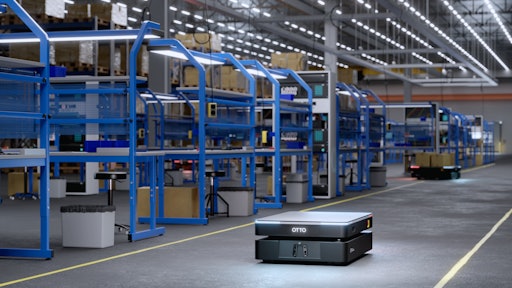 OTTO Motors
OTTO Motors revealed its newest AMR, OTTO 600. The OTTO 600 unlocks can move pallets, carts and other payloads up to 600 kg (1,322 lb) and can work in very demanding factory environments.
"In 2015, OTTO 1500 defined the heavy-class AMR category. In 2017, OTTO 100 quickly became responsible for the industry's largest AMR installations. In 2022, we launched OTTO Lifter, the world's first truly autonomous forklift. Today, we're proud to announce OTTO 600, a mid-range AMR offering the perfect balance of strength and agility," said Matt Rendall the Chief Executive Officer and Co-Founder of OTTO Motors. "Powered by autonomous software, OTTO now offers an unmatched material handling portfolio."
OTTO also released their new software update 2.28. This update is faster than it was before, has safer traffic movement and a new facility configuration interface. This is their sixth software release in the past 3 years.
"The success of large-scale, deeply integrated deployments depends significantly on effective fleet management, which is why we are continuously evolving our fleet manager. In this software upgrade, we are introducing new traffic management functionality that enables users to create different rules of the road for groups of different OTTO AMRs in the facility, resulting in faster traffic movement and improved safety," said Jay Judkowitz theVP of Product at OTTO Motors.
From OTTO Motors:
Maneuverable in tight spaces:

OTTO 600 offers capabilities of larger AMRs with the maneuverability needed to get around in constrained spaces like work cells.

Durable build for demanding environments:

In addition to a rugged, all-metal body, OTTO 600 offers the ability to withstand dust and fluids with IP54 construction.

Fast and safe around people and objects:

OTTO 600 works quickly and safely alongside people thanks to sensors and OTTO's proven autonomy software.
Versatile to get different jobs done:

Capable of moving carts and pallets, as well as connecting islands of automation, OTTO 600 unlocks limitless workflows including lineside delivery, work cell delivery and palletizer to stretch-wrapper transport.
Team-Based Traffic Control:

Customers can create traffic zones for specific robot types. For example, operators can specify lanes where larger AMRs cannot enter, ensuring smaller AMRs remain unblocked and are able to keep moving for higher throughput.

New and intuitive facility configuration interface:

Customers can now save up to 50% of the time required to set up facility maps and workflows. It is also easier for customers to use, learn and adapt to the system.

Interoperability

:

OTTO Motors

was the first AMR vendor to support the well-known AGV standard, VDA5050, empowering customers to manage dissimilar types of material handling solutions from a third-party master controller interface.

New pallet types:

OTTO Lifter now supports BulkPak 4845 HDMP series bins, enabling customers to move more pallets of their choice.