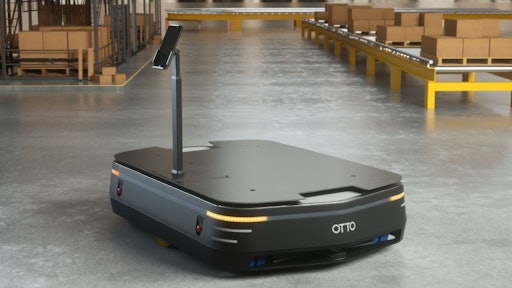 OTTO Motors, a division of Clearpath Robotics Inc. and provider of self-driving vehicle technology and services, announced three significant advancements to the OTTO platform and customer experience at ProMat 2017 in Chicago.
The first is a redesign of the OTTO 100 self-driving vehicle to meet the rigors of industrial environments, while continuing to maintain the flexibility to work in a lab, at manufacturing plants and everywhere in between. The vehicle features rugged, all-metal construction and an integrated lift for automated loading and unloading. The vehicle is designed for durability in a variety of environments and has become a flagship product for industries spanning health care, automotive and small-cell manufacturing. OTTO 100 meets the demands of customers that could not otherwise be satisfied with other products on the market.

The second major announcement at ProMat is the release of OTTO's boss, OTTO M. OTTO M is the software that enables Industry 4.0 capability and connects OTTO self-driving vehicles with the material flow in a production line. OTTO M houses an industry-leading mapping experience brought to life with an intuitive mobile and desktop interface. Using OTTO M, customers are able to have their fleet of self-driving vehicles performing valuable work within hours of arriving at their facility. OTTO M also exposes a standard API for integration with systems like ERP and MES to orchestrate complex automation with existing enterprise software.

"OTTO M gives our customers a simple way to get started, but also the depth of integration needed for a full Industry 4.0 enterprise solution," says Simon Drexler, director of product at OTTO Motors.

The final announcement represents the culmination of work on both OTTO's self-driving vehicles and the software that drives them. There's no better way to experience the difference of OTTO compared with any other material handling product on the market than by operating the system in your facility. This is why OTTO Motors has launched the Test Drive program. Test Drive provides North American facility operators with a one week, low-risk trial of an OTTO 100 or 1500 self-driving vehicle. See how it works and what customers are saying in this video: www.ottomotors.com/test-drive.

"The Test Drive program was very simple. We uncrated the unit and within about two hours had it running and moving product autonomously. It was very impressive," says Mike Hall, plant manager at Panocap Canada. "Our team was able to work with the unit, see it in action and understand how OTTO reacts in situations unique to our facility. It was so much more than a standard brochure. We were all very excited to see the unit in our space."

Drexler adds, "Uncertainty is a natural emotion felt when evaluating new, advanced technology, particularly for existing facilities. We understand the concerns and risks involved, which is why we designed the Test Drive program as a low-risk means to trial self-driving vehicle technology. We have worked hard to make sure that users are blown away by how simple OTTO is to use, but also how it can unlock the immediate and long term potential of their facility."

OTTO self-driving vehicles make it possible to unlock radical productivity improvements in chaotic manufacturing environments. Designed with the flexibility of people, the efficiency of conveyors and the safety of automated guided vehicles (AGVs), OTTO brings intelligent, infrastructure-free material transport to facilities.
Companies in this article