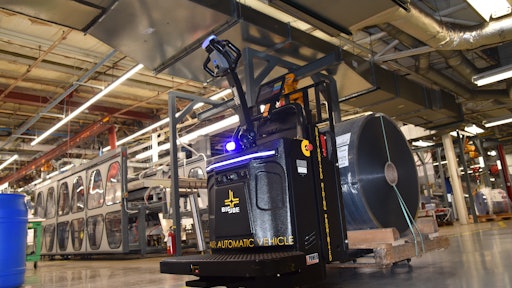 Big Joe Forklifts
Big Joe Forklifts has revealed its Pallet Mover, a new user-directed autonomous mobile robot (AMR) at ProMat 2023. This AMR was developed with Thoro.ai, the Big Joe Pallet Mover is an autonomous solution for floor-to-floor pallet transportation and drop-off that companies can set up and put into operation. Big Joe Forklifts partnership with Thoro.ai seeks to change how on-demand material handling works across the supply chain industry.
"We couldn't be more excited to unveil the Big Joe Pallet Mover for the first time at ProMat this year," said Big Joe's Chief Marketing Officer, Bill Pedriana. "This new AMR is something that so many companies have been waiting and frankly hoping for given the many challenges they face. The Pallet Mover is super simple to deploy and start seeing a return-on-investment on day one. The magic to that is our user-directed approach to automation, which, by nature, is focused on empowering workers and eliminating the need for complicated systems integration."
From Business Wire:
The new Big Joe Pallet Mover works just like a conventional lift truck but features an intuitive tablet interface, LiDAR and a camera system to transport and drop pallets to locations autonomously once the operator loads it and selects a mission.
This collaborative approach uses self-driving technology as a productivity force multiplier by allowing workers to focus on higher-value tasks or direct multiple independent workflows concurrently.
With the ability to use the machine in manual mode at any time, the flexibility of the Pallet Mover allows it to bring efficiencies to facilities without intensive changes to their operations or need for any infrastructure other than a wi-fi connection for software updates, if desired.
The Big Joe Pallet Mover can transport up to 4,400 lbs. of materials at speeds of up to 2.8 mph and can operate continuously for up to 10 hours.
Power is supplied by a UL-recognized 205ah lithium battery which can be opportunity charged at the rate of one percent every six minutes via an on-board 120vac charger.
Optional items like a Universal Carrier load deck can be added to the Pallet Mover for customizable material handling applications, and additional services and purchasing options are available through Big Joe's autonomous division and expansive servicing dealer network throughout North America.