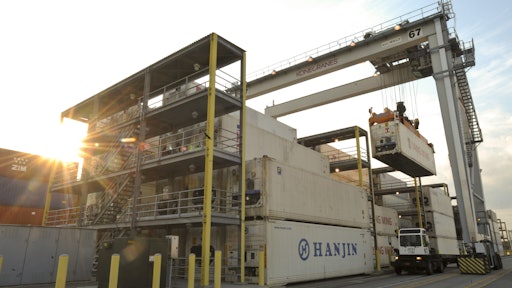 Port Of Savannah Ramps Up Frozen Cargo Capacity
The Georgia Ports Authority board approved $5.85 million for 20 new refrigerated container racks at Garden City Terminal, to accommodate growth in the cold storage market. "Increased on- and off-terminal capacity gives customers more options for moving refrigerated commodities to and from international markets," said GPA Executive Director Curtis Foltz. "This additional infrastructure will strengthen Savannah's position as the premier East Coast facility for refrigerated exports, he said."
The Georgia Ports Authority board approved $5.85 million for 20 new refrigerated container racks at Garden City Terminal, to accommodate growth in the cold storage market. "Increased on- and off-terminal capacity gives customers more options for moving refrigerated commodities to and from international markets," said GPA Executive Director Curtis Foltz. "This additional infrastructure will strengthen Savannah's position as the premier East Coast facility for refrigerated exports, he said."
House Approves Funding Bill For U.S. Ports
The U.S. House of Representatives passed a spending bill for water programs on Friday that would boost funding for ports to upgrade their cargo-handling capabilities, according to news reports. The bill, which also funds energy programs, would add $36.3 million to the harbor maintenance tax revenue that the Army Corps of Engineers can use to dredge harbors at major ports in the 2016 fiscal year that begins Oct. 1.

Target, Walmart Race To Build eCommerce Fulfillment Centers
Competition in e-commerce has set off a construction race in the physical world. Walmart and Target Corp. are busy building giant new facilities to fulfill ever-growing numbers of online orders, according to The Wall Street Journal. This quarter Walmart expects to open four such facilities, each more than 1 million square feet. 
Canadian Railway Invests $20M To Expand N.A. Cold Chain
Canadian National (CN) Railway Co. announced a $20-million investment in the expansion of its cold supply chain capacity to help producers and distributors of chilled or frozen foods grow their businesses in North American and overseas markets.
To accommodate growth, CN is acquiring 200 more domestic, 53-foot temperature-controlled containers, which will add to the current fleet of containers circulating inside North America. CN is also acquiring 32 electrical generators to move 40-foot international marine reefers to and from CN-served ports on CN intermodal trains. The power packs provide economies of scale by connecting up to 17 international marine reefers at a time.
Uber Extends Food Delivery To New York And Chicago
People in New York and Chicago can now use Uber for more than just a car ride, according to CNET. Typically known for competing with taxi and limo services by offering people different types of rides via its mobile app, Uber has also branched out into the food delivery business with a service called UberEats. First tested in Los Angeles and Barcelona, Spain, the service will expand this week to New York and Chicago, Uber said in a blog post.
Uber faces challenges in the food trade from a handful of other tech companies. A taxi app called GetTaxi is changing its name to Gett and in July will start to offer people the ability to order food, such as sushi, pizza or wine. Apps such as GrubHub, Seamless and Eat24 also offer food delivery to hungry consumers.
McDonald's Tests Postmates Direct Delivery
Customers in New York City will be able to enjoy McDonald's food when and where they want it with the launch of a McDonald's delivery test with Postmates, a direct-to-consumer delivery service. Customers in select boroughs can go to Postmates.com or download the Postmates mobile app (available for iOS and Android) to order their favorite McDonald's food for delivery within an hour. The test involves 88 select McDonald's restaurants in Manhattan, Queens and Brooklyn. McDonald's full menu, except ice cream cones, will be available for delivery during the normal operating hours of participating restaurants. Certain restaurants will offer delivery 24 hours a day. There will be a delivery fee calculated based on the geographic distance traveled by the courier as well as a standard service charge.
Domino's Pizza To Offer 'Tweet To Order'
Domino's, the pizza delivery company, will roll out a "tweet-to-order" system for U.S. customers, reported USA Today. Domino's will be the first major player in the restaurant industry to use Twitter on an ongoing basis to place and complete an order. Domino's regulars will be able to order by tweeting only the pizza emoji to @Dominos. "It's the epitome of convenience," says CEO Patrick Doyle, in a phone interview. "We've got this down to a five-second exchange." It's all about attracting busy, younger consumers. For Domino's it was a no-brainer, with upward of 50 percent of its sales already taking place digitally.
Foodcareplus Launches Reefer Consolidation From Canada To Europe For Seafood
Foodcareplus announced the launch of the new deep-frozen reefer consolidation service from Halifax to Antwerp, allowing the Canadian seafood industry to market Europe easier. The launch of the weekly reefer service follows discussions during and after a tour organized by the Canadian Mission to the European Union (EU), the Port of Antwerp and Foodcareplus during the Global Seafood show in Brussels in 2014.
Joined by the Minister of Foreign Trade Ed Fast and Canada's EU High Commissioner David Plunkett, a Canadian delegation of lobster exporters discussed the logistics challenges and opportunities in light of the Comprehensive Economic and Trade Agreement between Canada and Europe (CETA).
CMA CGM Expands Services To U.S. East Coast
French shipping line CMA CGM, sailing against trends toward larger ships and growing alliances, will expand services to the U.S. East Coast starting this week by adding stops using smaller ships at four Eastern Seaboard ports and adding calls at Baltimore to a separate, smaller shipping run, according to news reports. The new services out of Northern Europe are part of the company's effort to operate its own East Coast network, rather than buying space on ships belonging to its competitors. What CMA CGM calls its "New Vespucci" line will use 15 ships, each with capacity for 4,500 20-foot equivalent units, or TEUs, a common measure of the number of shipping containers a vessel can carry. The service will stop at New York, Norfolk, Va., Charleston, S.C., and Savannah, Ga.
Paxxal Unveils Non-plastic Pallet
Paxxal Inc., a Noblesville, Ind.-based material science, industrial technology pallet manufacturer that has been developing and perfecting its unique formulation for over a decade, has unveiled its proprietary patented pallet at the largest packaging and material handling exhibition in the US – Pack Expo International – in November 2014. The company launched its revolutionary pallet series made from Siluma®, a new state-of-the-art material that is proven to outperform plastic, to crowds of eager and awaiting industry professionals.