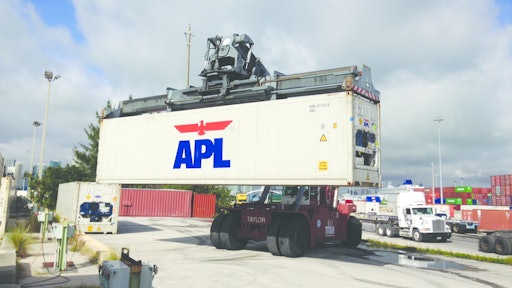 APL Brings First Shipment of 'Cold-Treated' Grapes to PortMiami
In December, APL brought in the first cargo of Peruvian grapes to PortMiami, clearing local pest control import requirements through cold treatment technology applied to the fruit during its transit from Paita, Peru to Miami.
The shipment is part of a six-month long cold treatment pilot program aimed at assessing the feasibility of importing 'cold-treated' Peruvian fresh produce into Florida.
Import protocols for fruit and vegetables vary from state to state. For instance, APL has been shipping cold-treated Peruvian grapes to California since 2006.
By subjecting fresh produce cargoes to a specified low temperature sustained throughout the transit, cold treatment eradicates pests carried in the cargoes prior to arrival at the export destination.
"Cold treatment is an environmentally-friendly alternative to fumigation-based pest control methods that emit greenhouse gases into the atmosphere," said APL Vice President for Global Reefer Trade Eric Eng. "Its increasing acceptance by the U.S. Department of Agriculture and other import authorities around the world enhances the overall viability of shipping fresh produce by sea."
Rift Over Cost Overruns Could Hamper Panama Canal Expansion
The Spanish-led consortium leading the Panama Canal expansion, who at the end of December threatened Panama Canal authorities with a work stoppage on the project unless they were paid $1.6 billion in cost overruns, have backed off their threats for now, but there's concern that the issue will arise again.
The Panama Canal Authority's dispute with contractors centers on about $1.6 billion in additional costs that exceed the original contract bid of $3.1 billion, according to a Bloomberg News report.
The consortium blames the cost overruns largely on problems with the studies carried out by the Panamanian authority before work began. It says geological obstacles encountered while excavating have prevented it from getting the basalt needed to make the massive amounts of concrete required for the expansion.
Looking to capitalize on the bad publicity surrounding the Panama, Nicaraguan President Daniel Ortega and Chinese tycoon Wang Jing announced in January their plans to start building a $40-billion canal across Nicaragua, with work set to begin later this year.
Tiger Cool Express Acquires 200 Refrigerated Containers, Starts New Service
Tiger Cool Express LLC, a temperature-controlled intermodal transporter of produce and food products, announced their initial order of 200 refrigerated containers, which will be used for the launch of their service this spring.
"With the increasing interest in trans-continental intermodal transport of door-to-door cargo delivery, Tiger Cool Express is well-positioned to deliver fast, efficient and cost effective temperature-controlled and monitored cargo delivery nationwide," said Tom Finkbiner, CEO of Tiger Cool Express in the announcement. "The acquisition of our first 200 refrigerated containers for the efficient and safe delivery of fresh produce and food products across the country is just the first of several orders we will be placing as our state-of-the-art energy efficient refrigerated intermodal business grows. Our start-up is moving along quickly."
Finkbiner said the initial equipment is being supplied by Quest Capital, Inc., of Kansas City, Mo. The intermodal containers have been ordered from Hyundai Translead of San Diego, Calif., and will be manufactured in Tijuana, Mexico. The refrigeration units will be provided by Carrier Transicold of Southern California and are the X4 7300 model units. Startrak Telematics units have been selected to provide geophysical tracking, internal temperature monitoring and control, with door opening sensors, fuel sensors and accelerometer measurement devices.
"This package of equipment will give Tiger Cool Express and its customers the capability to trace the equipment physically in real time and adds a geo-fencing capability, which alerts the company and customer if the equipment is out of route," said Finkbiner. "Additionally, the containers are equipped with four internal temperature sensors to manage and monitor the environment inside the container and record that information during the entire trip, plus an added feature of an independent 'coring' thermometer which tracks the internal temperature of material in a pallet, box or Gaylord."
Crowley Boosts Reefer Fleet to Meet Peak Season Demand
Crowley Maritime Corporation's liner services group is adding 537 new refrigerated cargo containers to its equipment fleet to meet the growing needs of its produce customers in Central America, Puerto Rico and the Caribbean.
The 40-foot reefer containers were received in Santo Tomas, Guatemala, directly from the manufacturing facility and perfectly timed to accommodate the country's heavy northbound reefer season, which is currently underway and will continue through May 2014.
Crowley is also distributing the new reefers on other regional service lanes, as needed.
The new reefers are equipped with Carrier's high efficiency PrimeLINE refrigeration units.
Supervalu Unveils Largest Natural Gas Truck Fleet, New Fill Station
Supervalu Inc. recently announced the addition of 35 Class 8 Volvo trucks, powered by compressed natural gas (CNG), to its distribution center fleet based in Mechanicsville, Va. The company hopes the move will save it one million gallons of fuel and lower emissions and operating costs in the Mid-Atlantic region.
To power the new trucks, Trillium CNG, a leading provider of compressed natural gas fueling solutions, opened a fast-fill CNG station at the Mechanicsville distribution center.
"Our decision to transition to natural-gas-powered trucks is in keeping with Supervalu's long-standing commitment to do business in a sustainable manner," said Mike Lech, vice president of logistics for Supervalu's Eastern Region. "This project is not only good for the environment, but also for the bottom line, as each natural-gas-powered truck will cut greenhouse gas emissions and reduce fuel usage for our fleet. We're proud of this effort and the many great partners who helped make it a reality."