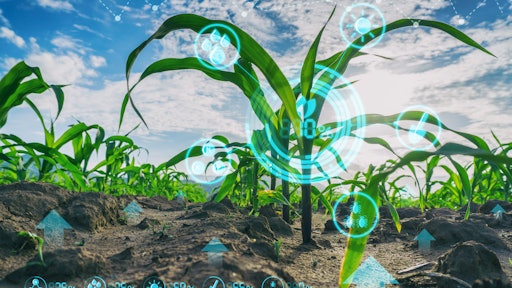 Getty Images
It is an intriguing time to be in the food and beverage space. Now more than ever, consumers want to know where their food is coming from and how the supply chain has an impact on the environment. With e-commerce taking off and more consumers reaching toward healthier options, companies are scrambling to address everyone's needs. Here are the ten companies that are currently changing the food and beverage space.
10.) Hazel Technologies
Hazel Technologies, an agricultural technology company that delivers new solutions to combat food waste, has recently received $13 million in Series B funding, bringing the company's cumulative total raised to $17.8 million.
Nearly 30 percent of all food that is harvested in the United States is thrown away – often it's not consumed because of early spoilage. The company's core technologies help prevent waste by releasing active, shelf-life enhancing vapor from packaging inserts called sachets. Growers place the sachets in boxes of bulk produce at the time of harvest, extending shelf-life of products up to three times by slowing aging in produce and preventing fungus or decay.
Hazel Technologies is dedicated to creating the solutions that are needed to combat food waste in an eco-friendly and sustainable manner. The company encourages collaboration and has proven to reap large profits for existing shipments while opening access to new geographic markets for its customers.
With its latest funding, Hazel will continue to grow its main product line and launch new technologies while hiring a young and diverse workforce.
9.) Uber Freight
Uber caused a stir in the trucking industry last year when it announced that it was closing its autonomous long-haul freight program. However, the company planned to double its investment in its Uber Freight unit in the coming years.
Since opening in 2017, Uber Freight has doubled its load volume every quarter and has expanded its partnerships. Most recently, the company has teamed up with SAP to modernize the freight industry through intelligent process automation and better access to a network of connected and reliable drivers. Through the partnership, SAP customers have gained access to transportation rates from Uber Freight and received real-time quotes and freight capacity, further simplifying load management and execution.
Uber Freight has continued to prove itself as a freight partner, providing remarkable results for Land O'Lakes where nearly 100 percent of its loads are being moved through the Uber Freight App.
8.) Impossible Foods
Impossible Foods is dominating the alternative meats market, marketing a plant-based burger that not only tastes like the real thing but will also save the Earth.
The company's "burgers" uses 96 percent less land, 87 percent less water and emits 89 percent fewer greenhouse gas emissions. Impossible is aiming to reduce humanity's destructive impact on the environment by using plant-based material. In a time when consumers are taking note of how the food they eat impacts the environment, Impossible Foods is making a difference.
Already Impossible Foods has proven to be approved by vegans and meat eaters alike, as it has been added to several fast food chains such as Burger King. In addition, Impossible plans on rolling out the product to grocery stores this fall.
Meanwhile, demand has started to outpace supply, creating a several-weeks long shortage. In order to ensure that the shortage was a one-time error, the company has teamed up with major meat supplier OSI Group to help meet the demand from consumers and restaurants.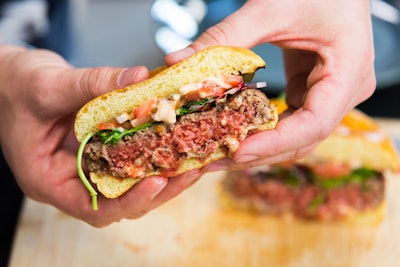 7.) Takeoff Technologies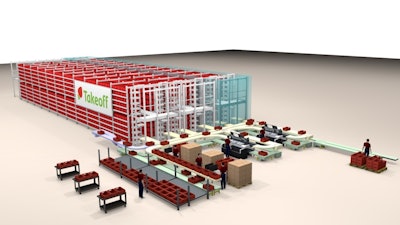 Startup Takeoff Technologies is bridging the gap between retail and technology, developing software specifically for grocers.
The company is developing "micro fulfillment centers" - small, heavily automated grocery distribution facilities that could be located inside existing supermarkets and used to quickly assemble orders for delivery or customer pickup. Artificial intelligence and data science tools will help optimize picking.
In July, the company announced that it was teaming up with Wakefern Food Corp., the largest retailer-owned grocery cooperative in the United States, to create one of its centers.
The new center will serve select ShopRite stores operated by Wakefern in North Jersey and New York. Takeoff's automated technology will use advanced robotics in the fulfillment center, allowing upwards of 60 grocery items to be assembled in minutes, increasing efficiency. Particular items will have to be stored in certain places so they're kept at the right temperature, and some groceries may be stored in multiple bins so that they're near frequent companion items.
Kroger acquired UK-based online grocer Ocado last year. The company operates e-commerce platforms, and its technology helps run logistics systems.
Through the acquisition, Kroger agreed to buy a stake in Ocado and license technology that the company will exclusively use in the United States to develop highly automated warehouses that will help grocery delivery.
So far Ohio, Central Florida and Mid-Atlantic have been named as regions that will receive the customer fulfillment centers. In addition, Kroger has committed to building 20 CFCs, powered by Ocado, to accelerate its ability to provide customers with anything, anytime and anywhere. The CFC model will be replicated to serve customers across America.
5.) Controlant
Controlant's cold chain solution offers fully connected digital capabilities, providing real-time temperature and product movement monitoring while products are in transit at rest. Knowing crucial information immediately allows teams to identify the weakest parts in the supply chain and take immediate action to correct them. Customers can also leverage the data to build new business opportunities by using Controlant's services. The company's solution is subscription-based and does not require any upfront investment in software or hardware.
Food distributors have seen a recent decline in profits as raw material and transportation costs skyrocket. To combat this, Performance Food Group has acquired Reinhard Foodservice in a deal that is valued at $2 billion. With the acquisition, Performance Food expects to save $50 million in costs by the third year after the completion of the deal.
In addition, Braveheart Black Angus Beef, a brand of Performance Food Group, has set up distinct product procurement, traceability and supply chain processes to ensure the quality of its beef. This is PFG's first attempt at developing a new supply chain and has created a market driven solution that pays farmers more to produce better animals while paying them directly.
3.) Omnichain
Omnichain's platform helps food and beverage companies connect their supply chains from end to end by using blockchain technology in just under 90 days. Its demand driven, software-as-a-service platform delivers real-time transparency, trust and efficiency from source to shelf for a more proactive demand planning and forecasting.
There has been an increased demand for cold-storage space as consumers move toward fresh foods and online ordering. Last month, Lineage Logistics acquired its rival Preferred Freezer Services, expanding its global warehouse footprint. The acquisition will contain more than 200 facilities with 1.3 billion cubic feet of cold storage across the globe, including 17 automated facilities.
Lineage Logistics maintains the temperatures in its more than 120 facilities at zero degrees. Some are refrigerated, while others have equipment for blast freezing, which requires temperatures of negative 20 degrees. The company has begun reducing its environmental impact by enlisting the help of ndustrial.io, a company focused on using detailed operational data to optimize energy use in industrial facilities. The two companies also developed a data analytics platform to compare food production and energy usage for each shelf in the warehouse.
In the food and beverage industry, having a green initiative is seen as a must-have in order to reduce the global food supply chain's carbon footprint. Lightning Technologies has made sustainability a core mission since its inception. Since Lightning opened in 2015, the company aimed to be carbon neutral. Jeffrey Owen, the company's founder and CEO, explains that Lightning works with lumber mills to be more eco-friendly. For every tree that is cut down to make one of its pallets, two more are planted to replace it.
While the company's pallets promote sustainability, its latest GMA pallet is also improving food safety. The pallet is a hybrid construction that can be sanitized, pooled and is embedded with an IoT BLE sensor that provides track and tracing opportunities allowing companies to track temperature, humidity and g-force data. In addition, the solution can track and prevent events in real-time in order to reduce waste, operational costs and provide measurable carbon reductions.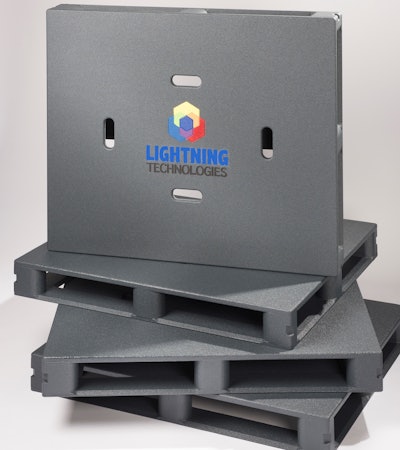 Companies in this article