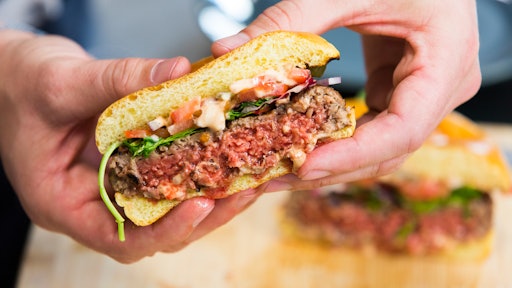 Impossible Foods
As reported by Food Logistics, for the last several weeks, Impossible Foods has been struggling to meet demand. However, in a letter sent to distributors earlier this week, the company has lifted the cap on ordering the alternative meats, saying that it is now "fully stocked."
Some restaurants will have to reorder the product their distributors and it may take some time before customers see the Impossible burgers on menus, though.
Demand for the plant-based meat surged as the company advertises that it has the look, taste and texture of the real thing, attracting both meat and non-meat eaters to the product. To meet demand, the company tripled its weekly production and has increased the number of employees at its Oakland, California factory.
The uptick in production allowed Impossible to make "a record amount" of patties in June and is on track to break that record in July.
Still, the company is unsure whether or not it will face another shortage in the coming months - especially if another fast food chain decides to add an Impossible product to its menu. However, Impossible has added a planning system to help anticipate those changes.
In addition, the company plans to start selling its products on grocery shelves this fall.