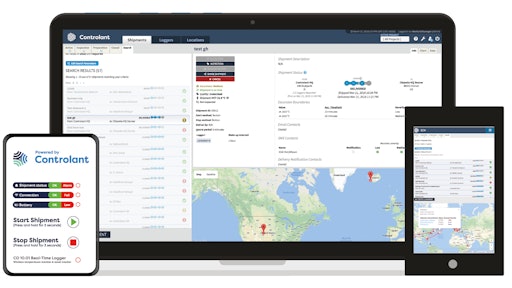 Controlant
The food supply chain has never been more complex than it is today. With increasing food safety recalls and ingredients being sourced from afar, connecting and protecting the cold chain to identify and mitigate risk, reduce food waste, increase supply chain efficiency and protect the end consumer will be vital moving forward. 
Yet, there are lingering misconceptions about the current state of cold chain visibility technology.
A Single Source of Truth Isn't Possible Today
Over the last few years, there has been increased interest over the future of traceability, collaboration and trust in the food supply chain. Discussions often pertain to blockchain adoption. While blockchain technology poses many potential benefits, the integrity of a blockchain is only as good as the data going into it. Creating industry-wide standards will help drive blockchain adoption.
Internet of Things (IoT) solutions that remain with products as they travel and contain sensors that can measure a variety of data points--temperature, humidity, and light events--already provide the ability to automatically and securely collect and share data centrally via a cloud software platform. Businesses and their logistics partners can monitor, manage and measure shipments in real-time as products move through the supply chain and while in storage. The data can be viewed for a single shipment or the entire supply chain and shared with relevant stakeholders.
Real-time alerts can help facilitate corrective action, reduce food waste and ensure consistent product quality. Analytics can help automate root cause investigations, shed light on unknown issues and drive continuous improvement.
Through data, weak spots are illuminated, enabling stakeholders to focus efforts on what matters most.
Cold Chain Technology Is Cost-Prohibitive
A common misconception is that today's technology is expensive, and therefore, can only be used for projects or limited to a part of the cold chain. Traditionally, the addition of single-use IoT devices to a shipment allows for tracking of temperature conditions throughout a single shipment. At the end of a journey, data is manually retrieved from the logger. Often blind spots in the supply chain occur, as it isn't possible to connect temperature, time, and location data to determine what happened, where it happened, why it happened, and who was responsible. If a temperature excursion occurred, it is often too late to save the product load. At worst, a quality issue may not be known at all.
Today, it is easy and cost-effective to adopt an end-to-end digital visibility solution. Rather than purchasing and managing an IoT device pool, services-based partnership models exist that include subscription-based access to IoT and software technology. Businesses can outsource their IoT device management, and teams can respond to real-time alerts, dig into the shipment notification data and facilitate a corrective response if needed.
Getting Started with the Right Technology
To get started with the right solution, there are several considerations to ensure that your technology partner can help achieve a company's business goals and support the food safety culture.
1. Get key stakeholders on board from the beginning to help derive the most value from a technology program.
2. Start with a strategic part of the supply chain. This might include a problem lane where visibility limitations have existed.
3. Determine the root cause of temperature deviations. Assess the value from the data to make it easier to extend a program to additional lanes.
With the FDA placing a greater emphasis on the importance of connecting food supply chain stakeholders to ensure public safety through shared data, technology will play a mission-critical role moving forward.  
Jessie VanderVeen, JD, is VP Marketing & Communications at Controlant, a developer of digital IoT cold chain solutions that provide farm-to-fork visibility, enabling food businesses to proactively protect consumer safety and their brand.