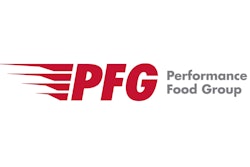 Performance Food Group announced that it is acquiring Reinhard Foodservice in a deal that is valued at $2 billion. The sale is expected to close by the end of the year.
Reinhart has an annual net sale of more than $6 billion and will help Performance Food build scale and expand its geographic reach.
"Reinhart Foodservice understands the important role our associates play in our success. We have proudly invested in our people and infrastructure to build our business, and we're excited about this acquisition knowing that PFG supports a similar approach," says M. Jude Reyes, Reyes Holdings Co-Chairman.
Food distributors have seen a recent decline in profits as raw material and transportation costs skyrocket. With the acquisition, Performance Food expects to save $50 million in costs by the third year after the completion of the deal.
"We are excited to partner with PFG and believe this acquisition provides meaningful benefits to our customers and expanded opportunities for our employees," says J. Christopher Reyes, Reyes Holdings Co-Chairman. "PFG has a solid track record of growth and leadership in our industry. We believe our strengths and the strong cultural connection our companies share will support continued success for many years to come."