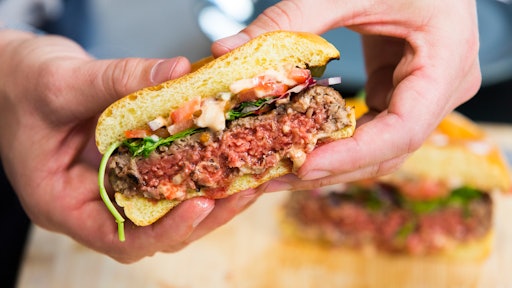 Impossible Foods
The alternative meat market is expected to surge within the next 10 years, capturing 10 percent (140 billion) of the $1.4 trillion meat market.
A report found that investors and traditional food companies are intrigued in the sector as companies like Beyond Meat and Impossible Foods prove to be well-approved by consumers.
"Although today we believe that there are inherent barriers to successfully replicating certain animal-based consumer favorites (e.g., T-bone steaks), what has been achieved so far in terms of "meatless" ground beef, sausage and hamburger products has yielded positive initial consumer reaction, which should bode well for the alternative meat sector to grab its fair share of the global meat market," analysts wrote in the report.
Market Watch reports that there are some risks that consumers will have to consider when purchasing. One being that alternative meat may be less healthy than what some companies are claiming. The report said that alternative meats have lower cholesterol levels but higher amounts of sodium.
In order for the sector to become a mainstream category, it will have to work with food companies, restaurants and retailers. Currently food companies such as Tyson Foods, Kellogg, Kraft Heinz and others have invested in plant-based meat startups or have plans to develop their own.
Meanwhile, alternative meats have seen a success in the restaurant space as more fast food chains are adopting the product. Burger King announced that it will roll out Impossible Whoppers this year after a successful trial run. However, some restaurants aren't able to keep up with the demand of the meat. Earlier this month, there was a shortage of the Impossible Burger, prompting many restaurants to have to temporarily remove the item from their menus.