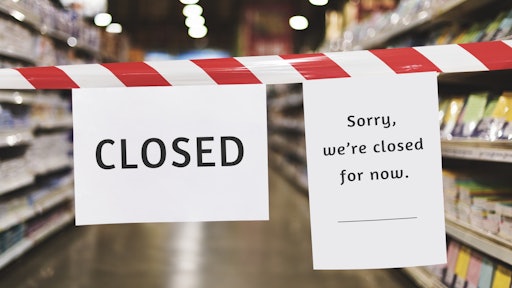 AdobeStock_341111225
If you're like me, you're turning to the internet to purchase everything from toilet paper to food items.
Since the Coronavirus disease (COVID-19) pandemic hit, I have become conditioned to having product delivered to my front doorstep.
Yes, I am "that" consumer.
But, as we all know, the supply chain is messy. And, it's getting worse, which means orders sit unfilled or show up days later.
For instance, a cargo ship carrying mining chemicals from British Columbia caught on fire, forcing 16 crew members to evacuate the MV Zim Kingston.
Last month, close to 100 container ships were stranded at sea. Freight costs continue to increase, with the average global price of shipping a 40-foot container almost $10,000 — three times higher than it was earlier this year and 10 times pre-pandemic levels, according to Financial Times.
And, shipping freight globally now sits at a 70-day backlog, according to an E2open survey.
But, in an effort to speed up the delivery of goods across the United States, the Port of Los Angeles and Port of Long Beach moved to 24 hours/7 days a week operations.
And, companies continue to implement technologies and solutions designed to provide traceability, visibility and efficiency in ensuring product reaches the consumer in a safe, timely and efficient manner.
Yet, it still forces us to wonder and ask that very common question… "dude, where's my order?"
Well, it's most likely sitting on a ship that's sitting idle at sea; could be sitting on a truck that's sitting idle due to road closures or lack of drivers; could be sitting in a warehouse ready to be put on a truck, yet there's no one there to do that.
The supply chain is messy. And, industry organizations are reaching out to their state legislators and the Biden Administration for help.
For instance, Port of Oakland executive director Danny Wan, speaking as president of the California Association of Port Authorities (CAPA), requested state help to ease a U.S. supply chain crisis, calling for "increased collaboration and solutions from all levels of government as containerized cargo continues to back up at California ports. Inaction could result in freight migration and job loss to other states," he says.
The International Foodservice Distributors Association (IFDA), representing agriculture, foodservice, trucking, warehousing, manufacturing, retail, construction, energy and other key supply chain stakeholders, penned a letter to President Biden, urging the government "to address the immense challenges impacting our nation's supply chain."
If you're wondering where your order is, well, you're not alone.
Next time you encounter a truck driver, warehouse working, line operator or anyone who works in the cold food chain, please say thank you. Maybe celebrate and honor their achievements by nominating for our Rock Stars of the Supply Chain award.
And, by all means, be patient. I truly believe the rock stars of the supply chain will be able to turn the supply chain right side up.