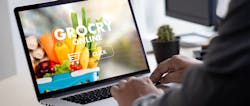 ©onephoto-stock.adobe
An increase in online ordering, dark stores and micro-fulfillment centers is driving change in the grocery supply chain. Grocery retailers are adapting their approaches to sourcing, distribution and transportation.
This 4-part white paper will uncover the logistics behind supply chain visibility, detailing how and what technologies companies are investing in, how companies are working to meet same-day delivery and what forms of technologies are best for mitigating supply chain risks.
DOWNLOAD THIS FREE WHITE PAPER
This series of white papers will break down grocery retail, last mile and warehouse automation, revealing how procurement software, enterprise resource planning (ERP), warehouse management systems (WMS), robotics and other automated solutions help companies better forecast for inventory, waste reduction, fleet management problems and more. 
Download this FREE white paper now to learn how grocery supply chain visibility is changing.