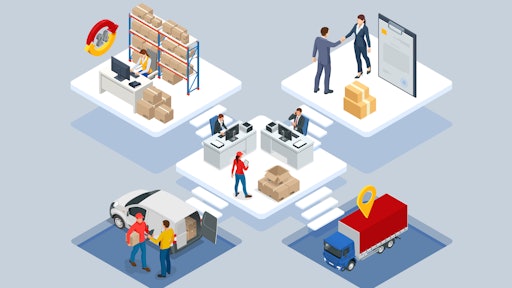 Golden Sikorka AdobeStock_453942999
Unearthing the state of food logistics can be tricky. On one hand, restaurants are open and booming. Shoppers are returning to in-person grocery shopping. Production facilities are moving product. And, trucks, well, they're moving product too.
However, the elephant in the room is all of the disruptions, bottlenecks and challenges still plaguing the cold food chain.
From rising ingredients costs and increased food safety measures to the driver shortage, port congestion and trade tensions, the state of food logistics is well, interesting.
Here's a mid-year outlook on the state of food logistics:
The truckload rate-per-mile increase will begin to flatten in Q3, with a slight quarter-over-quarter increase projected, from 24.1% in Q2 to 26.5% in Q3 2022, compared to January 2018 baselines, according to a study released by AFS Logistics and Cowen Research.
The Drayage Spot Market Index found a 32% rate increase since July 2021, and is expected to increase 17.1% over the course of Q3 of 2022, according to

Book Your Cargo.

Yet, imports set another record high this spring as the nation's major container ports worked to reduce congestion and retailers stocked up before dockworkers' West Coast labor contract expired, according to the monthly Global Port Tracker report released by the National Retail Federation (NRF) and Hackett Associates.
Funding for logistics startups increased dramatically, almost doubling in 2021 compared to 2020 and shifting to different logistics sub-sectors, according to a McKinsey report. (Speaking of startups, check back Oct. 10 for our newly launched Top Tech Startup award).
In June 2022, online prices increased 0.3% year-over-year (YoY) while decreasing 1% month-over-month (MoM), according to an

Adobe Analytics

study, with grocery experiencing the highest influx of rising costs of goods.
Diesel is the predominant technology in commercial trucking, according to the

Diesel Technology Forum's

analysis of data.
While Millennial and Gen Z drivers are partially motivated by pay, the majority of them consider other factors equally or even more important when it comes to joining or remaining with a motor carrier, with company culture being No. 1, according to a new report from the

American Transportation Research Institute (ATRI

).
President Biden's signature of the Ocean Shipping Reform Act (OSRA) is a good example of progress. Here's why.
Growth in online grocery shopping has triggered demand for new U.S. cold storage space, spurring 3.3 million square feet of speculative development, up from just 300,000 square feet in 2019, according to a new report from CBRE.
New research from

IRU

reveals a likely increase of 40% in the driver shortage by the end of the year.
Despite the ongoing labor shortage, ingredient shortage and driver shortage, the future of food logistics shows hope, innovations and reinvention. Companies are better prepared and better positioned to face continuous bottlenecks. Retailers and foodservice establishments continue to pivot to become all things to all consumers. And, the trucking and transportation industry continues to implement software and technologies designed to improve routes, fuel usage, driver safety, visibility and more.