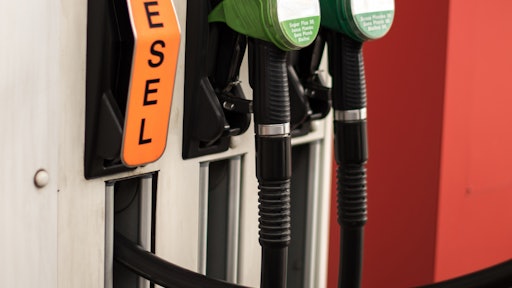 buenafoto AdobeStock_138662933
Diesel is the predominant technology in commercial trucking, according to the Diesel Technology Forum's analysis of data sourced from S&P Global Mobility TIPNet data of vehicles in operation for Class 3-8 as of December 2021.
"It's a very dynamic time for fuels, technology and mobility and it is important to understand which technologies are powering these sectors today to better inform our understanding and in making decisions about the future," says Allen Schaeffer, executive director of the Diesel Technology Forum (DTF).
From GlobeNewswire:
76% of the approximately 15 million commercial trucks (Class 3-8) that make up the nation's fleet run on diesel power. Of those, the newest generation of advanced diesel technology models now account for 53% of that fleet.
Other fuels that play a role in commercial trucking include gasoline (23%) and compressed natural gas (0.4%). Electric and other categories each register less than 1%.
Of the largest trucks (Class 8) in operation, 97% are diesels. About 32% of all electric trucks nationwide are in California, where for every electric truck there are about 300 diesel trucks (all years, Classes 3-8).
Last year, Indiana had the largest amount of new generation diesel trucks registered (69.3%), followed by Utah (63.2%), Pennsylvania (62.8%), Texas (60.1%), Oklahoma (60.0%), Florida (59.1%), the District of Columbia (58.4%), Illinois (56.2%), Maryland (55.7%), and Wisconsin (55.5%).
For the largest commercial trucks (Class 8), 62.5% of diesels on the road are 2007 and newer, which means they are equipped with at least a diesel particulate filter. For gasoline vehicles that make up about a quarter of all commercial trucks (Class 3-8), more than half (57.5%) of those in operation are 2007 and newer model years.
"Even as zero emission technologies emerge, there is a consensus that diesel technology will continue to dominate these sectors for decades. Diesel is the technology of choice in each of these sectors because it offers the best all-around set of advantages over other options. Diesel is proven, safe, efficient, reliable, durable and economical. Established fueling, maintenance, and parts networks nationwide, as well as the well-documented secondary resale markets are other key differentiators of diesel technology. With today's advanced diesel technology achieving near-zero emissions, and even further reductions anticipated, coupled with suitability for running on a wide range of low-carbon renewable bio-based diesel fuels, all but ensures diesel's role in the future," says Schaeffer.