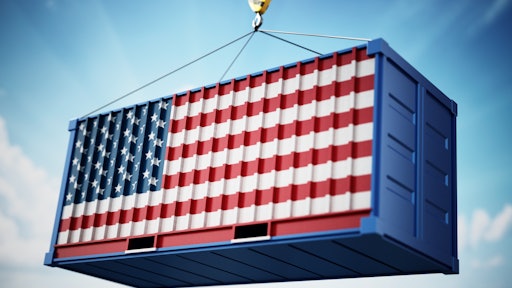 Destina - stock.adobe.com
Throughout the pandemic, the term "unprecedented" was thrown around freely, including to describe the massive supply chain disruptions that resulted in empty store shelves across the country that left Americans scrambling for basic items and multiplied wait times for online deliveries from days to weeks or even months. The government's response to this crisis could also be described as unprecedented. Right now, we're witnessing a historic uptick in supply chain policies actions and initiatives, and rightfully so. While long overdue, this newfound focus on improving supply chains is great news for manufacturers, shippers, logistics service providers, and most importantly, consumers.
President Biden's signature of the Ocean Shipping Reform Act (OSRA) is a good example of progress being made on this issue. It provides additional authorities for the Federal Maritime Commission to tackle unfair ocean shipping practices being pursued by foreign flagged carriers. This action will help protect American food, agriculture and consumer interests and ensure a smooth flow of exports and imports at lower costs.
This new law, combined with the Biden administration's recent launch of the Freight Logistics Optimization Works (FLOW) initiative, the Department of Transportation's deployment of record infrastructure dollars and the launch of an intermodal freight office, offers tremendous momentum toward strengthening supply chain resiliency and performance in the long term.
While there is no silver bullet, these government efforts in concert with the private sector will ultimately reduce time, cost and complexity. In the case of FLOW, unprecedented also applies to the program's objective. Leveraging data-sharing and pooled visibility to develop a national picture of pinch points and performance at key functional areas is the foundation for creating a real-time monitoring program to provide insight into the full system and the eventual establishment of a national freight data portal. Imagine a system similar to air traffic control for supply chains that provides real-time information to predict and prevent disruptions
Congress is on the cusp of passing comprehensive supply chain provisions in the USICA-COMPETES legislation that is in the final stages of negotiation. One of the most promising provisions in the legislation establishes a Critical Supply Chain Resiliency Program at the Department of Commerce to focus strictly on supply chain issues. The program would be required to map and monitor supply chains, conduct performance assessment exercises and directly invest in domestic manufacturing.
But these advances are at risk in negotiation between the House and Senate. The House bill includes funding for supply chain provisions; the Senate version offers markedly less and risks watering down the immediate effectiveness. In addition to helping spot issues before they become crises, new levels of funding and investment will set the stage for the United States to compete on a global stage, as countries like Singapore, China and Germany raise the bar for supply chain and industrial policy.
Prior to the pandemic, supply chain was rarely — if ever — the subject of kitchen table conversation, let alone front-page news. But in March 2020, our eyes opened to the vulnerabilities and frustrations of the supply chain. The industry quickly learned how little visibility there is across U.S. supply chains and the consequences of not being able to see if/when skidding into a crisis.
Companies are taking the lessons of the pandemic into practice, ensuring they can deliver for consumers by building greater resiliency into their systems, even if it means abandoning long-held just-in-time logistics models. Policymakers need to take the lessons too. If they choose to ignore the symptoms that contributed to supply chain slowdowns and breakdowns, they also choose to accept they can — and likely will — happen again.
There is a critical choice Congress must make. Will it stand by as product shortages, delays and price increases continue to wreak havoc, or it will it take an unprecedented opportunity to make a difference for the supply chain today and long into the future?