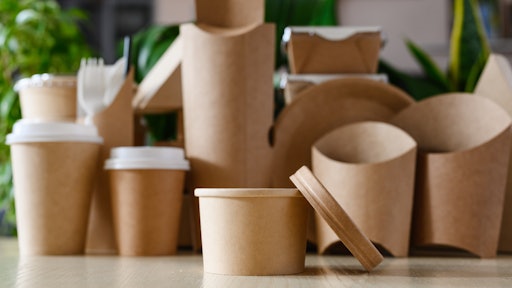 Nikita AdobeStock_546995398
Reduce. Reuse. Recycle.
It's more than an adage. It's the building blocks of environmentally responsible stewardship and gaining traction among food and beverage manufacturers.
According to a report by TraceGains, nearly 64% of food and beverage leaders acknowledged the importance of being environmental, sustainability, and governance (ESG) compliant. And almost 50% of all respondents said they'd be willing to stop production on a product altogether if it could not be produced in accordance with ESG objectives.
Despite the push for sustainability, many manufacturers face numerous challenges and feel they are falling short of achieving full ESG compliance. Among their challenges are:
· Increasingly complex supply chain
· Loose guidelines
· Fragmented goals
· Higher ingredient prices
· Lack of automation and technology
· Cost to invest
Trends in sustainability: Transformative packaging solutions for food and grocery industry
Approximately 91% of packaging waste ends up in a landfill.
Primarily driven by changing regulations, consumer demand, and pressure from competitors, sustainability initiatives are reaching beyond traditional measures and tapping into new sustainability pathways.
It is not just environmental factors or investor preference causing these transformative shifts -- there are other drivers impacting the food and beverage industry:
· Regulatory compliance
· Need for cost savings
· Supply chain inefficiency
· Desire for a positive brand reputation
· Need for long-term resiliency
· Ways to differentiate from the competition
· Desire to reduce carbon footprint and waste output
· Health and safety measures
As a result, greener packaging processes are on the rise, and many food and beverage manufacturers are exploring packaging design improvements using reusable, recyclable and compostable materials.
For instance, sustainable materials like bio-based packaging with lower life-cycle emissions can significantly improve an organization's packaging sustainability plans. Such innovations may include packaging made from barley straw and bamboo, recyclable wrappers and paper cushions, compostable or paper food containers, wine bottles made from recycled paper, starch-based polymer bagging, and recyclable beverage rings made from molded pulp.
Reusable packaging is another way to reduce waste.
Additionally, some packaging solutions use minimalistic designs that reduce material usage and allow items to be packed tighter and more efficiently.
Beyond material selection, automating packaging processes is another way businesses are reaching their sustainability goals. By automating your packaging lines, manufacturers can increase production and efficiency, reduce waste, attain better data about operations, and improve the health and well-being of their employees. For example, a reliable packaging partner can help design solutions to use less packing material resulting in lower material and labor costs, lower freight costs, and higher sustainability metrics.
Automated solutions can improve your packaging processes and reduce the need for human intervention in your operations, a critical factor in a shrinking labor pool. What's more, automating packaging production lines can reduce the occurrence of improper labeling, missing or illegible words or graphics, missing barcodes, use of improper packing materials, and inaccurate product weights. This can help eliminate errors which increase shipping costs and carbon emissions.
These customized and automated solutions can be tailored to your business needs and increase production speed, enhance safety, and drive profitability for your business. Here are just a few examples of automated solutions for your packaging line:
Sustainable options for primary, secondary and end-of-line packaging
Primary packaging
· Poly-bagging equipment
· Package feeding and filling machines
· Checkweighers
Secondary packaging
· Case forming equipment
· Case packing machines
· Carton sealers
· Shrink Bundling
· Void fill and protective packaging solutions
End-of-line packaging
· Stretch wrapping
· Automatic palletizing
· Strapping solutions
Marking and coding equipment
· CIJ inkjet printers
· Thermal transfer printers
· Laser coding systems
· Print-and-apply labeling systems
· Handheld marking and coding
How manufacturers can overcome cost concerns in sustainability initiatives
The push for sustainability is clear. But so are the added costs incurred by the manufacturer, especially when it comes to placing new equipment or retrofitting existing equipment. To maintain profitability, food and beverage manufacturers must develop strategic sustainability transition plans focusing more on value creation and less on the initial investment costs.
As companies become more keenly aware of their businesses' carbon footprint and its impact on the world, many also realize their current operations are costly, inefficient, and outdated. Ideally, they would receive assistance from their supplier partner, who should be able to offer a line-by-line comparison of existing costs to operate compared to operational improvements.
Once manufacturers see their current cost of doing business, they are often surprised by the hidden expenses associated with outdated or obsolete packaging processes. These often include:
· High energy consumption
· High number of trucks on the road
· Increasing landfill waste
· Increasing emissions
· Skyrocketing labor costs
· High number of rejects and reworks
· Inflated operating costs
Automating packaging processes reduces the need for manual intervention and addresses sustainability issues by reducing material waste and the number of defects. Additionally, automation helps manufacturers with labor shortages and production issues. Packaging material changes and adaptations can address food waste and loss reduction, preserve quality, and prevent contamination while minimizing the costs to ship, transport and store goods.
For example, a switch from manual to automated stretch wrapping systems of pallets for shipment resulted in significant annual savings for one manufacturer by saving 150 rolls of stretch film and reducing electrical use. It also decreased plastic waste by 750 pounds, carbon dioxide emissions by over 12,000 pounds and kept 715 pounds of paper waste out of landfills.
Automation enables predictive maintenance, keeping manufacturers online longer with better machine uptime, less unplanned downtime and predictable maintenance costs.
How suppliers can help food and beverage companies with sustainability
Improving one or two of these inefficiencies alone is enough to jumpstart sustainability initiatives. Making incremental operational improvements to packaging processes can streamline production, eliminate inefficiencies, and create a smaller carbon footprint.
However, that's easier said than done.
In 2022, McKinsey & Company reported that an common factor challenging a company's ability to achieve sustainability compliance are the out-of-date technical requirements for packaging designs that have carried over from earlier-generation products.
Every company has very different operational needs and we recommend manufacturers work with a supplier that takes a consultative approach for their procurement needs. The ideal partnership would address both sustainability and profitability by evaluating business needs, performing a detailed equipment, material and application analysis, detecting inefficiencies, and then fine-tuning solutions that meet the complexity of the operation and plans for continuous improvement. Often, solutions that address sustainability also improve the company's bottom line.
Sustainability can be more easily achieved when you work with a dedicated supply partner who:
Ø Has packaging experts who work closely with plant engineers and operations managers to analyze your entire production line to identify bottlenecks and areas for improvement.
Ø Ensures your product is appropriately packaged and marked for consistent and reliable delivery to your customers.
Ø Has an extensive network of suppliers to help identify solutions that meet strict chain-of-custody, sanitation, and FDA standards commonly required in the food and beverage industry.
Ø Considers product quality and customer satisfaction in all recommendations.
Ø Monitors and measures progress
Investing in sustainability initiatives just makes sense, both environmentally and economically. Companies that promote sustainability throughout their operations will be better positioned to succeed and compete in an environmentally conscious marketplace.