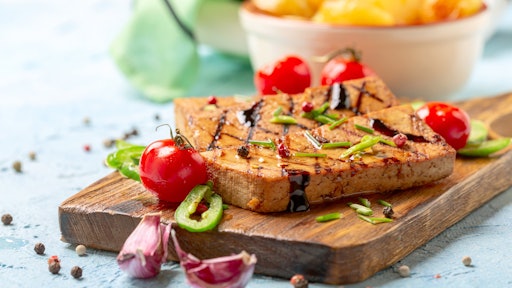 sriba3 AdobeStock_439074822
It is no secret that meeting demand for plant-based products and increasing sustainability efforts are two primary focuses across the food and beverage sector, and don't expect either to fade away any time soon. Consumers have made these priorities for their favorite brands, and enhancing operations in both areas can often intersect.
While incorporating plant-based products into your diet has countless health benefits, selecting plant-based food products also has a positive impact on the environment as they are produced from natural resources and use less energy, less water and less land to manufacture, ultimately reducing carbon footprints. Consumers have realized these benefits and adopted plant-based alternatives in waves. In fact, plant-based diets have increased 300% for Americans in the last 15 years, and plant-based retail sales had an overall growth rate of 27% in one year, from 2019-2020.
While consumers are making their moves to plant-based diets, producers across the globe are adapting to address the increased demand. Industry leaders have the opportunity to take advantage of the vibrant plant-based market and take steps to meet sustainability goals by incorporating several principles into their operations.
Adopt sustainable packaging
Tremendous strides have been made to reduce the negative impacts the food and beverage industry has environmentally, but more needs to be done. Adopting sustainable packaging solutions is another step in the right direction as it reduces negative environmental contributions. Not only do these options reduce packaging waste – which has totaled at 30% of the U.S.' total waste in recent years– it can also be another aid in the fight against food waste, where currently 931 million tons is wasted globally each year.
These packaging solutions can also be invaluable in protecting and preserving the products at hand. For your plant-based items, this is very important in securing their quality and stability, as they are often delicate and can be more vulnerable to spoilage compared to other products. A few sustainable packaging options producers can implement specifically include compostable, paper or paperboard alternatives, which are recyclable and often provide packaging options specifically fit for your products.
It can be difficult at first to adapt to a more sustainable packaging option – depending on the scale of the transition – but with 60-70% of consumers saying they would pay more for brands who implement sustainable alternatives, it can be worthwhile in the long run, both economically and environmentally.
Implement traceability technology
Related to an increase in demand for plant-based products, consumers are more conscious that products they purchase have a clean list of ingredients. A recent study from BENEO shows that consumers focus on product ingredients more than the product brands themselves. As consumers continue to educate themselves on clean foods, producers must do their part to ensure the quality of their clean products. One way to do this is by implementing traceability technologies.
Traceability systems identify possible contamination in products and can help producers and their stakeholders avoid the risk of contamination. Not only does this avoid potential health risks, the benefits of traceability technologies can also minimize food waste. Identifying risks as soon as possible in the production process can decrease the possibility of widespread waste for one product line, let alone several within one company.
Traceability is key to ensuring the quality of fresh and perishable foods, which can be easily susceptible to spoilage and contamination. Implementing these systems in a plant-based production line safeguards the products' quality, increasing yield and improving the experience for the end consumer.
Reduce overall consumption
Reducing overall water and energy consumption in operations is key to achieving more sustainable operations. The food and beverage sector is among the highest of any industry in terms of energy use globally. The food production industry in the United States used 10.1 quadrillion BTU of energy in 2018, which accounted for 10% of the nation's total energy consumption that year.
Due to the specific nature of plant-based products, their production processes can take longer and lead to longer running times for machinery and technology. Producers can invest in a number of different technologies to make their operations more sustainable, including energy recovery systems, advanced automated and robotic systems, which can be used in product sealing, aseptic filling and more. Not only can this technology reduce the amount of energy and water usage, but it can also reduce overall labor requirements as well.
It is also important that producers do their research when considering and selecting their equipment vendors. Inadequate systems for their specific facility and plant-based product line will hinder the ability to reduce consumption, impact the quality of their products and potentially result in the need to replace technology sooner than expected.
As more companies enter the plant-based market to adapt to the growing consumer demands, sustainability should be a key consideration. Luckily, these two aspects go hand in hand, and properly leveraging that correlation can benefit customers, the planet and your business' bottom line.