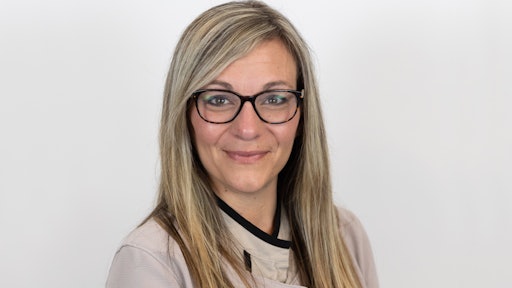 Twenty years ago, Tiffany Mensen started out on what she calls "the path yet taken." It was a journey she "didn't know existed until it appeared, offering new and unexpected opportunities," she says.
"For me, that meant gaining a breadth and depth of knowledge early in my career that paved the road ahead, even if I didn't realize it at the time," Mensen adds.
That knowledge originally stemmed from her roles in customer service and sales, which allowed her to cultivate problem-solving skills and build meaningful relationships in the supply chain space. She later continued to build on these skills as she moved into account management roles, where she partnered with some of North America's largest retailers and manufacturers. Then, Mensen transitioned from the commercial side of the business to logistics, bringing her unique perspective and experiences to the planning, transport and logistics teams.
Ultimately, this path led Mensen to her present-day position as director of national accounts for CHEP U.S., where she applies her diverse industry experience to collaboratively drive efficiencies, increase asset productivity and further environmental solutions in the supply network.
Throughout her journey, Mensen has challenged her colleagues and CHEP customers to take the company's inherently circular business model (shared, repaired and re-used pallets and containers) even further by spearheading new programs and facilitating collaboration that helps everyone do more good, together.
In the first few years of Mensen's career, she implemented a transportation reduction program for a customer that resulted in $1.2 million in annual savings and less environmental impact by reducing empty transport miles, which lowers carbon emissions. She also led and executed a new audit process that kept more assets in the supply network and available for manufacturer and retailer use as well as decreased CHEP's asset loss rate year-over-year. Other efforts early in her career helped reduce network cycle times and improve supply chain productivity by circulating pallets more sustainably and efficiently.
As she moved into a new role working directly with retailers, Mensen captured and communicated how initiatives like these enhance CHEP's circular business model to support both CHEP and its customers on their sustainability journeys. In fact, Mensen helped a large retailer demonstrate the environmental savings of working with CHEP in its annual ESG report. Since then, several other customers have included similar results in their reports.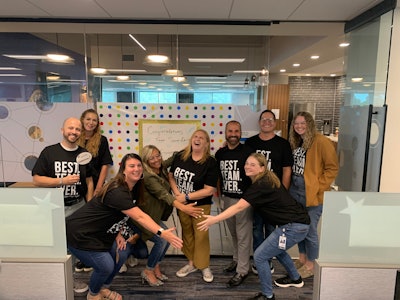 More recently, Mensen continued to positively impact the supply network through customer collaboration and problem-solving.
For example, in the past couple of years, Mensen worked with a leading warehouse club retailer to help alleviate one of its pain points: eliminating live loads into its depots. After a pilot that Mensen led proved the sustainable success of the concept, she helped build a dedicated expansion process for all 14 depots. The plan included transforming the process from a historically siloed approach to a collaborative approach, and its impact was immediately felt by all parties – customer, sales, operations, logistics, planning and transport. To date, the retailer has decreased overall transportation costs and emissions, and enhanced service at the seven completed depots, with plans to implement the program at additional ones this year.
In another successful project, Mensen helped oversee the planning and execution of setting up third-party management (TPMs) systems for a leading U.S. retailer, resulting in a 38% reduction in cycle time and quicker release of hundreds of thousands of pallets for use back into the supply network. The project involved halting upstream and downstream flows to boost platform collections; developing a new platform solution to reduce cycle time and damage; working with transport centers to reduce empty miles on backhauls; and spearheading internal advocacy and education at stores to promote proper platform use.
It's these reasons and more that warrant Mensen as Food Logistics' 2023 overall Women in Supply Chain winner.
The Women in Supply Chain award honors female supply chain leaders and executives whose accomplishments, mentorship and examples set a foundation for women in all levels of a company's supply chain network. This year, Food Logistics and Supply & Demand Chain Executive received over 400 submissions, the highest amount of applications not only for this award, but also for all of their awards, but what separates Mensen apart from the others is her ability to employ cross-training and continued learning, support colleagues through career transitions at CHEP, enable cross-pollination of talent across the logistics and commercial teams and champion a collaborative approach in all aspects of her role.
"Fortunately, all of the roles and learning experiences throughout my career were building blocks to my current leadership position, which I'm extremely grateful for and proud of. By combining my openness to new experiences with purpose and passion, I've achieved many of my career goals and continue to grow as a supply chain professional," Mensen says. "I've had the privilege of being able to make an impact within my organization that benefits the greater good."
Rising to the challenge, again and again
While being a woman in a traditionally male-dominated industry poses a set of challenges, for Mensen, it also presents a flurry of opportunities.
"Women in the supply chain can continue to expand their influence and impact on the industry by challenging themselves to seek out and embrace new experiences. Over the course of my career, I've sought roles that historically underrepresent women across the supply network in order to learn, grow and develop new skills. When I've had the opportunity to do so, I've then taken those learnings back to my team or others in the business who I thought could also benefit from the knowledge-share," Mensen says.
"I encourage other industry professionals to embrace these growth opportunities, and take initiative, even when it might seem intimidating," she adds.
Mensen also details the importance of taking chances, being brave, embracing adventure and giving yourself grace.
"If new opportunities feel scary, remember that fear presents two choices -- forget everything and run or forget everything and rise to the challenge. Personally, I have an adventurous mindset and curiosity that has pushed me to rise to the challenge again and again, and it's opened doors for me throughout my career," Mensen says. "Also, give yourself grace. You may make mistakes when trying something new, and that's okay. Failure is a part of the process and something to grow from. I constantly remind myself, my colleagues and my two daughters to follow this same advice."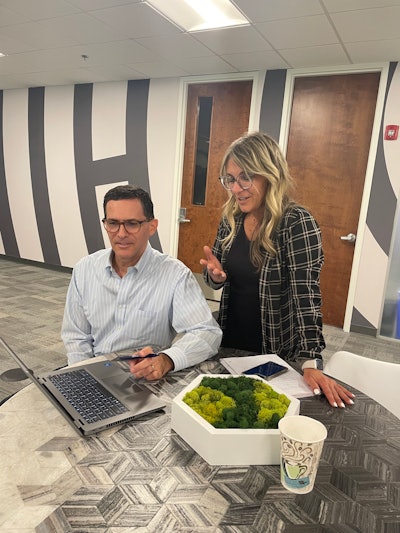 What also separates Mensen from the other Women in Supply Chain winners is her ability to promote relationship building, not just in the supply chain industry but also in life on a personal level. Mensen's diverse supply chain experience, strong binding relationships and passion for sustainability further CHEP's partnerships and help create a positive impact in the supply network.
"Focusing on people truly makes a difference, and as you grow in your career, it translates into compassionate leadership and strategic partnerships. I focus on working together to solve problems, empowering others to achieve their goals and finding ways to add a personal touch to everything I do," Mensen says. "In the supply network, this means collaborating end-to-end from sourcing and manufacturing to the end consumer to build a network of relationships that have an impact at scale."
"I'm eager to continue collaborating and innovating to drive efficiencies, increase asset productivity in the CHEP business and to further sustainable solutions in the supply network. I aspire to continue positively impacting women in the industry and the supply network overall. Beyond that, I'm leaving room for the unexpected, or the path yet taken. The possibilities are endless with an open mind and curiosity to learn," she adds.