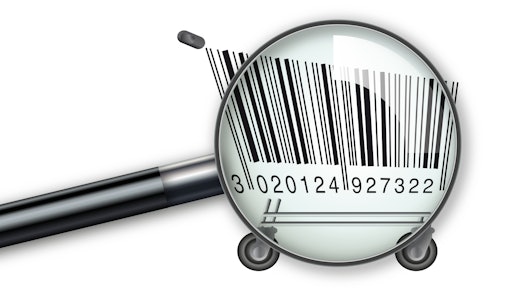 pict rider - stock.adobe.com
Sustainable manufacturing is becoming more common throughout the food supply chain and has many driving forces; two primary forces being the substantial financial and environmental benefits from sustainable business practices.
Sustainable manufacturing is the creation of manufactured products through economically-sound processes that minimize negative environmental impacts while conserving energy and natural resources. There are many examples of how manufacturers are becoming more sustainable by reducing waste. Here's how the role of label printing and how linerless labeling is growing in popularity as a step toward more sustainable manufacturing.
What is linerless labeling?
There are many labeling options on the market to choose from such as traditional labeling using pre-cut, liner backed labels to liner-free linerless labeling solutions.
Linerless labels are pressure-sensitive labels without a liner—they are produced with no liner and a silicon topcoat to ensure labels release from one another. Made with a special release coating applied to the face of the label, the labels can be wound on a roll without the adhesive sticking to the label below it.
As an environmentally friendly labeling alternative, businesses of all sizes are turning to linerless media as the best option for sustainable printing.
The sustainable benefits of linerless labeling
Traditional label rolls come with a siliconized backing liner which typically can't be recycled, so the liner ends up in a landfill making the overall cost of disposing a liner quite high. Linerless labels do not require backing liner so the waste from this type of labeling is minimized, equating to less materials needing to be used to produce the media.
Significantly reducing the paper thickness by removing the liner adds up to 40% more paper length per roll and requires fewer roll changes, improving work efficiency and reducing downtime required to load new paper rolls. Additionally, choosing linerless media reduces shipping and storage costs.
Unlike traditional pre-cut labels which have a fixed label length, linerless label rolls allow for labels of multiple sizes to be printed one after the other, to produce the optimum size label for each job. Variable size labels also save on material costs as they produce less waste per label. As linerless label rolls have more labels per roll compared to traditional linered media, printed labels can be applied to packaging quicker.
Common use cases:
· Fast food, take-out and pick-up orders. The increase in to-go orders has impacted demand for linerless printers and labels for marking prepared foods and drinks. Common labeling information can include customer name, order number and details, order date, time, and price.
· Grocery and retail. Use of linerless labeling is very common in zero waste stores, delis, meat departments, bakeries, and hot food sales.
· Warehouse, logistics and transportation. Linerless labeling processes are time and material saving measures. Linerless labels are the most used as shipping labels or in print-and-apply labeling which require variable data as used in product distribution and logistics tracking.
How barcode labeling supports overall sustainability
Sustainability involves reducing the use of resources to maintain and protect the environment. Businesses have countless ways to pursue sustainability, from recycling programs to natural resource stewardship. Sustainable barcode labeling can contribute to a business' sustainability program by reducing the number of resources required for everyday processes.
Sustainable barcode labeling and lean labeling go together. The goal of lean labeling is to reduce waste within the label printing system without sacrificing productivity. Reducing waste means reducing resource use. By following the lean labeling process, companies can trim their barcode labeling process down to use only the time, materials, and energy that are truly required.
Sustainable label print automation and integration:
· Pre-printed labels are the No. 1 culprit for physical waste in a label printing process. Not only do pre-printed labels take a long time to be fulfilled, but they almost always require a minimum order quantity. Companies that order pre-printed labels are then stuck storing rolls and rolls of labels, taking up valuable facility space. When branding, artwork, or labeling regulations change, all those pre-printed labels are destined for the trash. Many traditional label papers have plastic-based liners or coating that cannot be recycled, so that trash ends up in a landfill. On-demand label printing eliminates the need to rely on a vendor for pre-printed labels. Instead, your staff uses label design software to create and print the labels when you need them. Branding, artwork, and regulatory changes can be made quickly, so production can continue without waiting for new labels to arrive. This can be a huge advantage when launching new or updated products, including re-releasing products with more eco-friendly ingredients, or switching to recyclable or compostable packaging.
· If your staff is typing in label data at print time, that manual data entry is a labeling error waiting to happen. Whether a typo occurs on a label print run of 10 or 10,000, those labels become physical waste. If the labels have already been applied to products or packaging, the waste is that much greater. Eliminate manual data entry from your labeling process by creating smart label templates with variable fields connected to data sources.
· Even with smart label templates, your staff may still be searching for label files, opening, and clicking print in the label design application. For a high-volume company, these extra minutes add up to hours and days of wasted time. Label print automation software is a technology that runs in the background and is connected to your existing business system (ERP, WMS, or any other). Based on your company's unique needs, the label print automation software waits for a trigger from your business system. The trigger could be a new database record, an exported file, or a RESTful API call. The label print automation software reads the request and prints the required labels with the proper data, all without any human interactions.
Sustainable manufacturing is here to stay
Expectations will continue to rise around environmental and sustainability responsibilities throughout the supply chain - from raw ingredients to final consumption. Since a barcode label is required 100% of the time on every item/product within the supply chain, linerless labeling and lean labeling can very quickly help companies achieve goals around sustainability.