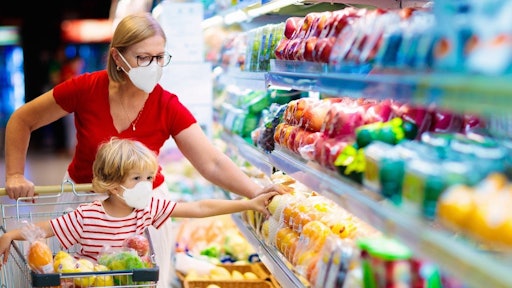 Mojix ytem food safety
Healthier options and sustainable production and packaging will top the list in 2023.
Return to restaurants
The food and beverage industry is still recovering from the pandemic. For example, consumers have emerged more health-conscious with a preference for cooking at home. While this isn't expected to change, anticipate consumers will be eager to venture out and embrace the familiar and comfortable. According to Yelp, 2023 will be a year of experiential dining with diners returning to restaurants to create memorable dining experiences.
Shift to sustainable foods
What started as a passing interest in alternative proteins has now blossomed into a cottage industry, with consumer interest growing more than 260% since 2016. Next year promises an even bigger breakout year for the once-niche industry. Not only are consumers concerned for their own health and setting goals to decrease their carbon footprints, but they're also concerned with environmental health and expect the brands they purchase from to go greener.
Also expect soil health used in food production to take center stage in 2023. According to the World Wildlife Fund (WWF), half of the world's topsoil has vanished over the last 150 years and continues to disappear 10 times faster than it can be replaced.
A clean slate
Along with the growth of plant-based proteins, anticipate that clean labels will move from being a luxury to an essential part of doing business in 2023. Even before the pandemic pushed healthy and functional food and beverage choices to the fore, consumers started looking for ways to cut back on processed and ultra-processed foods.
But what are they looking for? According to Spoonshmmot's number crunchers, the Top 5 features shoppers want to see on labels include:
Vegan – 48%

Gluten-free – 32%

Natural – 25%

Ingredients – 19%

Organic – 18%
Tasting the world
It's a juxtaposition only a global pandemic could bring: Consumers have retreated to comfort foods but crave the taste of new globally inspired flavors.
Manufacturers can take advantage of this trend in 2023 by incorporating international fare into their product lines, which includes connecting with suppliers that offer a variety of global spices and ingredients.
Regulatory reform for food traceability
The FDA's taken a beating over the past few years over its ability to regulate food safety. However, with consumers paying more attention to ingredients and alternative environmentally friendly food choices, demand will increase for greater accountability in 2023, putting food traceability at the forefront.
Consumers care about their food more than ever now and want to know where it's coming from. As a result, in 2023, the industry can expect more interest and emphasis on traceability and new regulations. Expect policies that encourage government partnerships to develop implementation plans for the food traceability rule and other end-to-end product visibility initiatives to provide consumers with the information they demand and assist with quickly pulling products from the marketplace as needed.
The new year promises no shortage of opportunities and challenges for food and beverage brands to continue delighting consumers. There's no better way to take advantage of those opportunities – and face those challenges – than by working together. Food and beverage brands must remain agile and responsive, whether doubling down on new product development or focusing on ingredient traceability and sourcing. Brands that don't consider consumer preferences and make them a priority in 2023 will be left behind.