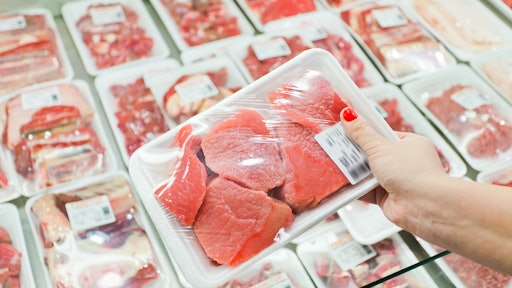 petunyia AdobeStock_63677851
Packaging design engineers -- especially for food products -- will say that developing an attractive, functional design to promote a brand involves many factors. Whether designing a bottle, carton, box or other form, exact requirements call for applying a combination of creativity and science.
Protecting food from elements (light, moisture, air and even pathogens like bacteria) and ensuring package integrity means goods arrive safely in stores to drive sales. Consider developing the packaging for delicate éclairs iced with chocolate and filled with cream custard, for instance. The éclair packaging must entice the consumer in the store and the pastry must taste good after purchase. To add more complexity, consumer packaged goods companies with razor-thin profit margins must not only keep packaging costs down, but also must strive to meet sustainability goals to align with corporate strategies.
Complicating packaging decisions, new regulations require manufacturers to phase out single-use plastics, Styrofoam, polyvinyl chloride (PVC) and other bisphenol A (BPA)-laden polymers. Instead, packaging designers now use eco-friendly alternatives (like bamboo, rice husk and even mushroom fiber) and responsibly-sourced paper more frequently. How do manufacturers meet all specifications with minimal design iterations while simultaneously mitigating the risk of damaged products or product recalls?
Engineers always consider tradeoffs, and designing optimal food packaging requires they meet packaging cost and sustainability requirements. How do companies meet the challenge to rethink packaging designs, legacy processes and materials?
To ensure success in achieving these goals, engineers must have the data intelligence to make the right decisions by starting with simulation and the virtual twin.
Across-the-board packaging success
To meet growing customer demand, companies are looking for ways to bring products to market more quickly. One option is to eliminate traditional prototyping methods in favor of 3D simulation software by applying a virtual twin of packaging designs to define the optimal balance of strength, size and performance in the shortest time possible.
Also analyze how packaging would withstand temperature extremes and high humidity over extended periods without expensive environmental chambers and lengthy testing. Implementing virtual twin technology allows companies to meet these requirements.
Because the virtual twin allows users to simulate these and countless other variables, optimizing a product or package design takes hours rather than weeks or even months. There are no physical prototypes to build and discard when testing design options.
Cool tech for cold temps
When a global leader in convenience foods and beverages needed similar capabilities, it also employed 3D simulation on a virtual twin of its beverage packaging. The company's blow molding department sought to identify what processing parameters would provide the best wall thickness in stretch blow molded and extrusion blow molded beverage bottles. Through end-to-end simulation, the beverage maker eliminated its previous trial-and-error approach to bottle design, which alone produced direct and indirect annual savings of over $1 million.
In addition, packaging engineers at the company have begun using simulation to perform feasibility studies on recycled plastics and paper beverage packaging, each aimed at reducing carbon footprints. The company now enjoys newfound cost reductions and improved sustainability. As an international manufacturer, all facilities across the globe use one integrated software platform, making it easier for engineering, marketing, purchasing and production teams to collaborate on package design.
Sustainable directions
The drive to meet sustainability requirements to support a lower carbon footprint and a more circular economy continues to grow by the year. According to a Forbes study, "approximately 88% of consumers across the United States and the United Kingdom want manufacturers to invest in methods, processes and technologies to improve their environmental and social footprint."
Governments tend to agree with consumers on these interests. The UK, for instance, enacted a tax this year for any plastic packaging that does not contain at least 30% recycled plastic. Additionally, California's governor signed a law, SB54, requiring that "all packaging should be recyclable or compostable by 2032," while similar legislation is before the federal government.
Packaging manufacturers of all kinds can do more with recycled plastics or switch to environmentally friendly materials, which will likely mean redesigning legacy products' retooling design processes. Meeting this challenge in an efficient, cost-effective manner via 3D simulation tools and a virtual twin allows companies to define the best fit, form and function for packaging -- without physical prototypes.
This advanced technology benefits industries of all kinds, and packaging is no exception. By enhancing their ability to embrace nimble development cycles, gather more insight into design decisions and produce less waste, virtual twin technology helps companies develop better packaging and support the circular economy. Is it time to change your cold food packaging game?