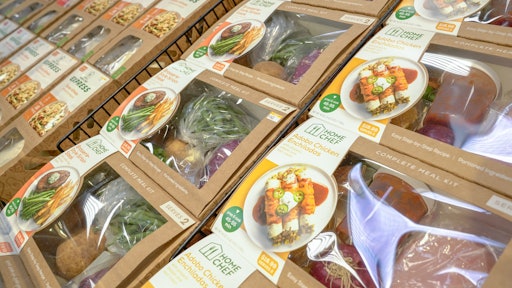 Home Chef
Meal kits are everywhere now a days. You can't listen to a podcast without one being advertised, you can't even walk into a grocery store without one being pushed on you, but I have never been interested in them.
According to Nielsen data, meal kit users have increased 36% 2018, with 14.3 million households purchased meal kits in the last half of the year. In addition, the survey found that 23% of American households reported that they would consider purchasing a meal kit within the next six months.
It wasn't until the Coronavirus disease (COVID-19) pandemic happened that I really started to give meal kits a chance. And I'm not alone in this. A survey by OnePoll on behalf of HelloFresh found that 68% of respondents have used their time in quarantine to re-evaluate their food shopping and cooking habits.
"By having pre-measured fresh ingredients delivered right to your doorstep, home cooks can eliminate the stress and hassle of grocery shopping while also cutting back on unnecessary food waste," says Claudia Sidoti, principal chef and head of recipe development at HelloFresh.
In this upcoming episode of Unboxing the Last Mile, associate editor Brielle Jaekel and I decided to finally give the cold chain a try and order meal kits from two different companies. I am a pretty decent cook, so I wasn't really sure of what to expect with my order. I mean, I expected to get three different shipments of meals throughout the week, so already I was off to a rough start.
Meal kits have the reputation of being more sustainable than traditional meals made at home. A 2019 study by the University of Michigan found that meal kit companies have a lower overall carbon footprint, despite complaints of excess packaging. On average, greenhouse gas emissions were one-third lower for meal kit dinners because of streamlined supply chains and pre-portioned ingredients that eliminate overall waste.
"Meal kits are designed for minimal food waste," says Shelie Miller of the U-M Center for Sustainable Systems in the School for Environment and Sustainability, senior author of the study. "So, while the packaging is typically worse for meal kits, it's not the packaging that matters most. It's food waste and transportation logistics that cause the most important differences in the environmental impacts of these two delivery mechanisms."
It wasn't the amount of packaging that bothered me, however, it was the fact that some of the packaging was opened that concerned me. In one meal, a portion of cilantro housed in a plastic container somehow popped open in transit, making the leaves wilt. In the same meal kit, I received a moldy onion. On average, a fresh, whole onion can keep upwards of two months. It makes me wonder how long some of the ingredients are stored in meal kit warehouses before being shipped off to consumers.
Now three meals into my trial with the meal kit company I chose, I can say that I'm not all that impressed. Meal kits are definitely geared toward those who are new to the kitchen and need the background knowledge as to why you should season your meat. It's a good learning tool, but for those that are more advanced, it may be a bit boring.
Even though I had some trouble with my pre-portioned ingredients, that was the part that I liked the most. I cannot begin to explain how many times I have let celery or parsley go bad in my fridge because I only needed it for one recipe. Let us not forget the amount of different vinegars and oils I have holed up in a cabinet because of that one recipe I attempted a year ago. Having those specific measurements really helped me and I saw how little waste it created in just one week.
I don't know if I will keep my meal kit service once my trial is up. In a poll by Piplsay, 64% of meal kit subscribers have canceled their subscription in the past year. Meanwhile, 47% of Millennials and 38% of Gen Zers canceled their subscription because of their high cost. As for right now, I wouldn't recommend it to anyone.
Make sure to watch Brielle and I unbox our meal kits in our upcoming Unboxing the Last Mile episode, premiering soon.