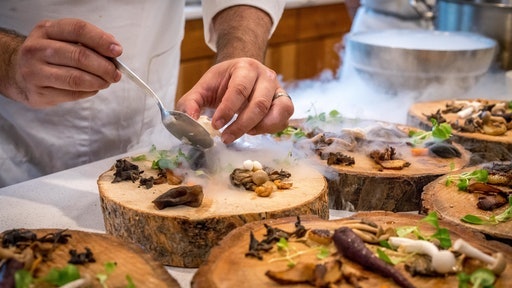 Pexels
When ghost kitchens first entered the food industry, it was the mysteriousness behind what they were about, what they represented and what this meant for the future of foodservice that proved to be most intriguing.
Couple their presence with the Coronavirus disease (COVID-19), and it makes for a pretty interesting problem-solving solution.
Have space, will operate.
However, the unfortunate reality is that one in four restaurants will not re-open as a result of COVID-19. No indoor dining, strict rules and regulations and headcount limitations created a perfect storm for many of our nation's foodservice establishments, and many just could not recover regardless of how much they pivoted their operations.
What does this mean for the future of ghost kitchens?
For starters, Ian Christopher from Galley Solutions says ghost kitchens deliver that much-needed revenue for restaurants grappling with COVID-19.
"The restaurants on the other side of Food 2.0 are finding crazy growth opportunities through a host of new tech-enabled services and new restaurant formats," he says.
This Food 2.0 approach brings a more tech-savvy back of the house, and can operate in the shadows, which enables for more third-party delivery options.
Case in point: US Foods launched US Foods Ghost Kitchens, a program designed to guide restaurant operators when opening their own operation.
Kroger partnered with ClusterTruck to launch two on-premise kitchens that provide a variety of freshly prepared meals on-demand with no service or delivery fees.
In fact, restaurant delivery has grown 20% in the last five years, with online food delivery sales estimated to grow as high as $220 billion by 2023 – 40% of total restaurant sales.
Ghost kitchens can continue to play a key role in the growth of foodservice.
Ghost kitchens and the law
On the other hand though, when it comes to ghost kitchens and the law, there are some factors that foodservice establishments need to keep in mind.
"It is common practice for certain food delivery apps to list foodservice establishments without their consent," says Eleanor Yost, a shareholder at Carlton Fields who advises clients in ghost restaurant law. "The damage to a restaurant's reputation (if mixed up with another, perhaps lesser quality restaurant) can be significant. A California law designed to prevent so-called 'non-consensual' delivery app listings went into effect on Jan. 1 (Assembly Bill No. 2149), and several other major cities are following suit. But, in many places, restaurants are still listed without their knowledge. Establishments should take a moment now to search services such as Postmates, Grubhub, UberEats, Eat24, DoorDash and Bite Squad, and be sure their listing is up to date, contains only authorized information and also indicates authorized delivery partners on their websites."
Meanwhile, the legal restrictions on the storage, packaging and delivery of certain food products vary from state to state and city to city.
"It is crucial to make sure that even ghost kitchens are in compliance, particularly if designated storage spaces are going to be shared among multiple businesses," Yost adds. "Another law enacted in California last month, Assembly Bill No. 3336, requires app-based companies to ensure cleanliness and temperature controls in transporting the meals to customers. Restaurants will also have to place a seal on the food bag before handing it off to the delivery person, making any tampering clear to the customer. These very specific handling and packaging requirements are constantly changing, and foodservice providers must keep tabs on these legislative developments and adjust accordingly."
Ghost kitchens will continue to play a key role in the growth of foodservice, and hopefully overturn the downfall of restaurants.
LinkedIn: https://www.linkedin.com/in/marinamayer/
Twitter: @MarinaMayer