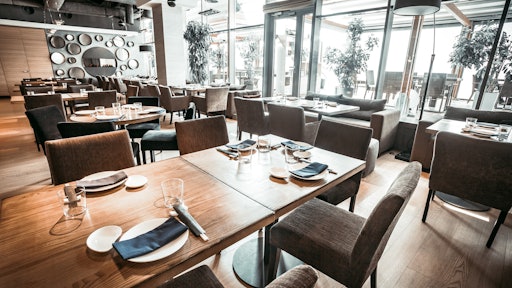 Goinyk - Adobe Stock
The magic words for restaurant owners these days are, "You can re-open." Through the roller coaster of mandated state and local closures, many restaurants have been able to maintain a reduced level of operations by switching to a take-out and delivery model, but there is nothing like having customers sit down for a meal or drink. However, while it is long-awaited good news, as various states continue to allow establishments to open dining indoors at a limited capacity, there are monumental impacts to the overall foodservice industry and subsequent impacts on the food and beverage manufacturers and distributors who are called upon to act quickly.
Keeping up with rapid re-openings
Restaurants that have had the chance to open back up have felt the pressure to re-open almost immediately, leaving food and beverage suppliers at a high risk of not being able to deliver as quickly as needed. Just like in 2020 when consumers were frustrated by empty grocery store shelves, behind the scenes, food manufacturers, suppliers and distributors were struggling to keep up with increased demand. The high-demand products may be "winners" in this pandemic, but there are significant challenges. Keeping up with demand, supply chain disruption, trucking availability -- particularly in highly impacted areas -- and quality and resource risks are real issues that these industries are facing.
Restaurants may want to consider limiting their menu offerings to those that have been most popular amongst their patron, are likely to be most profitable given that pricing may have increased for certain products and have ingredients that are most likely to not have supply shortages based on discussions with suppliers. When consumers venture out to restaurants, they are going to expect the same high-quality service and dining experience they had pre-pandemic. If menu items are not available, that could be detrimental to maintaining loyal customers. Additionally, a more limited menu, even if it changes time-to-time, for the short term, could make the purchasing process more manageable for a restaurant and increase their ability to fulfill the necessary, more limited products required.
It's crucial that there's constant visibility into downstream product availability and shortages with continued uncertainty in the supply chain. Surprisingly, while there may be concerns around lack of inventory, restaurants also may be put in a position where they are stuck with a considerable surplus of inventory due to the uncertainty of demand, whether that be driven by uncertainty of traffic into the restaurant or uncertainty due to changes in consumer interests. While many may be looking to other channels to deplete inventory as much as possible or donating to non-profit organizations, there is a risk of excess inventory or inventory selling at lower than currently valued.
Understanding consumer demand
Restaurant owners and manufacturers need to understand the overall consumer demand as people may still be cautious about dining out and have concerns about their health and safety at restaurants particularly if necessary, safety protocols are lacking or not adhered to. For example, according to the Food & Drug Administration, patrons are advised to maintain good infection control and social distancing by:
· Discontinuing operations, such as salad bars, buffets and beverage service stations that require customers to use common utensils or dispensers.
· Finding ways to encourage spacing between customers while in line for service or check out in accordance with the applicable state or local requirements.
· Discouraging customers from bringing pets — except service animals — into stores or waiting areas.
By now, restaurants should always follow the best practices of social distancing, disinfecting and other precautions that will help promote overall consumer confidence in the restaurant's commitment to food safety, integrity and proper food handling. However, no matter how clean and safe an establishment is, there may still be hesitancy on the part of consumers if they are unclear or unsettled about whether the restaurant or even those within the restaurant's supply chain have maintained proper protocols. It will be critical for restaurants to keep a close eye on customers trends, including capacity levels, ordering choices, in-restaurant dining vs. take-out, etc., to better determine supply requirements and purchasing frequency. This is a great time for restaurants to assess their processes and determine if enhancements could be made to track consumer demand more accurately and to increase visibility into their suppliers.
When crisis strikes it provides an opportunity to reflect on preparedness and where there may be room for improvement to be better equipped for future events. While the food industry has been hit hard during the pandemic, this brings the opportunity for restaurants and suppliers to work together to diligently stay up to speed with the re-openings and keep customers safe through best practices and social distancing.