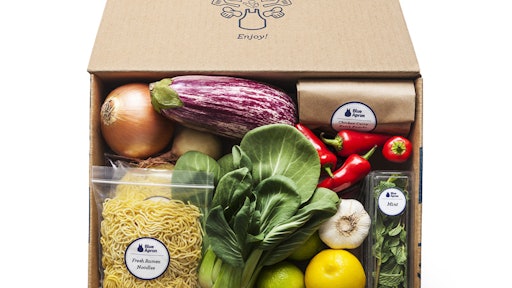 Blue Apron
A recent study from the University of Michigan found that meal kit companies have a lower overall carbon footprint than meals purchased at stores despite complaints of of packaging waste.
According to the study, average greenhouse gas emissions were one-third lower for meal kit dinners than those purchased as stores because of its streamlined supply chain and pre-portioned ingredients helping eliminate overall waste.
"Meal kits are designed for minimal food waste," says Shelie Miller of the U-M Center for Sustainable Systems in the School for Environment and Sustainability, senior author of the study. "So, while the packaging is typically worse for meal kits, it's not the packaging that matters most. It's food waste and transportation logistics that cause the most important differences in the environmental impacts of these two delivery mechanisms."
Meal kit sales in the U.S. have reached an estimate of $3.1 billion last year, with a growth rate of nearly 22 percent. In a 2018 Nielsen survey, 9 percent of U.S. consumers surveyed claimed to have purchased a meal kit, while 25 percent said that they would consider trying it within the next six months.
The U-M study dives into the greenhouse gas emissions of meal kits compared with grocery store meals, estimating every major step in the lifetime of the food ingredients and the packaging: agricultural production, packaging production, distribution, supply chain losses, consumption and waste generation. The study found that emissions linked to the average grocery meal were 2 kilograns CO2e/meal higher than an equivalent meal kit. According to the University of Michigan, the average emissions were calculated to be 6.1 kg CO2E/meal for a meal kit and 8.1CO2e/meal for a grocery meal.
While meal kits contain more packaging but less food per meal, they are able to save on food waste, as opposed to grocery meals that have larger quantities of food and less packaging.
"Even though it may seem like that pile of cardboard generated from a Blue Apron or Hello Fresh subscription is incredibly bad for the environment, that extra chicken breast bought from the grocery store that gets freezer-burned and finally gets thrown out is much worse, because of all the energy and materials that had to go into producing that chicken breast in the first place," Miller says.
By having the kits delivered directly to them and skip physically shopping for groceries, consumers are also playing a role into the companies having lower emissions as well. The study found that last-mile emissions account for 11 percent of the average grocery meal emissions compared to 4 percent for meal kit dinners.
Still, the largest emissions source for both areas was food production. According to the study, 59 percent of meal kit emissions and 47 percent of grocery meal emissions were tied to agricultural production. In addition, meals with the largest environmental impact contained red meat or were associated with large amounts of food waste.
To read the full original article, please click here.