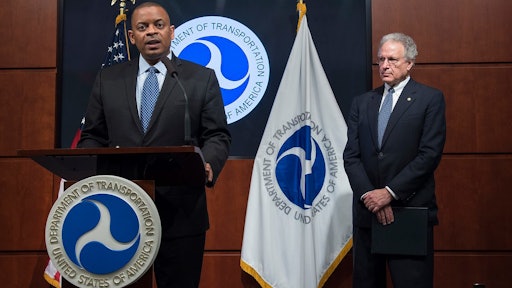 The reforms required by Congress to the federal Compliance, Safety, Accountability (CSA) carrier ranking system will take about two years to complete, Transportation Secretary Anthony Foxx told a Senate panel last week, according to Commercial Carrier Journal. That's the same timeline the industry can expect to see the so-called "CSA scores" — the percentile rankings in the CSA Safety Measurement System's seven BASICs — return to public view.
"Based on our preliminary assessment, it's going to take a while to do the revised analysis," Foxx told the panel, referring to the changes in the CSA score methodology called for by Congress in the 2015 FAST Act highway bill. "We expect it to take a year or two, probably more like two, before that information will be posted back up."
The FAST Act required the Federal Motor Carrier Safety Administration to pull CSA SMS rankings from public view, though much of the underlying violation data is still available publicly.
Congress also directed the agency to work with the National Academies of Science and other government accountability agencies to work with FMCSA to develop a plan to reform the system before the agency can bring the scores back to public view.
To read more, click here.
Editor's Insight: The DOT appears to be paying attention to the input the industry has provided on its proposed changes to the safety rankings, which is hopefully the reason it expects the reforms to take another two years. A coalition of trucking organizations has advised lawmakers that under the proposed rule, the Federal Motor Carrier Safety Administration (FMCSA) will continue to use a flawed safety measurement system methodology that is not consistent with the FAST Act.
Food Logistics reported in January that the FMCSA said it would update the safety fitness rating methodology by integrating on-road safety data from inspections, along with the results of carrier investigations and crash reports, to determine a motor carrier's overall safety fitness on a monthly basis. 6-15-16 By Elliot Maras