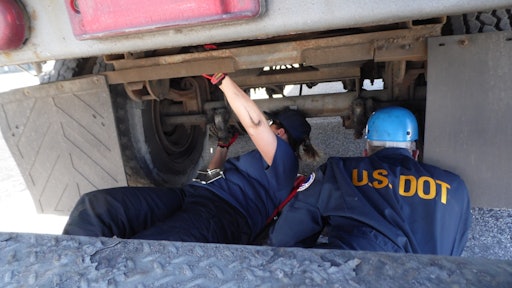 The U.S. Department of Transportation's Federal Motor Carrier Safety Administration (FMCSA) announced a rulemaking proposal designed to enhance the agency's ability to identify non-compliant motor carriers. The Safety Fitness Determination (SFD) Notice of Proposed Rulemaking (NPRM) would update FMCSA's safety fitness rating methodology by integrating on-road safety data from inspections, along with the results of carrier investigations and crash reports, to determine a motor carrier's overall safety fitness on a monthly basis. 
The proposed rule would replace the current three-tier federal rating system of "satisfactory–conditional–unsatisfactory" for federally regulated commercial motor carriers (in place since 1982) with a single determination of "unfit," which would require the carrier to either improve its operations or cease operations.  
Once in place, the SFD rule will permit FMCSA to assess the safety fitness of approximately 75,000 companies a month. By comparison, the agency is only able to investigate 15,000 motor carriers annually – with less than half of those companies receiving a safety rating.
The proposed methodology would determine when a carrier is not fit to operate commercial motor vehicles in or affecting interstate commerce based on: 1) the carrier's performance in relation to a fixed failure threshold established in the rule for five of the agency's behavior analysis and safety improvement categories (BASICs); 2) investigation results; or 3) a combination of on-road safety data and investigation information. 
Editors Insight: A coalition of trucking organizations has advised lawmakers that under the proposed rule, the FMCSA will continue to use a flawed safety measurement system (SMS) methodology that is not consistent with the FAST Act, the recently-approved, $305 billion, 5-year surface transportation bill.
Many trucking companies have been seeking reform of the FMCSA's Compliance, Safety, Accountability (CSA) truck safety scoring system. Trucking companies have challenged the CSA system and have sought regulatory change in this area.
It makes sense for the FMCSA to improve its safety rating system and utilize digital reporting. The new rating system, in conjunction with the electronic logging device mandate, will allow the agency to expedite ratings. However, the FMCSA relies on state governments to do the inspections, and the execution has been inconsistent from state to state.
But there is work to do to make the safety rating system effective. Trucking companies and organizations have an opportunity to make their concerns to comment on the proposed rule. 1-18-16 By Elliot Maras