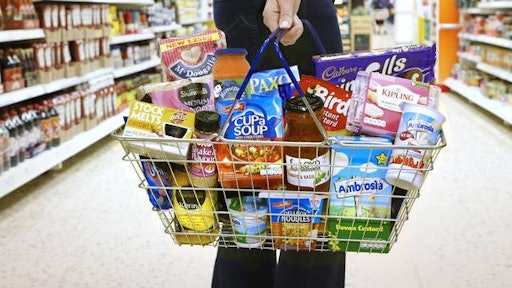 British supermarkets were warned to keep as much stock as possible in warehouses around the country in case a Brexit deal isn't made, Bloomberg reports.
The request was made in case of a worst-case scenario. Bloomberg reports that a no-deal Brexit would cut the capacity of the country's main EU trading route from the French port of Calais to Dover in southeast England to just 13 percent of the current level because of additional border checks.
The country's biggest grocery chains - Tesco, Asda, Sainsbury and Morrison Suppermarkets- are asking their main suppliers to speed up their stock in fear that shelves will be empty if a deal isn't reached. However, as previously reported by Food Logistics, there is a limited space in refrigerated warehouses from company's already stockpiling ingredients. There is also a rumor that Amazon has purchased empty shelves for when it enters the grocery market in 2019.
Bloomberg reports that the government is trying to find new ways to get products into the country as leaders fear for the logistical issues that come with the Brexit vote. Currently, the country is drawing up a list of priority goods that it could potentially ration. It is also contracting more cargo space and looking at expanding the capacity of ports.
Meanwhile, panic buying and loss of access to the EU's customs union and single market could drop 47 percent, drying up supply chains within two weeks of the exit, Bloomberg reports. Grocers are asking their manufacturers to supply more produce in case their happens, lowering the choice of brands for shoppers.
However, if Brexit doesn't reach a deal, officials are predicting six weeks of disruption at the borders. Bloomberg reports that the government is briefing organizations affected by cross-border trade on its latest no-deal planning on Friday.