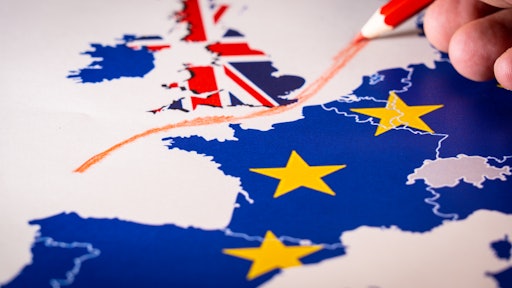 Getty Images
BBC reports that the UK food industry has threatened to stop cooperating with government policy consultations in an attempt to stave off the impact of a no-deal Brexit.
More than 30 business leaders signed a letter to Environment Secretary Michael Gove heeding the warning. In the letter, the business leaders said it is more than likely that the UK would leave the EU without an agreement. Those signing the letter included the heads of the Food and Drink Federation, the National Farmers' Union and UK Hospitality, as well as Cadbury, KP Snacks, Butterkist popcorn and Nestle, BBC reports.
The Department for Environment, Food and Rural Affairs are reportedly meeting weekly with representatives from the food and drink industry to help prepare for all scenarios. However, the industry sees that there is a potential crisis rising.
"Neither we nor our members have the physical resources no organization bandwidth to engage with and properly respond to non-Brexit related policy consultations or initiatives at this time," the letter writes. "Government has recruited many extra staff; we cannot."
BBC reports that the letter urges the government to place a range of current and planned industry consultations on "pause" until the Brexit uncertainty is over.
"Businesses throughout the UK food chain - and their trade associations - are now totally focused on working to mitigate the catastrophic impact of a no-deal Brexit," the letter says. "Large amounts of time, money, people and effort are being diverted to that end."
According to BBC, the letter comes just after major retailers warned MPs that a no-deal Brexit could cause a major disruption to the industry.