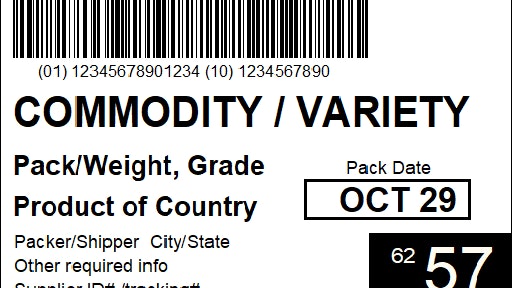 TEKLYNX
The CDC estimates each year one in six Americans (or 48 million people) get sick, 128,000 are hospitalized and 3,000 die of foodborne diseases. And for many consumers, food recalls related to the mislabeling of required allergens poses another serious health threat. The United States Food and Drug Administration (FDA) is responsible for assuring foods sold in the United States are safe and properly labeled.
Here's how food safety labeling regulations, label accuracy and labeling solutions help identify the products to remove from the supply chain.
Significant acts and initiatives to keep consumers safe
The food industry is highly regulated and with that comes multiple acts and initiatives food producers must follow to stay compliant.
Food Allergen Labeling and Consumer Protection Act (FALCPA). This act was passed in 2004 to make it easier for food allergic consumers or their caregivers to identify (and avoid) foods that contain major allergens. As a part of its routine regulatory functions, the FDA inspects a variety of packaged foods to ensure they are properly labeled.
FALCPA identifies nine foods or food groups as major food allergens, which account for over 90% of all documented food allergies in the U.S. and represent the foods most likely to result in severe reactions:
· Milk
· Eggs
· Fish (e.g., bass, flounder, cod)
· Crustacean shellfish (e.g., crab, lobster, shrimp)
· Tree nuts (e.g., almonds, walnuts, pecans)
· Peanuts
· Wheat
· Soybeans
· Sesame (labeling requirements for sesame will be effective January 1, 2023)
Incorrect packages or labels that fail to identify allergens are the leading cause of food recalls by the FDA and the U.S. Department of Agriculture (USDA). Food manufacturers must prevent mislabeling products as well as avoid cross-contamination with allergens from other products.
Barcode labeling software allows you to automatically apply stylistic differences for predefined text, such as allergens. For example, you can automatically bold the word "egg" or "peanut" whenever they appear in an ingredients list.
Produce Traceability Initiative (PTI). This industry-wide effort was designed to help the fresh food industry maximize traceability strategies and standardize how produce is labeled and tracked. It is important for companies to implement PTI for the benefit of the public and brand reputation – consumers want confidence they food they are buying, and eating is safe, and traceability exists in the case of a recall.
A PTI-compliant label contains these elements:
· 4-digit voice pick code
· Global Trade Item Number (GTIN)
· Batch/lot number
· Pack/harvest date
· GS1-128 barcode in human- and machine-readable
· Supplier ID # and tracking #
Each year, the fresh food industry handles about six billion cases of produce in the United States. The use of standards in the supply chain will help limit the impact of recalls, protecting both consumers and produce companies.
Although the PTI is not legally required, the FDA is currently proposing rules for food traceability – members of the fresh food industry should comply with PTI now to make implementation of new FDA regulations easier to keep up with.
Food Safety Modernization Act (FSMA). The FSMA was enacted in response to changes in the global food supply chain and understanding of foodborne illness. The FSMA shifts the focus from how commercial farms, packing operations, and food processing facilities respond to foodborne illness to how they prevent it. How? The FSMA:
· Moves more power over food safety controls from companies to the FDA because the FDA will have mandatory recall authority and the ability to keep suspect food from being shipped.
· Requires food and beverage companies to establish or enhance operations, plans, and procedures for preventing food safety issues, including product recalls.
· Forces food and beverage companies to adopt more emerging products and technologies that help keep food safe.
FSMA Section 204, the Food Traceability Proposed Rule, will go into effect in January 2023. FSMA Section 204 calls for the FDA to create a list of foods – the Food Traceability List (FTL) – that now need to be tracked and traced by everyone who touches them. At this point, the FTL includes:
· Leafy greens, melons, sprouts, cucumbers, tomatoes, peppers, fresh herbs, tropical tree fruits, and all fresh-cut items
· Soft ripened and semi-soft cheeses
· Shell eggs
· Nut butter
· Some categories of seafood
· Ready-to-eat deli salads
Standards – like the PTI – already exist to help farmers, growers, shipping/receiving, packers, manufacturers, and processors, achieve the degree of supply chain visibility required by FSMA Section 204. GS1 US-compliant barcodes can identify everything from the specific farm, product type and harvest date to ship date – information that is electronically available to every entity that handles the item along the supply chain.
While companies will have two years to become fully compliant, here are three things you can do now to prepare your labeling environment for FSMA Section 204:
1. Consolidate your label files into PTI-compliant label templates that contain the GTIN, lot number, voice pick code, and GS1 barcode.
2. Centralize label management to track the who, what, where, and when for each label print job.
3. For large retailers, processors, manufacturers, distributors, or foodservice operators – ensure compliance across your supplier network with browser-based label printing portals and secure logins per supplier to access approved labels.
Labeling accuracy is one of the food industry's biggest allies
Food manufacturers must produce quality products as well as ensure the labeling of their products is accurate – the wrong representation of allergens, the wrong expiration dates or even the wrong label altogether can result in excessive costs, negatively impact brand reputation and put consumers at risk.
Processes to help prevent labeling-related recalls:
· Enable role-based access to your labeling software
· Leverage network licensing for multi-user labeling environments
· Enforce a secure label approval process
· Leverage centralized label management
· Automate printing from your business system
Beyond product recall prevention efforts, labeling accuracy also plays a key role once a product recall is initiated – it allows companies to quickly identify, locate and remove affected products. Barcode labeling software solutions prove invaluable on the back end of a recall because the software enables a full view into labeling history. In a few simple clicks, food manufacturers can identify the products labeled with a specific lot number, which can more accurately pinpoint the products impacted by a given recall, reducing the amount of time required to locate the products and expedite the recall.
When choosing the appropriate barcode labeling system that helps your company with industry compliance or initiatives, and protecting public health, look for one that supports:
· Data validation capabilities and automatic data entry to prevent labeling errors from happening.
· Electronic label approval workflows to ensure only accurate labels are entering production.
· Security, traceability, and version history control to ensure your labels and label printing process complies with the FDA and other industry standards.