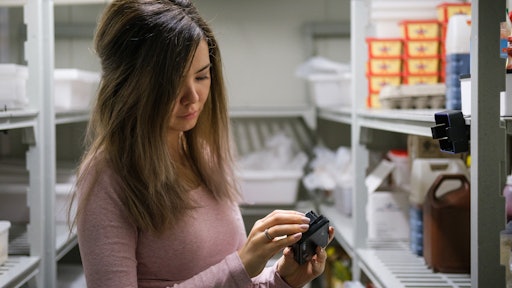 SafetyCulture
Ensuring food safety along the cold food chain is a continuous ordeal, one that requires all parties, farm to fork, to participate in. And because rules and regulations continuously change, so too will the processes of growing, manufacturing, packaging and shipping be required to pivot accordingly.
In Food Logistics' Sept/Oct 2022 issue, editor-in-chief Marina Mayer talks with several industry experts about food safety management, food safety culture, fact vs. fiction and more.
Here's an interview with TJ McReynolds, customer success manager, SafetyCulture, who details the importance of going paperless and implementing digital operations platforms in order to enhance food safety measures, ­­­­­­­­with excerpts publishing in Food Logistics' Sept/Oct 2022 issue. [CLICK HERE to read the article in full].
Food Logistics: When it comes to ensuring food safety in the cold chain, what are some of the major challenges companies face and why?
TJ McReynolds: When it comes to food safety, the industry has a small margin for error and the pressure on businesses is constantly increasing. Companies are facing ongoing supply chain disruptions, which has renewed pressure on operators to bolster their capabilities for quick responses.
With refrigerated and frozen foods being one of the fastest growing sectors of the grocery and foodservice industry, control of the cold chain is increasingly becoming a larger part of the HACCP controls important within any food operation. Effective, thorough controls are needed throughout all steps of the food production process, from farm, transport and distribution and on down the line.
To add to the challenge, there simply aren't enough people on the ground. The industry continues to face significant labor shortages hindering its ability to respond to market demand. These challenges were exacerbated when workers had to isolate due to having COVID, but continue to be apparent as people have changed industries or left the workforce. As organizations grapple with evolving a new dynamic, supply chain operators are being tasked with doing more with less. 
Increasing social scrutiny is also being applied to food sources — people are demanding healthier, safer, traceable food. At the same time, while everyone is looking to source locally, price point continues to drive the average shopper. There is a need to maintain consistent quality and reduce costs, all while meeting evolving regulations. The scale of technology is increasing, and so is the need for operations leaders to find cost-effective compliance solutions for businesses. 
That's why it's important to invest in innovation to both help with delivering on the basics, but also deliver value-added opportunities. Tackling many of the competing challenges for this industry can start with a simple step -- going paperless. Data captured within temperature logbooks, manual processes and paper documentation is far more powerful in digital form. In digitizing operations, organizations can raise visibility in real-time and gain powerful preventative analytics, which are crucial to building continuity strategies and operating in this volatile market.
Food Logistics: A recent study reveals the food and beverage sector has experienced the most cargo theft. What solutions or technologies are in place to better secure loads of perishable goods?
McReynolds: Digital operations platforms can help.
Prevention is always better than cure, especially when it comes to the loss of stock. The right technology is key in developing an early warning system to help freight forwarders transport their loads safely and securely. Look to digital operations platforms that allow for custom workflows and inspections that track alongside the transportation journey — from load checking or freight security (TAPA) checks to warehouse stock audits. Automated information capture makes it easy to record information across a number of vehicles and locations. If instances of non-conformance arise when auditing against best practice, create SMART actions within the platform to deliver a compliant end result.
Traceable workflows like this allow this data to become even more powerful. By using a digital operations platform like iAuditor by SafetyCulture, teams are provided with greater visibility and the power to spring into action to improve safety or mitigate loss.
Food Logistics: Please describe some of the technologies implemented to better mitigate risk, improve visibility/traceability and monitor farm to fork along the cold food chain.
McReynolds:
Sensors and IoT. In our line of work, we continue to see the importance of IoT in delivering the right information to the right person, in real-time. After all, minute fluctuations can have big implications within the cold food chain. Instead of physical monitoring of environmental conditions and manually inputting results in a physical or digital form, companies can use sensors to contactlessly monitor conditions in real-time. The technology also allows for the right people to be alerted when things go out of range and respond immediately, whether that's temperature and humidity levels for food safety or preventative maintenance sensors on fridge motors to detect early signs of malfunction.
The continued progress in better and more readily available Bluetooth thermometers allow for more user friendly, lower error temperature monitoring processes, from heating and cooling logs, to hourly temperature and quality checks.
Integration software. Data equals visibility, but it's not just about responding to incidents. Analytics are the bread and butter of good operations — it's essential to be able to visualize and monitor data about anything from equipment and compliance to safety and environmental performance. However, these different applications often demand different devices, resulting in a vast amount of data concentrated in silos. As organizations grow in their capabilities, there's an increasing need for interoperability between devices for teams to unlock full visibility. There are now IoT integration platforms that enable previously siloed systems to "speak" to each other. Companies help aggregate customers' existing data and telemetry solutions into a single platform, giving employees access to a single source of all operations-focused digital information. This can include data from OEM (or supplier) telemetry, third-party IoT devices, software apps and business system technology.
With supply chains becoming increasingly complex, businesses are introducing more risk into food safety. Take a multi-sectoral approach to your data and integrate with different parties along the food supply chain. This will allow monitoring to occur in transit, bridging the gap between food processors and logistics and encouraging collaboration from farm to fork. 
Food Logistics: Going into 2023, what are some things companies should be doing now to better identify risk?
McReynolds: Smarter food safety is all about empowering the frontline worker with technology that removes red tape and empowers workers to get things right. Look at developing an early warning system with simpler, more effective, and modern approaches and processes. Companies should focus on utilizing easily integrated technology, from templates to sensors, to create a 360 view of their operations. 
The nature of empowering those in your operation will naturally yield benefits as well. The more they are involved in your processes, the more invested they will become. Improved knowledge and comfort within food safety and HACCP programs will increase effectiveness, improve quality and decrease foodborne illness. Well thought out, effective training and continuing education programs are a must in today's digital climate.
Food Logistics: What are some things not addressed above that may be pertinent to our readers regarding food safety in the cold food chain?
McReynolds: We won't make dramatic improvements in improving food safety and reducing food insecurity until we get much better at influencing and changing human behavior. This happens when you work on creating a safety culture from the ground up — and driving cultural change looks different in today's distributed workforce. Put in place ongoing training with microlearning platforms like EdApp by SafetyCulture to engage and empower your workforce from a distance. Remove the red tape from safety operations and enable them with intuitive, easy-to-use technology like self-serve sensors and digitized checklists.
[CLICK HERE to read the article in full].