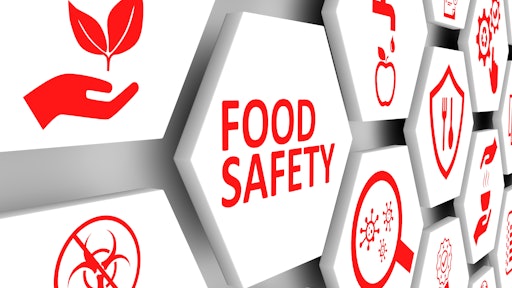 profit_image AdobeStock_226304097
Fact -- Almost one in 10 people in the world fall ill after eating contaminated food and 420,000 die every year, according to the World Health Organization (WHO).
Fact -- $110 billion is lost each year in productivity and medical expenses resulting from unsafe food in low- and middle-income countries.
Also fact -- More than 50% of foodstuffs in developed countries are sold under refrigerated conditions, according to Food and Agriculture Organization of the United Nations.
Fiction -- Ensuring food safety along the cold food chain is under control.
It isn't. And, never will be.
That's because ensuring food safety along the cold food chain is a continuous ordeal, one that requires all parties, farm to fork, to participate in. And because rules and regulations continuously change, so too will the processes of growing, manufacturing, packaging and shipping be required to pivot accordingly.
"When it comes to food safety, the industry has a small margin for error and the pressure on businesses is constantly increasing. Companies are facing ongoing supply chain disruptions, which has renewed pressure on operators to bolster their capabilities for quick responses," says TJ McReynolds, customer success manager, SafetyCulture.
Heightened financial volatility, sustainable development divestment, complex global supply chain reconfigurations and mounting trade costs stemming from the war in Ukraine continue to impact trade and development, according to a new study released by the United Nations Conference on Trade and Development (UNCTAD).
"The war in Ukraine has a huge cost in human suffering and is sending shocks through the world economy," says UNCTAD Secretary-General Rebeca Grynspan. "All these shocks threaten the gains made toward recovery from the COVID-19 pandemic and block the path towards sustainable development."
The risk of civil unrest, food shortages and inflation-induced recessions cannot be discounted, the report says. And, restrictive measures on airspace, contractor uncertainty and security concerns are complicating all trade routes going through Russia and Ukraine.
To add to the challenge, there simply aren't enough people in place to help curtail any food safety misgivings that may arise in the plant, on the line and along the chain, McReynolds adds.
"There is a need to maintain consistent quality and reduce costs, all while meeting evolving regulations. The scale of technology is increasing, and so is the need for operations leaders to find cost-effective compliance solutions for businesses," McReynolds says. "That's why it's important to invest in innovation to both help with delivering on the basics, but also deliver value-added opportunities. Tackling many of the competing challenges for this industry can start with a simple step -- going paperless. Data captured within temperature logbooks, manual processes and paper documentation is far more powerful in digital form. In digitizing operations, organizations can raise visibility in real-time and gain powerful preventative analytics, which are crucial to building continuity strategies and operating in this volatile market."
What's more is, one of the biggest challenges is getting--and keeping--all the employees and partners on the same page, says Shaun Trejo, chief revenue officer, CMX.
"Fortunately, modern-day digital risk management platforms help tremendously in managing the cold chain and keeping food safe and of high quality until it arrives at the local grocer, restaurant or fast food outlet. However, it's very important to view the entire cold chain as consisting of multiple links. It consists of many different employees and participants—from farm, to warehouse, to store. All these supply chain partners must each do their part. The cold chain can fail even if there is only one weak link," Trejo adds.
To strengthen the U.S. food supply chain, U.S. Department of Agriculture (USDA) Secretary Tom Vilsack announced more support, resources and new rules to promote fair and competitive agricultural markets, prevent abuse of farmers by poultry processors and make prices fairer for farmers and American consumers. These actions build on President Biden's Executive Order to promote competition in the American economy and fulfill key pillars of the Meat and Poultry Supply Chain Action Plan.
"Under the leadership of President Biden and Vice President Harris, USDA is committed to making investments that promote competition—helping support economic systems where the wealth created in rural areas stays in rural areas—and strengthening rules and enforcement against anticompetitive practices. The funding and new rule we're announcing today ultimately will help us give farmers and ranchers a fair shake, strengthen supply chains and make food prices fairer," says Vilsack.
But, what does all of this mean for the future of food safety? Here's how the cold food chain can stay in front of the facts.
Food recalls. The worker shortage has created gaps in the system where standards, policies and sometimes even audits have slipped through the cracks.
Fact -- the United States experienced more than 1 billion recalls this year already, according to the U.S. product recall index released by Sedgwick's brand protection division, with 120 of those recalls being food and beverage events in Q2 2022, up 9.1% from Q1.
"This is the second consecutive year in which we have seen more than 1 billion units impacted by U.S. product recalls. If the first half of the year is any indication, we should expect 2022 to eclipse all previous years on record for recalled products," says Amanda Combs, recall advisor in Sedgwick's brand protection division. "While regulatory agencies may not be back to pre-pandemic work levels, companies can't relax their focus on product safety. Inspections and enforcement actions are still occurring."
Cargo theft. Widespread congestion at ports and inland facilities has led to increased opportunity for thieves, according to a recent TT Labs report.
A reduced workforce, growing e-commerce demands, backlogs at ports, COVID-19 lockdowns and union strikes continue to hammer the supply chain industry. But, in doing so, it's created opportunity for thieves to hone in on the weak links of a supply chain. Sometimes it's a truck sitting idle; sometimes it's a truck at the dock; sometimes it's the drivers themselves.
Fact -- a major part of the problem lies at the storage facilities, Trejo says.
"Apart from standard things such as CCTV monitoring and alarms, measures can be incorporated into cargo to track products and make them tamper proof, such as smart labels (e.g., radio-frequency identification tags) and tamper-evident seals. Since food and beverage items are a big target, using discreet packaging could also help mislead thieves," Trejo adds.
Technology. Fact – technology is revolutionizing the way companies track, manage and achieve food safety.
Technology can exist in the form of Internet of Things (IoT), asset tracking, lot code traceability and more. In fact, top software supply chain organizations are currently investing or planning to invest in advanced analytics, big data, artificial intelligence (AI)/machine learning and blockchain, in that order, according to Gartner. Following close behind is RFID/electronic tagging, robotics, robotic process automation (RPA), conversational systems (chatbots), wearables and digital twins.
Either way, the right technology will act as an early warning system to help freight forwarders transport their loads safely and securely, according to McReynolds.
"Look to digital operations platforms that allow for custom workflows and inspections that track alongside the transportation journey — from load checking or freight security (TAPA) checks to warehouse stock audits. Automated information capture makes it easy to record information across a number of vehicles and locations. If instances of non-conformance arise when auditing against best practice, create SMART actions within the platform to deliver a compliant end result," adds McReynolds. "Data equals visibility, but it's not just about responding to incidents. Analytics are the bread and butter of good operations — it's essential to be able to visualize and monitor data about anything from equipment and compliance to safety and environmental performance."
Traceability is also pertinent in ensuring food safety along the cold chain, helping to eliminate food recalls, maintain temperature control and better detail the journey certain food products took to get from Point A to Point B.
"The quicker products can be traced and removed from shelves, the better. Being able to prove that you crossed every t and dotted every i will be the best defense against a lawsuit, should a recall happen. You will essentially have a much better defense if you can prove you exercised 'reasonable care.' A digital platform that enables regular automated checks and audits is the only way to do this," Trejo adds. "Increased supply chain digitization also creates more opportunities for cybercriminals to hack these systems and processes (as with most other technologies). To combat this, companies should invest in a digital platform that already accommodates appropriate cyber protection against such attacks."
Packaging. For many brands, packaging is the gateway to the consumers' cart. But, if and when a label misprints or misleads a consumer, then it automatically compromises the safety of the food item.
What's fiction though is that "smart" packaging solves all food safety challenges. Intelligent packaging may contain an internal or external indicator to provide information about aspects of the history of the package.
"Having a robust product lifecycle management (PLM) strategy is a key method of improving food safety," says Trejo. "It's therefore imperative to have total visibility of all product ingredients and their origins so that such info can be declared. The only way to achieve this is to be able to incorporate all of this into a single digital platform."
For its part, GS1 US is facilitating industry's capability for creation and use of two dimensional (2D) barcodes on product packaging.
"In collaboration with GS1 US, industry is enabling the use of 2D barcodes by 2027 (under the initiative dubbed Sunrise 2027) for point-of-sale scanning, which allows data for consumer engagement and business use cases to be encoded in a single barcode," says Angela Fernandez, VP of community engagement, GS1 US. "2D barcodes allow for a single, standardized way to meet both evolving consumer requirements and supply chain needs. The 2D barcode also provides a machine-readable format to look up batch/lot number, sell-by date and more – expediting the recall process and/or the removal of expired food off the shelf."
Visibility matters. Risk can only be identified if you have proper visibility, according to Trejo.
"Whenever you lack visibility anywhere in your supply chain, as well as your locations, then you're in the dark," Trejo adds.
The fact is, while supply chain innovations have created opportunity, with opportunity comes risk.
"Take a multi-sectoral approach to your data and integrate with different parties along the food supply chain. This will allow monitoring to occur in transit, bridging the gap between food processors and logistics, and encouraging collaboration from farm to fork," says McReynolds.
Food safety culture. Just like with any initiative, rules are meant to be followed and processes are meant to maintain order.
Fact -- No facility can afford not to develop a healthy food safety culture.
"Cultivating a food safety culture is a never-ending process of continuous improvement, but commitment to this area yields benefits for the bottom line, for employee satisfaction, and for the families who eat your product. You can't afford to neglect it," according to the Safe Food Alliance.
That's because it takes just one employee to compromise the entire chain, Trejo says.
"Implementing at least some type of food safety training for everyone should certainly be a top priority. This means that everyone in your company must be aware of the risks involved, and what can happen when unsafe food is consumed. This should be accomplished by regular training."
Furthermore, those dramatic improvement in food safety don't happen without influencing and changing human behavior, McReynolds adds.
"This happens when you work on creating a safety culture from the ground up — and driving cultural change looks different in today's distributed workforce. Remove the red tape from safety operations and enable them with intuitive, easy-to-use technology like self-serve sensors and digitized checklists."
While ensuring food safety along the cold food chain will always be a challenge, the fact is, separating out the fiction and focusing on the facts that matter will help companies pivot accordingly.