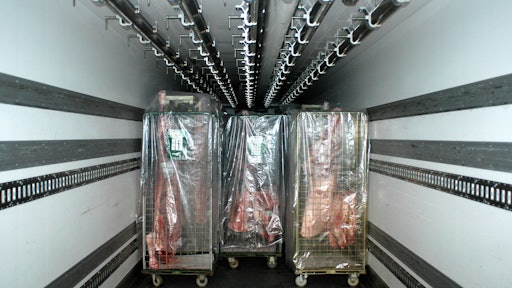 © Jean-Pierre Attal, GS1 US
When 2021 hit, the world was ready for the New Year. Even if it brought with it a New Normal -- new way of doing business, a new way to shop for groceries and more -- the turning of the calendar meant putting a year of supply chain disruptions, restaurant closures and constant pivoting behind us.
But, then, on March 23, a stranded Evergreen container ship blocked navigation in Egypt's Suez Canal, setting the stage for what would be a slew of supply chain disruptions after supply chain disruptions.
Suddenly, 2021 was quickly becoming a mirrored reflection of the year prior.
Then came the ransomware attacks, internet outages, container ships stuck at bay, bridge closures, driver shortages, ingredient shortages, natural disasters and more.
The hits just kept on hitting.
And, industry experts are already showing signs of struggle for 2022 into 2023, as routes to import/export remain clogged, ports continue to be backed up, cost of doing business increases and the labor shortage exists.
That's because supply chains are messy. And, they're only going to get worse before they get better.
In Food Logistics' Nov/Dec 2021 issue, editor-in-chief Marina Mayer talks with several industry experts about the state of the supply chain and what's in store for 2022.
Here's an interview with Liz Sertl, senior director, community engagement, GS1 US, who details why leveraging new technology to resolve supply chain issues also aids in improving track and trace, food safety and more, with excerpts publishing in Food Logistics' Nov/Dec 2021 issue. [CLICK HERE to read the article in full].
Food Logistics: 2021 started off with supply chain disruption after supply chain disruption. From the Suez Canal blockage and natural disasters to ransomware attacks and an industry-wide labor shortage, the supply chain industry is having to prove its resiliency over and over again. Looking into 2022, what does the state of the supply chain look like?
Liz Sertl: The past year's multitude of challenges have clearly demonstrated the need to upgrade supply chain operations so that the flow of products doesn't come to a standstill when unexpected disruptions occur. The pandemic became a catalyst for digital transformation and resiliency planning. Lessons learned are shaping the supply chain of the future, and it will be markedly different. With the help of digitalization already underway, supply chains will become far more agile. The increased use of interoperable data standards to identify products, their attributes and locations will facilitate information exchange between trading partners in real time, supporting track-and-traceability of products moving through the supply chain. That information will be used by manufacturers, distributors, logistics providers and end users to optimize their planning so they can be proactive and better prepared for any future crisis, whether it's a shipping channel blockage, raw material shortage, a surge in demand for a product or any other disruption. When product availability is an issue, enhanced track-and-traceability will facilitate fast, accurate assessment of inventories wherever they happen to be at any moment in time.
Food Logistics: The cold food chain continues to face a host of risk/security challenges. What can companies be doing now to adapt for the future?
Sertl: The ability to monitor products throughout their journey from manufacturers/farms to stores and restaurants will be instrumental in preventing contaminated or compromised products from reaching consumers. When a recall does become necessary, faster access to product and location data makes it possible to gain provenance and ascertain where a product has been without delay – speeding up the successful removal of suspect products and helping pinpoint the source of contamination. Scanning barcodes that are encoded with standardized product ID and attributes, including batch/lot numbers, improves the food system in several ways. It provides product traceability across the entire supply chain. More automation instead of manual data entry reduces human errors that cause failures throughout the cold chain (minimizing delays, erroneous product counts, etc.). The use of standardized product and location identifiers improves accuracy and quality of data exchanged between parties throughout the supply chain, which leads to more expeditious shipments, optimized space in trucks and better inventory management to improve freshness. Leveraging new technology to access real-time information will help identify and resolve supply chain issues as they arise or even before they cause widespread damage. This is a key component of the FDA's New Era of Smarter Food Safety Blueprint. Investigate some of the new monitoring technologies that can automate data collection and exchange for fast response. RFID, for example, can be used in distribution centers and restaurants to do a quick scan of what is in inventory without having to scan each item individually, gaining a snapshot of up-to-the-minute status. Combined with new and emerging sensor technologies, more detailed analytics about the condition of products, such as temperature in their current environment, can help assure optimized shipping conditions for maintaining freshness.
Food Logistics: In terms of transportation, what are some of the trends you're seeing for 2022? How do emerging technologies like blockchain, Internet of Things, cloud-based, etc. play a role in the evolution of transportation in the cold food chain?
Sertl: Blockchain may become useful in enabling secure, immutable data exchange to support cold chain management. Sensors that monitor temperature in a given environment and are integrated with shared data systems, for example, could enable real-time modifications to prevent spoilage, and the added traceability that blockchain offers would be a big bonus for food safety and recall management. We are still a few years away from full maturity of blockchain and IoT, but many companies are investing in pilots and proofs of concept exercises, demonstrating the potential. For example, a recent seafood industry pilot study examined how using GS1 Standards to identify products, entities, locations, critical tracking events and key data elements can support interoperability between stakeholders' diverse, proprietary traceability systems while leveraging blockchain, cloud or other technologies sharing. The study was conducted by GS1 US in collaboration with the Global Dialogue on Seafood Traceability (GDST), the Institute of Food Technologists (IFT), Beaver Street Fisheries, Bumble Bee Seafoods, Chicken of the Sea, FoodLogiQ, IBM Food Trust, Insite Solutions/Norpac, ripe.io, SAP, Walmart and Wholechain. Results demonstrated that data standards will be needed in these ecosystems just as they are in current data exchange models to ensure interoperability between trading partners up and down the entire supply chain.
Food Logistics: Let's talk supply chain visibility. What is your company – or what should companies – be doing to improve their own supply chain visibility?
Sertl: Using GS1 Standards for product and location identification enables traceability through the supply chain. GS1's globally unique identifiers, including GS1 global trade item numbers (GTINs) for products and global location numbers (GLNs) for locations make it possible to track and trace, offering the visibility that companies need to locate specific products in real time. Because the data is standardized, it can be shared and understood by all trading partners throughout the supply chain. Follow guidelines in the FDA's New Era blueprint and pay special attention to critical tracking events (CTEs) and key data elements (KDEs), introduced in the blueprint under the first pillar of tech-enabled traceability, "Develop Foundational Components." These are critical components of New Era goals to harmonize data governance and enable stakeholders to speak a common language using standards to facilitate system-wide transparency.
·        CTEs are activities in the supply chain that must be recorded by the capture of key information about a business step for product movement in the supply chain. Typically, these events include a product's transformation, transportation or depletion.
·         KDEs are attributes to describe or support the critical tracking event. This data answers the what, where, when, who and why of the event.
GS1 Standards provide a consistent structure for CTEs and KDEs, helping trading partners capture and share information about products throughout the supply chain. Standards-based identification allow companies to encode and capture KDEs such as GTINs, batch/lot/serial number and more. EPCIS (electronic product code information services) is a data sharing standard that provides more detail on the CTE, such as the state of the item (e.g., saleable, expired or in transit) or current conditions like temperature that are critical for cold chain monitoring. Data can be shared electronically using the Global Data Synchronization Network (GDSN), and GLNs provide extremely specific information detailing a product's path through the supply chain, facilitating improved monitoring and fast, efficient recalls when necessary.
Food Logistics: The COVID-19 pandemic put extra emphasis on food safety and worker safety. What is the state of food safety and worker safety going into the New Year?
Sertl: The state of food safety overall is improving steadily, and exciting technology solutions are being developed to help achieve end-to-end traceability that the FDA intends to foster with its New Era of Smarter Food Safety initiative. For example, several innovative traceability programs were spotlighted in the FDA's recent New Era Trace Challenge. Coupled with data built on standards, these emerging technology solutions can be leveraged to enable greater visibility, traceability and mitigation that are needed to improve food safety across the supply chain.
The 2020 virtual GS1 US Hackathon, Flexible and Resilient: Future-Proofing the Supply Chain, also drew ideas from industry for improving traceability and supply chain resiliency. During the competition, 168 hackers developed 17 solutions to solve highly relevant supply chain challenges that were exposed as a result of the COVID-19 pandemic. GS1 US Hackathon developers leveraged technologies including blockchain, machine learning and artificial intelligence (AI) to help "future-proof" the supply chain, making it more agile and adaptable during times of disruption. Part of this exploration was to shine a light on the state of supply-chain work itself and how to adapt in a world with potentially less human power to get certain tasks done. Autonomous retail and contactless product fulfillment options will be a permanent part of the retail landscape post-COVID.
These two competitions highlighted encouraging work that is being done to further improve supply chains and thus, improve food safety, and we expect to see that work continue with further exploration.
Food Logistics: When it comes to grocery retail shopping and/or foodservice establishments, what are some trends you see sticking around post-pandemic, and which ways of doing business will somewhat go away?
Sertl: Online grocery shopping is here to stay. Recent research from Acosta found that 45% of consumers increased online grocery shopping during COVID-19, and 30% shopped less in-store. While it remains to be seen how many shoppers will continue ordering groceries online post-pandemic, COVID broke the ice for many previously reluctant, tech-avoidant consumers. The convenience alone will motivate many people to stick with it. Similarly, curbside pickup and home delivery via Instacart, Peapod, Grubhub and other service providers has introduced shoppers to more convenient options that they now appreciate and expect. Consumer attitudes and preferences changed during the pandemic as more people became interested in healthy lifestyles, including the food they eat. Plant-based foods moved into the mainstream. Sustainability became a bigger concern for consumers as well. These trends, too, are expected to stick around. At the height of the pandemic in 2020, when restaurants were forced to shut down indoor dining, some pivoted to selling grocery items for curbside pickup to stay in business. Mostly, these were products already ordered for foodservice that would have gone to waste otherwise. As a short-term strategy, this was an innovative approach to alleviate supply issues and give housebound consumers another option when shopping was difficult and eating out impossible. We can expect to see continued diversification of product offerings for the next few years.
Food Logistics: What are some things not addressed above that may be pertinent to our readers?
Sertl: Most consumers never thought about supply chains before COVID. Now, they are acutely aware of how important an efficient, fully functional supply chain is to everyday life; the complexity and vulnerability of supply chains are becoming common knowledge. In some respects, the fallout from pandemic-related and post-pandemic supply chain disruption is just now beginning to look like a long-term reality, driving continued shifts in consumers' priorities and their attachments to brand values. Establishing consumer trust in this new environment will be a challenge for food suppliers, who will need to innovate and demonstrate collaborative efforts to help stabilize the system or offset new, volatile supply chain limitations.  
 [CLICK HERE to read the article in full].