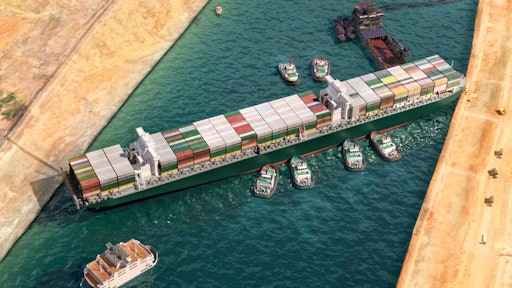 Adobe 423762422
On March 23, a stranded Evergreen container ship blocked navigation in Egypt's Suez Canal. Experts claimed a lack of visibility forced the 224,000-ton ship named EVER GIVEN, said to be the largest ship in the world, to run adrift and tip on its side while en-route to China, creating the largest supply chain disruption in 2021 to date.
Six days later, after hours of digging, tugging and pulling, the around-the-clock international effort eventually freed the massive vessel and re-opened the shipping lane.
"This incident has brought to center stage the importance of global shipping to daily life and the delicate nature of the global supply chain it underpins," according to a statement from Guy Platten, secretary general of the International Chamber of Shipping. "An estimated 12% of global trade passes through the Suez Canal, comprising of more than 1 billion tons of goods each year. This includes the majority of trade between Asia and Europe. I am relieved that goods like food, fuel, vital medical equipment and PPE will begin to move freely once again."
But, while the re-opening of the Suez Canal sent cheers and celebrations around the world, it also set the stage for what became a domino effect of supply chain disruptions.
Think container ships already re-routed now finding their way back. Think goods that expired that now had to be tossed. Think suppliers replenishing their inventory from other areas. Think as if it were a truck tipped over on the highway, blocking and re-routing traffic for miles.
With more than 1.9 million twenty-foot equivalent units (TEUs) of capacity involved in the incident, project44 warns shippers that their headaches are not over yet.
"The Suez Canal incident brings home the message that shippers must be prepared for unexpected disruptions in their supply chain. With real-time visibility and advanced alerting capabilities, disruptions as well as the ability to form strategies to avoid them, are more manageable than ever before," says Josh Brazil, VP marketing, project44.
At major ports such as Singapore, more than 370,000 TEU of capacity are en-route to the port, where 83 vessels representing 299,310 TEUs were already at the port or anchored and waiting to unload as of April 12.
The picture is similar at Rotterdam, where 15 ships representing 196,600 TEUs will arrive over the next week, lining up behind 85 ships already at port or waiting to enter the port.
According to project44's port delay tracking, the influx of ships will also exacerbate port delays measured in days.
Now, as of press time, the EVER GIVEN can't even leave the Suez Canal until its owners pay $1 billion in compensation for the supply chain disruptions it created, according to officials.
That's because disruptions of this magnitude don't just disrupt supply chains; they disrupt all fashions of how companies do business and have continued ramifications in the weeks to come as global trade resumes.
Up to 80% of industrial and consumption goods move in containers, says Nikolaus Sievers, VP, global customer success for Slync. [CLICK HERE to read the full interview with Nikolaus Sievers].
"Egypt's Suez Canal handles about 10% of international maritime trade and is one of the world's busiest waterways, providing a crucial link for oil, natural gas and cargo shipping between the Atlantic Ocean and the Pacific Ocean," according to Aljazeera.com.
Shortly after the EVER GIVEN's release, more than 350 vessels were already backed up on both ends, and more re-routed to other pathways, according to the Suez Canal Authority.
ClearPrism reports the canal blockage will affect approximately 25% of the U.S. gross domestic product (GDP) value, and the ripple effect will impact another 15%.
The disruption is a wake-up call for those companies who rely on supply chains to be error-free at all times.
"Unforeseen, disruptive events like the Suez Canal blockage are unfortunately part and parcel of today's modern world – supply chains cannot avoid them. The problem is their fragility and vulnerability. The key with the Suez situation is the ability for the cargo ships behind EVER GIVEN to make decisions and forecast outcomes. 'What is the impact to my end customer if this is longer than two days?' 'What additional costs will we incur by re-routing via the Cape?' 'Is there a weather event on the alternative route that would mean we would be better to stay put for longer and see this through?' The outcomes can impact cost, service, waste and time, all expensive commodities, so the right decisions need to be made by scenario modeling the drivers in real time," says Ian Stone, CEO of Vuealta.
And, this isn't the first time large vessels ran aground in the Suez Canal.
"The ocean carriers have built bigger vessels to gain scale economies, basically to move more containers across the globe at a lower and more efficient cost-per-slot mile. Shippers demand lower prices, the carriers cannot control price, but they can control cost. However, the size and scale of the vessels have in some instances outpaced shore side and physical infrastructure. That's going to take time and capital to correct and catch up and that work is well underway," says Bob Sappio, CEO, SeaCube Containers. [CLICK HERE to read the full interview with Bob Sappio].
That's why E2Open and Dun & Bradstreet partnered to provide insight as to how global businesses will be impacted by this blockage. Using proprietary supply chain and shipping data, the team found that Europe is the region that will feel the strongest impact, and companies in Asia will be impacted by the delay of shipments from Europe, but also by a shortage of empty containers returning to their region. Grocery stores, general warehousing and storage and trucking were among the Top 10 industries most impacted by this incident.
"The disaster of the moment becomes a global phenomenon because it is yet another reminder of the interconnectedness that comes with globalization and our reliance of each other as contributors to the global supply chain. Companies have developed a higher level of dependency on suppliers and third parties from other countries, and that dependency is highlighted when a link in the supply chain is impacted. The Suez Canal incident gives us yet another reason for businesses to invest in data and technology to create an agile, geographically dispersed supply chain that can quickly pivot during unexpected events," says Brian Alster, general manager, third-party risk and compliance, Dun & Bradstreet.
But, prior to the EVER GIVEN disruption was the global disruption that is the Coronavirus disease (COVID-19). Despite the world being on lockdown, U.S. ports remained open and continued moving product in and out.
That's also not to say U.S. ports and ocean carriers didn't have their own sets of challenges as a result of COVID-19. One such challenge remains the transformation of the supply-demand model.
"The initial COVID-19 impact led necessarily to 'blank sailings,' or reduced rotations of vessels, simply because the demand out of Asian markets shrunk so quickly. The result was a controlled market that enabled carriers to re-introduce capacity as it was required," says Josh Bowen, SVP ocean freight North America, CEVA Logistics. "This pivot meant there was never a deficit situation in the supply and demand relationship. What could not have been envisioned is that the American consumer would take the disposable income not being spent on services and so quickly redeploy it to product segments, which are seeing a boom of historic levels across numerous product categories. This is a truly unprecedented, COVID19-only impact."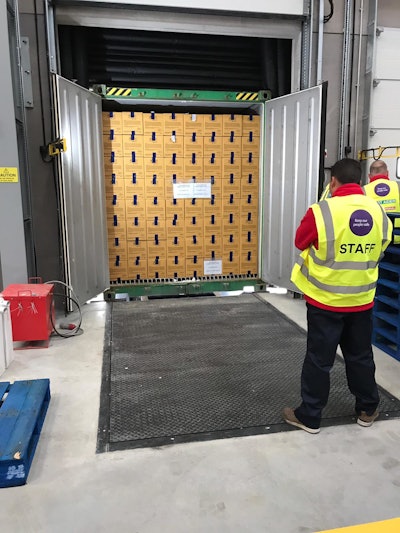 Maintaining proper temperature controls also continues to be one of the biggest challenges with shipping food and beverage cargo.
"It's an issue because there are so many reasons why keeping steady temperatures can become difficult. Anything from breakdowns, power outages, fires or even blockages on key shipping routes — as we recently saw when the EVER GIVEN became lodged in the Suez Canal — can present an issue," says Mike Burke, field practice lead, ocean marine underwriting, Travelers. "In a circumstance like this, a ship can lose power, which may cause temperature-sensitive food or beverages onboard to spoil. The EVER GIVEN's situation may have affected cargo on other ships as well, as it caused major traffic delays on the canal."
Another challenge for ocean carriers is creating efficiencies by shipping larger quantities of cargo on bigger ships.
"While this approach can save time, fuel and labor costs, it can also lead to larger losses if something does go wrong," Burke adds. "The good news is that there are ways for shippers and ocean carriers to reduce these risks. Temperatures can be monitored by using multiple recording devices throughout each container, which can help create a record of temperature consistency during the voyage. If a shipper is only using a single device, it's best to locate it in the center of the container because temperatures can fluctuate. Having a reading from the middle can provide a better indication of the temperature maintained throughout the container."
The other problem facing the shipping industry is the shortages of containers themselves, says Robert Handfield, executive director of the Supply Chain Resource Cooperative and the Bank of America University Distinguished Professor of Supply Chain Management in North Carolina State University's Poole College of Management.
"China is sending out a lot more exports to the U.S. and Europe than the other way around. Its economy bounced back faster, as the virus situation within its borders was basically under control by the second quarter of last year. As a result, containers are stuck in the West when they are really needed in Asia. So, ships are literally milling around in Chinese harbors because they can't be loaded because there aren't enough containers to pack the shipments in. This is causing massive bottlenecks, and shipping costs have gone up by 264%," adds Handfield.
End-to-end visibility helps companies "see" ahead
COVID-19 was a catalyst for technology change, prompting many companies to fast-track the development and deployment of several technology solutions, including blockchain, artificial intelligence (AI), machine learning, digital twins and more.
"Many things are involved in moving shipments around the world, but digitalization definitely has the potential to not only make it easier, but also faster and leaner," says Goetz Alebrand, SVP head of ocean freight, Americas, DHL Global Forwarding. [CLICK HERE to read the full interview with Goetz Alebrand].
In fact, 42.9% of survey respondents have invested in Internet of Things (IoT) to achieve supply chain optimization in transportation, followed by automation, AI and robotics, according to a poll presented during Food Logistics' SCN Summit: Transportation session.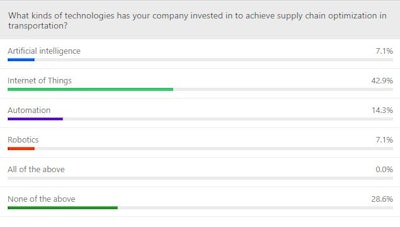 That's why DHL invested in myDHLi, what is said to be the only fully integrated online platform for freight forwarding customers.
"[myDHL] provides completely transparent management of freight rates, offers, transport modes, carbon emissions and all other relevant shipment data," says Alebrand. "The highly intuitive user interface makes it easy to use and ensure that customers have all relevant information at hand. Reflecting already well-established social media functions like follow and share, relevant information can be easily accessed across organizations and trading partners. And, customers experience superior online services for full shipment visibility and control in one platform."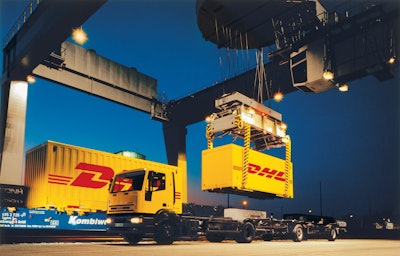 The Suez Canal blockage further reinforced the need for supply chain technology that allows stakeholders to plan routes, prompt end-to-end tracking of shipments and make real-time adjustments during the shipment lifecycle as challenges and opportunities arise, according to Glenn Jones, global VP of product strategy and marketing, Blume Global. [CLICK HERE to read the full interview with Glenn Jones].
Blume Global's VIP Terminal Services provides the supply chain technology for dray carriers to retrieve customers' cargo quickly and more predictably, adds Jones.
"Blume Global is helping remove $1 trillion of waste from the global supply chain, making logistics processes more agile, dependable and sustainable with innovative execution and visibility solutions," he says. "Blume's service promotes further integrations with marine terminals, provides container availability for import shipments and extends with execution and visibility solutions beyond the port for true end-to-end supply chain orchestration."
Meanwhile, Blume's CarrierGo app allows drivers to take a picture of signed bill of lading for electronic proof of delivery. And, Blume Maps, a digital twin of the supply chain, helps plan a freight shipment's route, providing alternative modes, carriers and routes when shipments are behind schedule, enabling worldwide end-to-end visibility.
"With Blume Maps, shippers can plan for the unexpected and reduce emissions by charting out the most expedient route before the shipment starts," Jones says. "Tariff troubles, COVID shutdowns, the ramp up in online ordering, the Suez blockage, etc., are all part of a bigger picture. Supply chain stakeholders need to be prepared for the unknown and become comfortable operating in a world of uncertainty. Becoming 'smarter' by utilizing supply chain technology solutions is a big part of creating an agile organization that can quickly adapt to global challenges and opportunities. Organizations need digitally empowered logistics platforms that leverage data to efficiently make informed decisions."
Information technology also plays a critical role in real-time management and in-motion inventory of shipments, Bowen says.
"Whether it was the proactive updates from the ship lines on arrival time adjustments, supply chain visibility tools providing real-time visibility to items at rest and in motion or warehouse technologies enabling customers to quickly adjust their planned cargo movement to transload and expedite it to end markets, all of these technology use cases by CEVA Logistics and our partners played a critical role in increasing efficiency, and thereby sustainability, in supply chains even during unprecedented times," adds Bowen.
What's mission-critical now are end-to-end solutions that integrate advanced document management capabilities, robust collaboration features and support for bookings, with end-to-end real-time tracking, according to Karthik Rajagopal, SVP, strategic initiatives at FourKites.
That's why FourKites developed the Network Congestion Map, which tracks cross-border freight movements across North America, Mexico and Europe, as well as port delays over 230 ports globally and interstate transit metrics.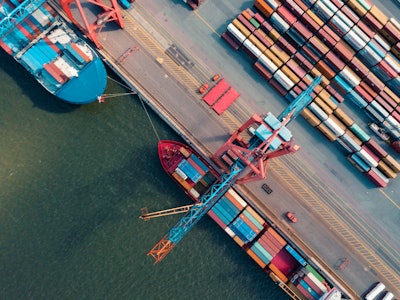 "Visibility into container location is just the tip of the iceberg when it comes to efficient management of ocean freight," says Rajagopal. "Companies also expect highly accurate ETAs that are not just dependent on the individual vessel that the container is on, but on the overall state of the global ocean network, including ports and other steamship lines. In a recent survey of 160 senior ocean supply chain leaders, 60% cited their need for better document management, and more than 40% said they intend to upgrade their systems by investing in the further digitalization of their international processes."
For its part, ClearMetal offers global visibility and predictive ETA solutions, so that carriers, ports and shippers can more efficiently plan ocean and landside operations.
"For example, through ClearMetal's advanced ETAs and predictions of 'availability for pickup,' drayage providers can be more accurately scheduled to reduce unnecessary trips or idling in congested terminal pickup lines," says Adam Compain, CEO of ClearMetal.
Plus, the development in cargo growth and recovery continues to directly impact the supply chain infrastructure.
"Although the supply chain remained undeterred, it would be disingenuous to say that the system performed at a high level during these record cargo flows," says Mike Wilson, CEO of Consolidated Chassis Management (CCM). "Challenges persisted (and still persist) throughout the network. Whether one looks at ships, terminals, railroads, trucking or warehousing, the infrastructure available was not sufficient to optimally move cargo through the supply chain. Even with these challenges, we did see the continued importance and impact of increased transparency and flexibility in the supply chain. No doubt, technology played a key role in creating visibility and helping to develop alternate transport plans, but this would not have been as effective if it weren't for the various modes working together to find ways to maximize the assets in play to deliver the needed services. As always, collaboration was the glue holding this effort together."
The Suez Canal situation showed how resilient the network actually is, adds Sappio.
"Ocean carriers quickly advised customers, tracked delayed shipments, shifted routings. Trade did not stop. It may have been delayed, but it did not stop. Technology, customer service and contingency planning allowed shipping companies to improvise, overcome and adapt. At the end of the day, the impact on actual consumers is negligible," says Sappio.
Click here to hear more about visibility in the supply chain:
Ports power through
Imports at the nation's largest retail container ports are expected to grow dramatically during the first half of 2021 as increased COVID-19 vaccination and continued in-store safety measures enable additional shopping options, according to the monthly Global Port Tracker report released by the National Retail Federation and Hackett Associates. April is forecast at 1.9 million TEUs, up 18.2% year-over-year; May at 1.92 million TEU, up 25.2%; June also at 1.92 million TEU, up 19.6%, and July at 2.02 million TEU, up 5.3%.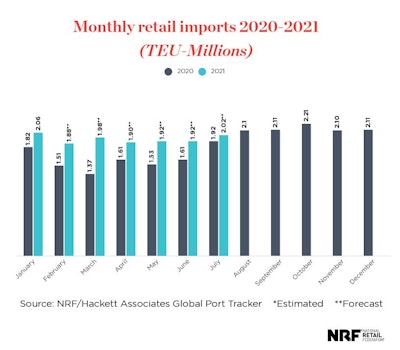 "We've never seen imports at this high a level for such an extended period of time," NRF VP for supply chain and customs policy Jonathan Gold said in a press release. "Records have been broken multiple times and near-record numbers are happening almost every month. Between federal stimulus checks and money saved by staying home for the better part of a year, consumers have money in their pockets and they're spending it with retailers as fast as retailers can stock their shelves."
The value of exports from Latin America contracted by 3.2% in the beginning of 2020 compared to the same time period in 2019, according to a report by the Inter-American Development Bank. Although in recent years, China had been the main driving force behind Latin America's external sector, its demand for imports came to a standstill.
Inter-American Development Bank's report also detailed that the first sub-region to experience the trade contagion of the COVID-19 pandemic was South America, whose exports are concentrated in commodities. Its exports contracted at an estimated rate of 7.6% after dropping 6.2% on average in 2019.
What's more is, the World Trade Organization (WTO) says volume of world merchandise trade is expected to increase by 8% in 2021 after falling 5.3% in 2020. However, trade growth is then projected to slow to 4% in 2022.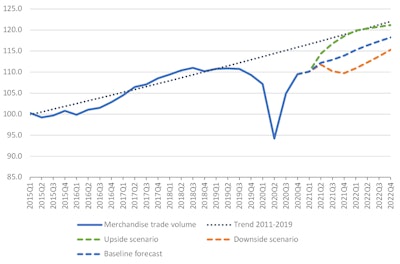 "The strong rebound in global trade since the middle of last year has helped soften the blow of the pandemic for people, businesses and economies," WTO director-general Ngozi Okonjo‑Iweala said in a press release. "Keeping international markets open will be essential for economies to recover from this crisis, and a rapid, global and equitable vaccine roll-out is a pre-requisite for the strong and sustained recovery we all need."
On the other hand, large shipping losses are at a record low, falling by over 20% year-on-year, according to a report published by Allianz Global Corporate & Specialty SE (AGCS). South China, Indochina, Indonesia, and Philippines maritime region remain the top loss location thanks to high levels of trade, busy shipping lanes, older fleets, typhoon exposure and safety issues on some domestic ferry routes. However, the number of reported shipping incidents increased by 5% year-on-year, driven by machinery damage, which caused over one in three incidents.
"[The] Coronavirus has struck at a difficult time for the maritime industry as it seeks to reduce its emissions, navigates issues such as climate change, political risks and piracy and deals with ongoing problems such as fires on vessels," says Baptiste Ossena, global product leader, Hull Insurance, AGCS. "Now the sector also faces the task of operating in a very different world, with the uncertain public health and economic implications of the pandemic."
Meanwhile, the rise in demand for cargo transportation through ships and an increase in trade-related agreements continue to boost growth in the global shipping containers market.
The global shipping containers market is projected to garner $12.08 billion by 2026, according to an Allied Market Research study.
Even further, the global autonomous ships market is estimated to garner $165.61 billion by 2030, according to another report published by Allied Market Research.
And, despite canal crises and global pandemics, today's U.S. ports continue to forge ahead with infrastructure projects designed to make room for larger and smarter shipping vessels.
For instance, the Georgia Ports Authority (GPA) approved capital improvement projects that will increase the Port of Savannah's container capacity by 20%.
"Right now, we are moving container volumes that we did not expect to see for another four years," GPA executive director Griff Lynch said in a press release. "Our employees are working very hard to ensure we continue to provide our customers with world-class service. Additionally, we are expediting capacity projects that will increase the speed and fluidity of cargo handling at the Port of Savannah."
Dubbed the Peak Capacity project, the terminal enhancement will establish 2,100 new grounded container slots and add 650,000 TEUs of annual container yard capacity in two phases, with the first opening in September.
The Port of Wilmington's $70.8 million Waterfront Development Program, which is funded through the Port of Los Angeles' Public Access Investment Plan, includes construction of a community park, a waterfront promenade, public pier, public dock for commercial vessels, a 2,500-square-foot pad for commercial development and more.
Meanwhile, the North Carolina State Ports Authority partnered with Scoular to lease land and develop an agricultural transload facility on the Port of Wilmington. This at-port facility will receive, store and load agricultural products.
For its part, the Port of Oakland experienced an unprecedented containerized import surge following a January decline thanks to increased U.S. consumer spending. This is after supply chain disruptions elsewhere drove its January import totals down nearly 12%.
"It's what we expected," Port of Oakland maritime director Bryan Brandes said in a press release. "Oakland continues to benefit from an unrelenting trade boom. We also completed the assembly of three new giant cranes, which will further improve efficiency."
The Maryland Department of Transportation (MDOT) and the MDOT Maryland Port Administration (MDOT MPA) renewed and expanded their collaborative efforts to strengthen environmental initiatives at the Helen Delich Bentley's state-owned, public marine terminals. The agreement calls for a continued committed effort to reduce diesel and greenhouse gas emissions and increase energy efficiency at the port.
And, the Port of Hueneme welcomed the first of two cutting-edge, energy efficient Del Monte Valiant vessels, signifying the port's mission to be the cleanest, greenest, most efficient port possible. The Valiant and her sister ships are fitted with environmentally beneficial features, including a Hybrid Scrubber system to reduce pollution and control emissions of noxious substances, and shore power connection, so that the ships are zero emission while docked at the port.
Even though EVER GIVEN is free, its six-day blockage created months of bottlenecks. Industry experts talk of price-gouging and equipment shortages. The Federal Maritime Commission (FMC) is cracking down to make sure ocean carriers are meeting legal obligations. And, there's rumors of peak season surcharges.
"Beyond the delay to cargo on board those ships affected, there will inevitably be a knock-on impact for those involved in discharging the containers at destination ports when they finally arrive, as well as the final-mile delivery carriers. While the immediate impact may be a lack of cargo arriving when expected, presenting market supply challenges, it is when the cargo does start to turn up that further potential risks emerge," says Mike Yarwood, managing director, loss prevention, TT Club.