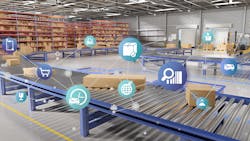 ©Production Perig - Stock.Adobe
Empty shelves. Unfulfilled orders. Delayed shipments. Help Wanted signs. These terms all help tell the story of the current state of the supply chain industry. It's a time when the demand is high, and the supply is low. It's a time when stockouts are prevalent, consumers panic purchase and companies re-evaluate how and from where they source product.
When 2021 hit, the world was ready for the New Year. Even if it brought with it a New Normal — a new way of doing business, a new way to shop and more. But, then, on March 23, a stranded Evergreen container ship blocked navigation in Egypt's Suez Canal, setting the stage for what would be a slew of supply chain disruptions.
Suddenly, 2021 was quickly becoming a mirrored reflection of the year prior. Then came the ransomware attacks, internet outages, container ships stuck at bay, bridge closures, driver shortages, ingredient shortages, natural disasters and more.
And, industry experts are already showing signs of struggle for 2022 into 2023, as routes to import/export remain clogged, ports continue to be backed up, cost of doing business increases and the labor shortage exists.
Download the 2022 Trend Report
The 2022 State of the Supply Chain report, Supply Chains in Crisis Mode, uncovers the trends that will impact the supply chain during the next year from inventory and labor shortages to ransomware attacks and internet outages. Download this FREE whitepaper and discover what industry experts are forecasting and what companies should expect going into the new year — highlighting operational threats as well as innovative opportunities to succeed.