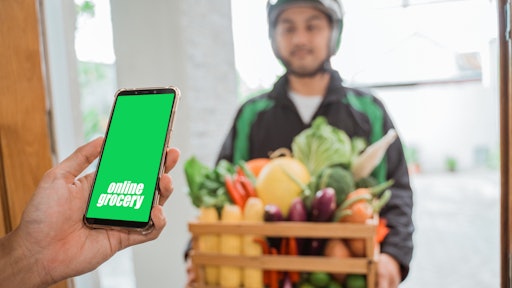 Odua Images - stock.adobe.com
The state of shopping at this point of the pandemic certainly feels less and less frantic, with retail meltdowns and doomsday shelf-clearing now ghosts of COVID-19's past. Still, there is no doubt that the way people shop has changed permanently since the start of the Coronavirus disease (COVID-19) outbreak.
One thing will certainly never go back to the way it was -- as in most other retail sectors, grocers are investing in the technological capabilities needed to provide customers with safe, engaging shopping experiences, whether in store or online. Indeed, 54% of grocers are already increasing their year-over-year tech spend with a focus on advancing digital and mobile capabilities, analytics-driven decision-making, personalized marketing and click-and-collect processes.
Here's what these burgeoning tech trends hold in store for grocers in 2022.
The rise of the CIO
C-suite figures once pigeonholed into "tech" roles are now being tasked with a greater level of involvement in the business decision-making process. That's because tech-driven innovation stands to change how grocers increase value for their customers and analyze and understand prescient data. Accordingly, CEOs increasingly rely on their CIOs to inform a company's future with fresh, innovation-driven perspectives.
CEOs who think like CIOs are helping grocery stores transcend the current era of pandemic-spurred problem solving – how do we make experiences faster, easier, more user friendly, etc. – and evolve toward a landscape pervaded by long-term innovations that drive innovation and business growth. Tech-driven innovation stands to change how grocers increase value for their customers and generate entirely new streams of revenue for themselves.
Ultra-rapid delivery
In 2021, technology's most tangible effect on the grocery industry was in the rise of ultra-rapid grocery-delivery revolution. In reaction to the remote nature of pandemic lives, startups have emerged around the world that promise 10- to-15-minute grocery deliveries.
Case in point: Rapid delivery users have typically paid a markup, with prices considerably higher than those in a supermarket, but as the ubiquity of rapid delivery spreads, these prices will drop. However, for grocers to achieve profitability on ultrafast delivery, they will have to increase their customer base through both tech-driven marketing and word-of-mouth.
But, the questions remain: What should more traditional or legacy grocery establishments make of this booming young sub-sector? Should they see these potential competitors as friends or foes?
Many traditional grocers have already shown a willingness to forge partnerships within this budding space as they address their own need for enhanced deliveries. And, with ultra-rapid delivery making inroads within the grocery vertical, the reality is we are nearing the point of no return. Grocers will best serve themselves and their customers by making partnerships with this ascendant rapid delivery force – those who can strike the right balance between traditional and disruptive stand to rise above the pack. However, grocers should not partner with rapid delivery providers if the retailer does not have access to and ownership of the customer data, as this may undermine consumer loyalty in the long run.
Taking control of an online presence
Embracing new technologies may allow grocers to regain the control they had previously ceded to third-party deliverers. In turn, retailers can rebuild customer connections, tailoring offerings in ways that suit the needs of their customers without compromise, ultimately improving profitability. And, with white-label e-commerce platforms already joining forces with last-mile delivery solutions, it is easier than ever before for grocers make the switch without too much logistical concern.
AR, robotics and automated fulfillment
Augmented reality (AR), automation and robotics will be vital tools for reimagining the brick-and-mortar grocery experience with a digital flair. Robotic processes, for example, can streamline order fulfillment (for both center-store products and online orders), making order management and delivery more profitable than before.
The store of the future might combine the capabilities of a micro-fulfillment center (MFC) to handle pickup and delivery orders with a full-fledged market for in-person shoppers. Since back-room processes can be automated with MFCs, more manpower can be put toward offering a top-of-the-line, in-person experience, blending the expertise of experienced butchers, fishmongers and bakers, alongside digital and AR-based add-ons to maximize both in-person and remote shopping experiences.
Due to the storage and delivery needs of fresh, dry or frozen goods, there are more challenges for automated implementation within the grocery industry than in other retail verticals, and the rise of automation will accordingly move slower than other trends. Still, although the accepted model for an AR-centric store is far from maturity, 2022 will see more retailers experimenting with and implementing these tools, paving the way for a fully automated grocery shopping experience in the future.
Countless other trends will certainly affect the way consumers shop for groceries in 2022 – cashier-less stores and more store-grown produce to name just two – but one thing is sure, as the pandemic drags on, the digital transformation affecting the entire world of commerce will certainly be felt in the grocery bags too.