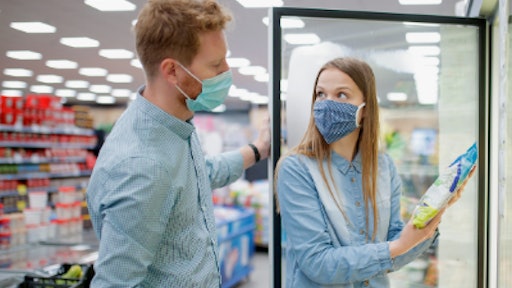 American Frozen Food Institute (AFFI)
When 2021 hit, the world was ready for the New Year. Even if it brought with it a New Normal -- new way of doing business, a new way to shop for groceries and more -- the turning of the calendar meant putting a year of supply chain disruptions, restaurant closures and constant pivoting behind us.
But, then, on March 23, a stranded Evergreen container ship blocked navigation in Egypt's Suez Canal, setting the stage for what would be a slew of supply chain disruptions after supply chain disruptions.
Suddenly, 2021 was quickly becoming a mirrored reflection of the year prior.
Then came the ransomware attacks, internet outages, container ships stuck at bay, bridge closures, driver shortages, ingredient shortages, natural disasters and more.
The hits just kept on hitting.
And, industry experts are already showing signs of struggle for 2022 into 2023, as routes to import/export remain clogged, ports continue to be backed up, cost of doing business increases and the labor shortage exists.
That's because supply chains are messy. And, they're only going to get worse before they get better.
In Food Logistics' Nov/Dec 2021 issue, editor-in-chief Marina Mayer talks with several industry experts about the state of the supply chain and what's in store for 2022.
Here's an interview with Alison Bodor, president and CEO of American Frozen Food Institute (AFFI), to discuss the role frozen foods play in the future of the cold food chain, with excerpts publishing in Food Logistics' Nov/Dec 2021 issue. [CLICK HERE to read the article in full].
Food Logistics: The COVID-19 pandemic put extra emphasis on food safety and worker safety. What is the state of food safety and worker safety going into the New Year?
Alison Bodor: Food safety and worker safety has always been a priority for the frozen food and beverage industry and our supply chain continues to rise to the challenge to feed Americans.
Traditionally, our focus has been on preventing physical workplace injury rather than disease spread among workers. Fortunately, our rigorous food safety controls and sanitation measures went a long way to keeping our workers safe from the outset. However, more was needed for a disease that spreads by respiratory droplets. The American Frozen Food Institute and our peer food associations worked together to develop guidance to keep workers safe that will still be useful as we head into the New Year. This guidance covers:
· How to prevent the transfer of an infection from the community to the food manufacturing facility by monitoring those entering the facility to determine who may be infected.
· How to prevent transmission within the workforce in the facility by limiting exposure and spread.
· How to prevent the facility from being a COVID-19 super-spreader site by implementing a hierarchy of controls including engineering, administrative and physical controls to facilities.
I strongly believe that the guidance industry and government developed and the subsequent measures companies took very early in the pandemic saved lives. We continue to help our members navigate the latest information by summarizing, explaining the potential impact on their business and disseminating quickly. For example, President Biden recently announced a six-pronged national strategy to combat COVID-19, including the need for employers to require vaccination or weekly testing of employees.
As we head into the New Year, I see this continuing -- the ability for our members to provide us with real world feedback and learnings and AFFI advocating on their behalf here in Washington to ensure workers and safe and businesses are able to stay operational. On the topic of food safety, beginning in spring/summer 2020, we were seeing sources stoking unnecessary fear and confusion about food safety related to SARS-CoV-2 transmission. In response, more than a dozen public health authorities from around the world, including the World Health Organization (WHO), U.S. Centers for Disease Control and Prevention (CDC), U.S. Food and Drug Administration (FDA) and the U.S. Department of Agriculture (USDA), along with leading food safety experts, all agree that there is no evidence of the spread of COVID-19 through consumption of food or food packaging, and no known cases of foodborne COVID-19.
Because everything we do is based in science, AFFI teamed up with Emory and North Carolina State University to understand the potential transmission of SARS-CoV-2 on food packaging. The results are awaiting publication in the peer-reviewed Lancet Public Health Journal. This research shows control steps that are now commonplace in food manufacturing facilities such as masking, standard room air exchange and handwashing substantially reduced risk by greater than 99% on food packing.
Food Logistics: When it comes to grocery retail shopping, what are some trends you see sticking around post-pandemic, and which ways of doing business will somewhat go away?
Bodor: The frozen food aisle has been a growth driver for retailers since 2016 with acceleration ahead of most other departments. In 2020, frozen foods proved to be a pandemic powerhouse ringing in $65.1 billion in retail sales. One of the biggest questions coming out of 2020 was, could frozen sustain these gains? All signs point to yes.
The 2021 Power of Frozen, commissioned by AFFI and conducted by 210 Analytics, found that 30% of Americans expanded their freezer capacity by adding a second fridge/freezer combination or a standalone freezer since the onset of the pandemic. This was a result of one of the most consistent and persistent pandemic grocery shopping trends of fewer, but bigger trips. Preparing many more meals at home highly favored frozen food and its longer shelf life — prompting consumers to invest in additional freezer space.
Not letting their investment go to waste, consumers continue to highly engage with the frozen food aisles. Both the frozen food basket size and the number of trips exceed the 2020 levels in each of the five August weeks in 2021.
Here are a few of the growth drivers that prove the demand for frozen food will remain:
· Cross-assortment engagement. Looking at sales patterns of the past few years, it isn't just one or two areas in the frozen food aisle that are driving growth; it's quite literally all categories. Certainly, there are powerhouses that have come on very strong in the past year, particularly frozen seafood and meat, but all areas gained and gained big.
· The three levers of growth. In the end, every brand, product or category has three ways to increase sales -- having more people buy, having people buy more and having people buy more often. Frozen food sales gains are the result of hitting this growth trifecta. Virtually every frozen food category saw an increase in household penetration, trips and the average basket size — an accomplishment not all departments can boast.
· The 360 win. Many categories play in breakfast vs. dinner. Or indulgence vs. health. But, frozen foods cover it all -- functional and indulgence plus all meal occasions from breakfast, lunch and dinner to beverages, snacks and desserts. Lunch became a huge growth opportunity during the pandemic as consumers emphasize time and convenience. With many more consumers continuing to work from home part or all of the time, frozen foods will continue to make inroads across meal occasions.
· Online food and beverage growth. While all retail channels gained over the past 15 months, it was food e-commerce that exploded, with a 2020 gain of 84%, according to IRI. Online now represents about 10% of all food sold in the U.S. And, online growth has not yet plateaued with expected market penetration of about 12% by the end of 2021. Here too, frozen food rides a growth trend, with very high online conversion and penetration.
The list of growth drivers could continue but the bottom line is that all signs point to a bright future for frozen food demand.
[CLICK HERE to read the article in full].