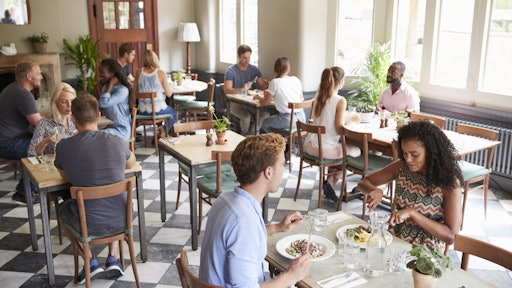 Monkey Business- stock.adobe.com
Over the past 2 years, the foodservice industry has exhibited remarkable adaptability as the arrival of the Coronavirus disease (COVID-19) spurred fundamental changes in the way consumers make decisions about food. And, as the pandemic continues to evolve, so too will the industry. Here are 5 trends set to impact foodservice operators and suppliers in 2022.
1. Ongoing labor shortages and supply chain disruption
Adapting to manage ongoing supply chain disruptions and labor shortages has become the norm for operators over the past 18 months, and the problem is not going away any time soon. Bar and restaurant closures in 2020 resulted in the elimination of nearly 2.5 million foodservice jobs. Subsequent employment gains as the economy reopened in early 2021 have not been enough to support the surge in pent-up demand, still leading to 800,000 vacant positions during the industry's pre-pandemic peak, as low wages, limited benefits and increased work-related stress have driven an exodus of workers from the industry. Supply chain challenges related to procuring ingredients has also been an ongoing pressure on the food industry. In fact, nine out of 10 operators across every restaurant segment reported supply delays or shortages in recent months.
Among the ways operators can minimize the impact of decreased labor availability and increasing costs is by simplifying menu options and streamlining the food production process, and respond with solutions designed to save time, resources and money.
2. Increased appetite for off-premise foodservice solutions, including delivery, takeout and curbside
Consumers have a wide range of options to satisfy their hunger and it's led to an increase in demand for off-premise options, including takeout, delivery and curbside pickup. These behaviors took root in the early days of the pandemic out of necessity and continue to hold strong as consumers have been won over by convenience.
According to NPD, dine-in visits to restaurants were down 48% in the 12 months ending September 2021 compared to the pre-pandemic level in the year ending September 2019. Off-premise orders, like carry-out, drive-thru and delivery were up 20% vs. 2 years ago September. Year-over-year dine-in visits declined by 10% in the 12 months ending September compared to a year ago, and off-premises grew by 10% in the same period.
3. Greater competition for the food dollar and omnichannel partnerships
During the pandemic, retailers got a taste for commanding a larger share of food spending, and as a result, have increased investment to add foodservice experiences to the store perimeter. Foodservice operators are also eager to attract diners and are doing so by featuring more global cuisine offerings; food consumers say they prefer to eat at restaurants than at home. Spending on food both at home and away from home has been elevated since March 2021. In fact, inflation and pent-up foodservice demand combined with an increase in planned celebrations led to a record-setting level of food spending -- $166 billion – in July 2021, according to the USDA Food Expenditure Series. While spending was down to $158 billion in September 2021, that figure still represents a 22% year-over-year increase.
4. Health concerns spur growth in plant-based food
A heightened focus on health remains at the top of consumers' priorities going into 2022. Health concerns around COVID-19 accelerated the adoption of plant-based diets. In fact, plant-based categories in foodservice are expected to grow by 8.5% through 2025, according to Rich's 2020 Plant-Based Market Assessment.
Consumers are looking for delicious ways to incorporate more plants into their diets. Across the spectrum of plant foods – fruits, vegetables, nuts, seeds, beans, legumes and grains – they seek recognizable plant ingredients they can feel good about eating.
Anticipate demand will continue to rise as more consumers select plant-based products. Rich's Gen Alpha research reveals that 52% of parents want to feed their kids more plant-based foods moving forward, and 34% have been asked by their kids to do so.
Consumers may be eager for more plant-based food offerings, but aren't willing to compromise on taste in the process, according to a recent Rich's consumers sentiment poll. Rather, they favor foods with familiar ingredients and nutrient density that delivers on physical and emotional wellness goals.
5. Committing to the values consumers – and potential associates – care about most
Environmental and social responsibility has become a requirement of doing business for foodservice operators. Americans, and particularly Millennials and GenZers, are choosing to spend their dollars -- and work for -- brands that align with their values. Delivering on commitments to diversity, equity, inclusion and environmental sustainability are critical to gaining their loyalty. And, it's equally critical to winning the war for talent.
As many as 85% of Americans expect companies to address social and environmental issues. Nearly 72% of Americans say they feel it's more important than ever for the company they buy from to reflect their values, and 88% of consumers say they are more loyal to companies that support a social or environmental issue.
According to a Kerry Ingredients' study, 58% of consumers are strongly influenced by sustainability when making a food or beverage purchase at a restaurant. And, a recent Deloitte study reveals that 68% of food and beverage companies are training their employees on diversity and inclusion to prepare for future workplace challenges.