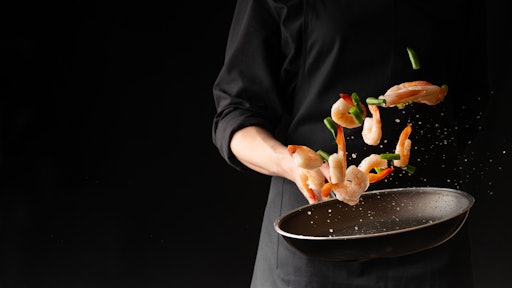 Anton- stock.adobe.com
Operators face the unthinkable — a second winter in a worldwide pandemic. The unique challenges presented by the Coronavirus disease (COVID-19) continue to push hospitality owners to new solutions and fixes. But, one such temporary measure has been gaining traction, and like many parts of our changing way of life, is proving to have staying power.
That's ghost kitchens. This new concept has been a saving grace for thousands of businesses across the globe. The extra revenue brought in by adopting brands and renting out kitchen space has helped businesses small and large meet their bottom line in a time where just breaking even is a challenge.
But, is this a quick fix? Ghost kitchens have been an experimental dining concept since 2018, and now that they're being put to the test, it's clear they have passed with flying colors.
For the short term, cloud kitchens have an important role to play in the coming winter. Trends indicate that there's always an increase in demand for delivery when the weather turns colder, but with the new indoor vaccine restrictions, that becomes a need. Ghost kitchens without an in-venue dining space have lower overhead for rental space and the usual table service costs. The decrease in foot traffic doesn't affect those kitchen spaces at all, since they rely completely on delivery.
When looking farther into the future, ghost kitchens have carved out a niche of their own. It makes sense with the way society is changing; consumer needs center around variety and options, and restaurants find themselves trying to always re-capture attention. But, to satisfy the rapidly changing wants of customers, operators need to embrace diversifying their options.
The human attention span decreases by 88% each year. When restaurants offer one type of food, they're limiting themselves to one lane when customers want to hop around. By spreading out options with ghost kitchens, operators can turn themselves into completely virtual food halls to keep loyalty high and wandering interest focused on their menus. And, new restaurant technology is making this process easier than ever.
Customizable online menus are getting more popular for ghost kitchens since it supports multiple vendors on one delivery order and throttles those orders when demand becomes too great.
This ghost kitchen universe branding also creates new opportunities for partnerships that businesses are only just beginning to explore. Celebrity chefs and other pop culture icons are getting in on the action, and the savvy restaurant operator can leverage those big names and brands for additional visibility.
Ghost kitchens create a new genre of business; when leveraged to their full potential, they become opportunities for teamwork and growth within a community. People want interconnection and diverse choices. Restaurant partnership that's quick and cost-efficient will only grow in demand as we move farther into the future.
Yet, even with more than 8,000 active ghost kitchens operating across the country, consumers still have mixed feelings. According to Dataessential, more than half of customers think it's dishonest for a restaurant to sell the same food under a different restaurant name and two-thirds think that virtual brands should state that they are digital-only.
Balancing the need for transparency with the push for more options will be vital in the longevity of ghost kitchens, but it's by no means impossible. Rather than trying to hide the addition to businesses, broadcasting the new brand as an augmentation to the existing restaurant gives that marketing transparency customers want.
The continued success of ghost kitchens is weak in one area -- guest data ownership. While the idea of data sharing is contentious among consumers, when used properly, it becomes a powerful and non-invasive tool for marketing.
First-party delivery for ghost kitchens is a singular tool in creating customer loyalty, since it delivers names and emails directly to the operator.
Ghost kitchens are a part of our present and our future. They fill a need for both operators and customers that hasn't been addressed successfully in any other way. Their unique flexibility and diversity makes restaurants better able to serve consumer needs and attention spans while boosting their bottom line. Until a rival appears that manages to solve both of these problems, we're looking at a very bright ghost kitchen future.