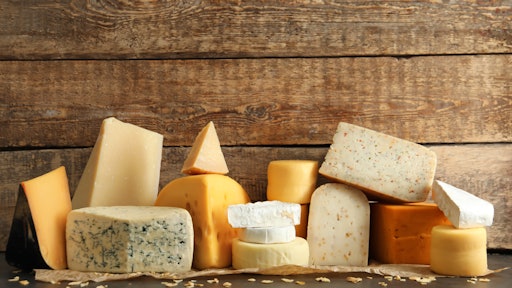 stock.adobe.com
Cheese is a sought-after comfort food for many across the globe. In 2019, 88 million pounds of cheese was purchased for the year's Super Bowl – enough to cover the entire Mercedes Benz Stadium football field, according to the Dairy Farmers of Wisconsin. Cheese sales increase 10% in preparation for the big game, but for some people like Jessica Little, owner of Sweet Grass Dairy, cheese is a part of their daily lives.
While growing up on a dairy farm in Brooks County, Ga., Little developed a love of sustainable agriculture. After receiving a degree in business administration, Little and her husband went on to operate Sweet Grass Dairy, winning over 30 awards for its artisan cheeses. Little also operates a cheese shop and restaurant that focuses on storied ingredients from like-minded producers.
"Sweet Grass Dairy is a second-generation, family-owned creamery based in Thomasville, Ga. We produce handmade artisan cheese from cow's milk. Our cows are raised barn-free, grazing on fresh grass year-round. I grew up helping my parents manage the 350-acre dairy farm that continues to provide our milk today. Together, my husband Jeremy and I have stayed loyal to the values our creamery was founded on 20 years ago -- take exceptional care of the grass and the cows, and then produce cheese that lets the flavors and quality of the milk shine through," says Little.
The dairy produces a variety of aged, soft and fresh cow's milk cheeses, pimento spread and its award-winning, double cream Green Hill and semi-soft Thomasville Tomme cheeses.
It is Sweet Grass Dairy's goal to create a healthy environment and lifestyle for its cows, so they can live long and healthy lives. Little explains that the dairy measures its success in the longevity and health of its animals and soil.
"We use a New Zealand-style rotational grazing method where our cows change pastures every 12 hours. This practice helps us sequester carbon back into the soil and reverse global trends of atmospheric accumulation. With this farming method, our cows live on average 3-4 times longer than a conventional cow and we leave the Earth in a better place than how we found it," says Little.
The Coronavirus disease (COVID-19) pandemic has slowed down business for cheesemakers across the country, though. According to a survey by the American Cheese Society, members are now using this as an opportunity to improve business models and explore new methods to package and distribute their products. The survey found that 57.5% of cheese businesses identified new distribution methods for their products, while 51% saw an increase in e-commerce sales.
"It was really tough at the beginning of the pandemic because retailers couldn't get specialty products since they were not as much of a priority as essentials. Thankfully, fellow Georgia-based company, UPS, ran very consistently and we saw a 90% increase in e-commerce sales in 2020. By June, our distribution partners were able to get cheese orders to grocery stores and independent retailers with no problem," Little explains. "We have had some problems with receiving materials in a timely manner.  The lead times for many of our production and packaging supplies has doubled if not tripled in some instances. The higher e-commerce sales have been so great."
Still, sustainability remains at the top of mind for Sweet Grass Dairy. Over the last year, the dairy completely rebranded its packaging, detailing its sustainable mission. Little explains that now all of the dairy's packaging is sustainable and all materials are recyclable.
"We also changed our e-commerce packaging from Styrofoam to line the shipping boxes to reusable liners from Cold Keepers. Our e-commerce customers have appreciated the change," she says.
Sweet Grass Dairy ensures end-to-end sourcing within its supply chain, though, taking pride in the fact that its cows are healthy and able to provide high-quality milk.
"End-to-end sourcing is the backbone of what we do. My dad refers to himself as a dirt farmer instead of a dairy farmer because if he makes sure that the soil is mineralized and balanced, the grass is nutritious and abundant," Little explains. "This unique and delicious milk is what Jeremy and I purchase to handcraft our cheeses. We love that our family has control from the soil all the way to the end product."