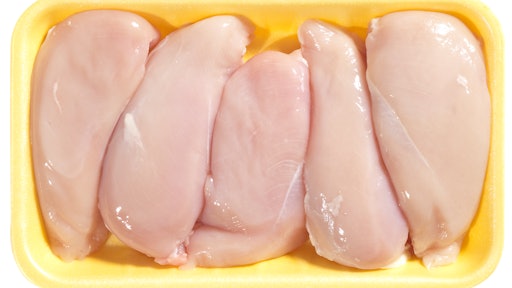 Getty Images
When the Coronavirus disease (COVID-19) pandemic first began last March, e-commerce saw a major increase in sales. As people stayed home to help the spread of the virus, consumers took to online shopping in order to secure their essentials.
According to a March 2020 Bricks Meets Clicks survey, 26% of online grocery shoppers surveyed (or the equivalent of 10.3 million U.S. households) indicate that they're using a specific online grocery service for the first time. Meanwhile, overall monthly order volume has surged 193% versus August 2019 levels.
However, the longer people stayed home, the more they stock-piled goods. A report by the NDP Group found that although consumers have moved on from the panic grocery shopping they did early on in the pandemic, they still maintain the same level of foods and beverages inventory.
As online shopping surged because of the pandemic, 51% of the consumers reported that they weren't able to purchase the meat or poultry item they were looking for in the week ending May 28, 2020 because people were continuing to stockpile products.
Still, consumers are planning to keep some of the new habits that were created by the pandemic, according to a survey by Acosta. Even as vaccines roll out, consumers plan to continue to shop for their groceries online, with 50% reporting stocking up on food/cleaning supplies. In a post pandemic world, customers are going to prioritize product availability (60%), low prices (52%) and customer safety (42%), according to the survey.
Still, not every company was prepared to see a bolster in sales online sales because of the pandemic. Tyson saw an 89% increase in e-commerce sales, creating a unique challenge for the meat provider. The company provides both consumer packaged goods and fresh meats, they are typically seen as an "in-store" purchase. Tyson partnered with Vizit to create an enhanced online experience for consumers.
"They turned to our Visual Brand Performance software to gain visual insights and recommendations that would allow them to truly understand their online consumers visual preferences, as well as optimize the visual presentation of their fresh meat products on the digital shelf to be as visually effective as possible for those consumers," says Jehan Hamedi, founder and CEO, Vizit.
In order to accomplish this, Hamedi explains that Vizit used visual insights around specific components of Tyson's imager, such as how the meat is packaged and how the quantity included in the package is displayed. This helped determine what needed to be more prominently featured in order to attract consumers.
"In the end, these visual optimizations ultimately allow consumers to add the product more confidently to their digital shopping baskets," says Hamedi. "Tyson Foods expects to soon begin implementing the results across their digital shelf. The data collected will enable them to compare digital content on an ongoing basis so they're able to help consumers make a more confident selection when purchasing Tyson products online."
Tyson isn't the first company to utilize Vizit's services, though. Global brands choose the company to optimize their digital storefronts an e-commerce experiences for customers.
"Vizit's proprietary Visual Intelligence technology helps assist companies with their packaging needs by providing a faster, cheaper, and more effective method to test packaging designs and optimize visual presentation for key consumer audiences. Instead of relying on traditional methods like focus groups, surveys, and questionnaires, Vizit's AI technology replicates the point of view of any consumer audience and provides real-time feedback on any designs' Visual Effectiveness. This technology can also be used to evaluate and compare competitive packaging designs, giving users a critical source of competitive intelligence," explains Hamedi.
The company's enables their clients to understand and optimize visual presentation of its products and packaging across different retailer audiences. The result is often more effective and leads to a better customer experience on the digital shelf.