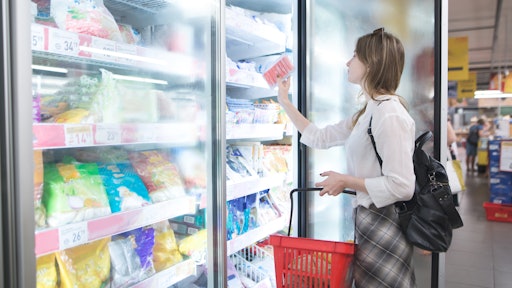 stock.adobe.com
I had the best chicken tenders of my entire life over the weekend – and they were from a convenience store. Hear me out, I know that convenience stores tend to get a bad rap, but when I had my fiancé try my food he shouted out, "Oh my god, that is delicious!"
I'm a huge fan of convenience stores. They almost always have good hot dogs, they are essential to any road trip and they had toilet paper when most big-box grocery stores did not at the beginning of the Coronavirus disease (COVID-19) pandemic. And, I'm not the only person who feels this way too – throughout the pandemic, convenience stores have proven to be resilient and essential to grocery retail as more customers utilized the stores to fulfill their shopping habits.
According to a report by NACS, total industry inside sales grew 1.5% to a record $255.6 billion in 2020. Despite transactions dropping 13.9% in 2020, basket sizes increased 18.4% compared to 2020, with average basket size reaching $7.34 compared to $6.20 in 2019.
Convenience stores typically sell items that can be immediately consumed, such as those delicious chicken tenders or a bag of chips. However, according to an April 2020 survey by NACS, stores have begun providing items that can be brought home, with 52% of respondents reporting that they are adding more cleaning/toiletry items and 31% are showcasing more ready-to-heat meals. Chain stores like Midwest-based Kwik Trip have also made mobile ordering for their hot-and-ready meals available in their app, potentially boosting sales.
In addition, convenience stores, which provide 80% of fuel purchased in the United States, are providing more sanitary solutions at their locations, In the same study, NACS details how stores have ramped up sanitation in the midst of COVID-19 pandemic by proving hand sanitizer and gloves by the gas pump. Meanwhile, 99% of retailers have enhanced cleaning protocols for high touch surfaces, regularly cleaning as often as every 30 minutes.
"Our industry saw significant shifts in purchasing patterns in 2020 and these changes will likely accelerate in 2021, both in what products are sold and how they are purchased, especially as mobile ordering, home delivery, curbside pickup and contactless payment continue to gain in popularity. The successful retailers will be those who continually adjust their offers as their customers redefine how they seek convenience," Andy Jones, NACS vice chairman of research and technology and president and CEO of Sprint Food Stores, said in a press release.
My local convenience store has been a savior to me and my household during this pandemic. When our grocery stores have been unable to provide certain items with our pickup order, we have been able to quickly run across the street and grab what we need. Even as COVID-19 vaccines rollout and people become more comfortable shopping in stores again, I think I am still going to lean on convenience stores for some essentials because they are always in stock.
Give convenience stores a chance, you may be surprised. I mean, you may even have the best chicken tenders of your entire life.