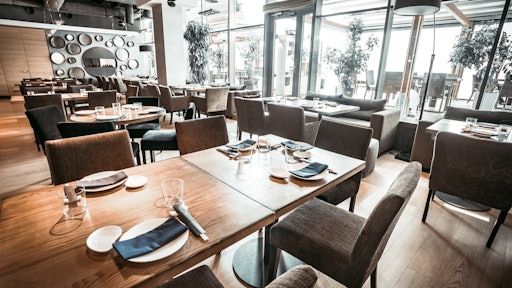 Goinyk - Adobe Stock - Restaurant
Did you know 20% of consumers cite freshness as their primary concern about c-store foodservice? During the Coronavirus disease (COVID-19) pandemic, c-stores have increasingly offered a variety of fresh foods to busy consumers, as they are relying more and more on c-stores as their go-to place to grab a quick meal.
As a result, the c-store industry keeps responding by expanding their foodservice offerings and growing market share along the way. This is great for this industry as the goal for the foodservice category has always been to try and drive higher margins, while increasing the volume of food sold.
According to NACS, foodservice (including prepared items and dispensed beverages) now account for 22.6% of sales at U.S. c-stores, excluding fuel. It is not a stretch to suggest foodservice has the potential to transform the convenience store and gas station business as it continues to experience growth. While foodservice was one of the hardest hit categories in 2020, particularly at the start of the pandemic, it's already making a comeback. It's not a stretch to suggest that it has the potential to continue transforming the industry and increasingly making c-stores a destination for customers. But, in order to do this successfully, we need to take into consideration some issues that could negatively impact the growth of the c-stores such as improving inventory management, reducing waste and labor inefficiencies.
Let's take a look at these three issues.
Inventory management
Performing cost and margin analysis regularly can be important when assessing inventory management. It allows store operators to accurately compare what they are spending on inventory and recipes (which should be based on the ingredient portions being used). For complex foodservice operations, this was traditionally more difficult because ingredients were being combined and continuously mixed together for create other items, and the costs fluctuated with a greater degree of volatility than traditional merchandise. As c-stores provide consumers more fresh food options, keeping track of inventory for recipes needs to be a priority.
Let's use a bucket of pancake batter as an example. C-stores don't buy it or sell it. It doesn't have a barcode like a box of brownies or other merchandise item packages. But if stores fail to count it during an inventory audit, a lot of eggs, flour, sugar, milk, and leavening evaporate like magic. Focusing on inventory management operators, must be able to identify every ingredient that was used in the batter. That level of detail enables a store operator to see the association between the prepared items and the raw ingredients used to make them. Ultimately, the goal should be to achieve the ease, simplicity, and visibility of merchandise inventory management in a foodservice program.
Reducing waste
Basic cost and margin reporting can also expand to help reduce misuse and waste by comparing how something should be made. Take for example the focus on managing ingredients that go into a sandwich vs. what is actually sold (i.e. frozen food). Essentially, by layering inventory activity with cost and margin analysis, operators can see any waste issues and can correct them through training, process controls and loss prevention – focusing on areas that are eroding margin.
Labor inefficiencies
C-stores have dealt with uncertainty throughout the pandemic -- turning workforce allocation and labor into a frustrating task. Managers have struggled to connect all the information available and translate it into insights about how to plan for the upcoming weeks with labor and scheduling. Conventional methods of workforce and labor planning are insufficient to meet the sudden and unexpected changes to customer expectations and operating constraints. Using advanced technologies such as artificial intelligence (AI) or automation opens the door to workforce optimization that can empower more connected, more aware and more responsive workforce planning.
Utilizing employee self-service tools also provide c-store employees with real-time access to accurate shift coverage and schedule transparency. With these mobile tools, c-store employees can also interact with important information on the go, including messages to and from managers and colleagues, or they can manage shifts and coordinate with other employees to provide coverage. Real-time management data and updated site schedule can help control and manage labor inefficiencies that can erode a bottom line.
Continued growth
Focusing on these three issues can help increase sales, drive higher margins and help grow revenue for c-stores. Despite a challenging year, it's still possible to finetune foodservice programs, deliver a great customer experience and produce the margins operators need to thrive and survive.