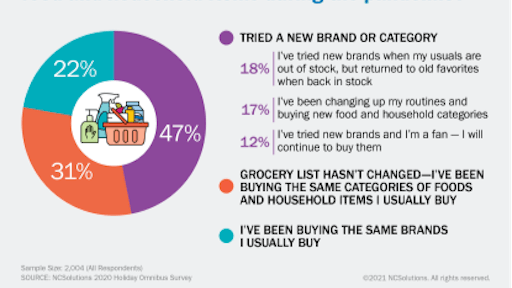 NCSolutions
A survey by NCSolutions found that consumer packaged goods (CPG) grew an average of 19% in 2020 compared to 2019 likely due to the Coronavirus disease (COVID-19) pandemic.
Since the pandemic began last year, 47% of surveyed Americans reported that they have tried new brands and categories, with 52% saying that they were most open to trying a new snack food brand. According to the survey, consumers are also willing try new beverage and cleaning products, 44% and 43% were most likely to try new brands in these categories, respectively.
"The increase in CPG spending coupled with the openness of consumers for new brands marks a clear opportunity for brands. Since the start of the pandemic, our teams at NCSolutions have identified several trends emerging with respect to brand loyalty: consumers are purchasing their favorite brands in greater quantities and at higher frequencies than before the pandemic, but they're also more willing to experiment with competitive brands as they tire from pandemic living," says Linda Dupree, CEO, NCSolutions. " In response to these trends, many brands are refocusing their advertising efforts through the lens of brand loyalty. Some brands are doubling down on both their most loyal and newest buyers, focusing on these audiences to retain them, move them up the loyalty ladder and prevent them from straying to competitive brands."
Per PR Newswire:
41% of respondents are open to trying new recipes and products.
54% of consumers stated price influence them to try a new brand.
18% of consumers have returned that brands that were previously out of stock, —proving the importance of serving your loyal buyers.