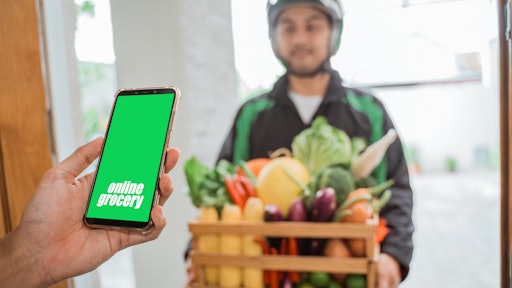 AdobeStock_346469883
Rising cases of COVID-19 worldwide, increasing adoption of contactless dining by restaurants/hotels, advanced technology of contactless payments and increasing government initiatives for contactless dining are driving market growth in foodservice, according to "Contactless Dining Market: Global Size, Trends, Competitive, Historical & Forecast Analysis, 2021-2027," according to a report published by Brandessence Market Research.
Contactless dining restaurants offer menu items with pictures on their mobile phones for customers have to scan the QR code provided at restaurants. Benefits of this QR menu are contactless ordering, visuals, competitive advantage, reduction in operational costs, menu management and social media promotions. Also, customers can browse through the menu, re-order, place an order, make payment and leave without touching anything.
According to the Federal Reserve Bank of Boston, quick-service restaurants represent the biggest portion of the contactless micropayments market, about $153 billion annually, followed by the vending industry about $14 billion, movie theaters about $14 billion and the public transit market close behind at approximately $10 billion.
In addition, online food ordering services provided by the companies from various apps, software and websites via smartphones is also driving the contactless dining market growth. For instance, according to Upserve, about 60% of U.S. consumers order delivery or takeout once a week and about 45% of consumers say that offering mobile ordering or loyalty programs would encourage them to use online ordering services more often. Furthermore, increasing government initiatives regarding contactless dining and technological advancements in the contactless dining are expected to boost the market growth in forecast period. However, the cost of supply chain and logistics may hamper the market growth.
Europe and North America to witness remunerative growth
Geographically, North America is expected to dominate the global contactless dining market owing to the presence of many leading key players in this region as well as several advancements from the smart chip technology for contactless payments. According to First Data EMV in the U.S., smart chips are the basis of the technical standard behind more than 1.24 billion payment cards and 15.4 million POS terminals that with nearly all of those cards and acceptance devices exist in the United States.
Asia Pacific is expected to witness a significant growth in this market owing to the growing adoption of advanced technology of contactless payments in this region. For instance, according to World Payments Report, global non-cash/cashless transaction volumes grew at 10.1% to reach 482.6 billion and this growth is fueled by two regions: Asia Pacific and CEMEA in which Asia Pacific region has 25.2% growth.