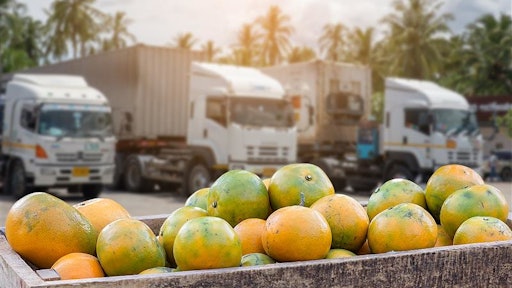 kamonrat - stock.adobe.com
Produce season is a crucial time for the freight industry as truckloads of fresh fruits and vegetables are transported across the globe. Shippers naturally expect seasonal variation—like a shorter produce season in Canada, a longer one in Mexico, and differences between California's tomato crops for canning and Florida's fresh tomatoes. And year after year, growing conditions change based on long-term climate patterns like El Niño and La Niña.
But sometimes a severe event or combination of events can significantly lower crop yields like this year's outlook. Adapting to these variations can be challenging for shippers; that's why it's important to understand what's coming and get ahead of any roadblocks.
What is the outlook for this year

'

s produce season?
Since California grows such a large amount of the country's food (with almost half of America's vegetable farmland), what happens to the state's crops has a massive effect on produce shipping. Earlier this year, one-fifth of strawberry fields in some parts of California were flooded. As of last month, Central Valley was still experiencing flooding, which will likely adversely affect U.S. tomato production.
On the other side of the country, Florida's citrus harvest looks discouraging, with the smallest estimated yield since the Great Depression. Hurricanes from last year hit farms hard, which might make products like orange juice more expensive and harder for consumers to obtain.
The weather is making the produce season look weaker than normal, which may cause issues for shippers needing to fulfill consumer demand. Combined with other pressures, like inflation and the shortage of truck drivers to transport refrigerated (reefer) cargo, this year's produce season looks like it will be challenging.
Shippers may struggle to find available capacity and fit together the right reefer loads in a timely manner. This can lead to less efficient truck utilization and more empty miles, causing lost revenue and potential product spoilage. But there are ways to navigate these issues successfully.
How shippers can prepare for the supply dip
The best way to plan for a dip is to know that one is coming. Analyzing historical data and market trends can help you make necessary adjustments to your operations to accommodate fluctuations in supply. Based on a variety of factors, we can estimate near-term trends.
When it's high season for the harvest, rates tend to climb. Produce season in the southeastern region of the United States starts in April through the beginning of July. Hurricane season in Florida also begins in June, which might stall produce shipments. Study rate fluctuations of years past – and the events associated with them – and use that data to anticipate what's likely coming.
As you work through your particular situation, follow the market trends and see how they compare year over year, then make adjustments to optimize how you are using your available capacity and how you allocate your resources.
But being proactive should involve more than just estimating market conditions. You should also leverage technology to help manage the dip. For shippers, even simple digital tools and systems can bring significant benefits by streamlining and optimizing processes like load matching and documentation.
For example, new technology like digital partial load (PTL) can ensure available goods are transported in an efficient manner that minimizes the risk of damage or product spoilage. These automated systems can optimize space and consolidation for dry, refrigerated, or frozen cargo for multiple shippers. The right tools can also identify the quickest routes to shorten travel time and make sure as many quality tomato products as possible are delivered, regardless of the shortage.
Real-time tracking and monitoring can also greatly improve visibility into the entire supply chain such as allowing shippers to monitor the progress of the journey and maintain the right temperatures for the specific loads. Businesses can also gain valuable insights into their operations, like fluctuating rates, and make informed decisions without the need for extensive skills in data analysis.
Trying to anticipate market fluctuations around the low-produce season is vital, but can take you only so far in today's market. Technology can make every component of the supply chain smarter and more efficient, so shippers are satisfied and carriers are busy. The more successfully delivered loads during a low produce season will strengthen partnerships between shippers and carriers, helping bolster the supply chain ecosystem at large.
To navigate the low-produce season successfully, shippers should prioritize thorough planning as a key factor in their strategy. Analyzing historical data, market trends, and customer demands is crucial for anticipating fluctuations in supply and adjusting operations accordingly. Combining those efforts with the best technological solutions will give you the best chance at not just weathering a downturn in the market — but thriving throughout it.