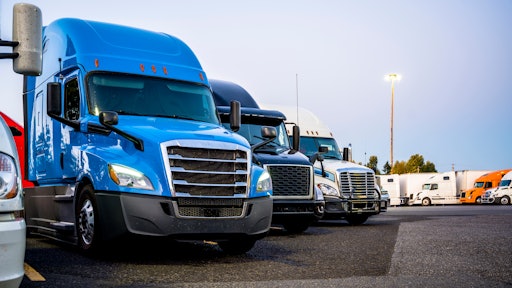 vit AdobeStock_305392012
Truckload freight volumes and spot rates held firm in June while contract rates fell to their lowest points in almost two years, according to DAT Freight & Analytics.
"The gap between spot and contract rates was the narrowest since April 2022," says Ken Adamo, DAT chief of analytics. "Rates for van and refrigerated freight increased for the third straight month, and volumes were almost unchanged from May. These are signs that spot truckload prices have reached the bottom of the current freight cycle."
From BusinessWire:
The national benchmark contract rate for dry van freight has not increased for 12 consecutive months. At $2.58 per mile, the rate was 70 cents lower than a year ago.
The DAT Truckload Volume Index (TVI), an indicator of loads moved during a given month, decreased marginally for van and refrigerated ("reefer") freight and increased slightly for flatbed loads: Van TVI: 230, down 1% from May; Reefer TVI: 167, down 3% from May; Flatbed TVI: 267, up 2% from May.
On the spot market, the national benchmark rates for van and reefer freight rose while the flatbed rate declined compared to May: Spot van rate: $2.08 per mile, up 3 cents, the first increase in five months; Spot reefer rate: $2.47 a mile, up 3 cents; and Spot flatbed rate: $2.61 a mile, down 4 cents.
The national average van load-to-truck ratio was 2.6, meaning there were 2.6 loads for every van posted to the DAT One marketplace last month. The ratio was 2.5 in May and 3.9 in June 2022.
The reefer ratio averaged 3.8, up from 3.6 in May and down from 7.0 in June 2022.
The flatbed ratio fell to 9.7, down from 11.7 in May and 37.6 in June 2022.
"Demand for truckload services typically slows at this time of year, but this could change quickly given the threat of strikes in the parcel and less-than-truckload sectors," Adamo says. "Shippers are putting contingency plans in place and would look to freight brokers and carriers on the spot market to keep their line haul operations moving. Demand for trucks would jump, especially around Louisville, Memphis, Indianapolis, Dallas and other major parcel hubs."